Blog Jan. 09, 2019
Social Networking Apps: Newest Features and Updates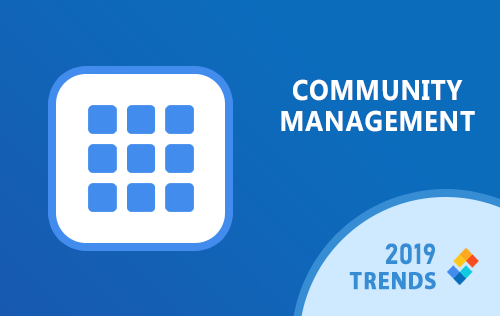 Community Management Trends from December 27, 2018 to January 2, 2019.
Bringing in new features and updates is significant to social networking apps is a great way to improve the process and purpose of apps, especially for businesses. Here, we have listed some articles that show the recent updates made by the top social networking companies.
Social Networking Apps: Updates on Messenger Apps
How Facebook Keeps Messenger From Crashing on New Year's Eve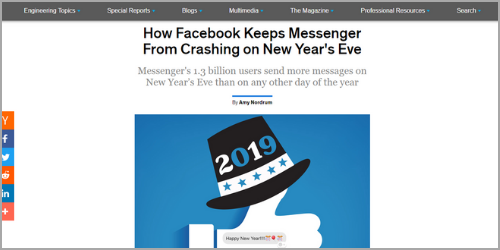 December 28, 2018
Summary: A team of software engineers prepared Facebook Messenger for New Year's Eve in case of a dramatic spike in usage. This was anticipated because Messenger's 1.3 billion monthly active users, in fact, send more messages including photos and videos on New Year's Eve than on any other day of the year. To prevent failure from happening, extensive load testing was needed ahead of time. Another solution prepared was a service called Iris where the new messages sent went into a queue. These messages drop out of the queue after a period of time to make room for new messages. The said team shared that they could also sacrifice the accuracy of the green dot displayed on Messenger app or delay other functions to relieve network congestion.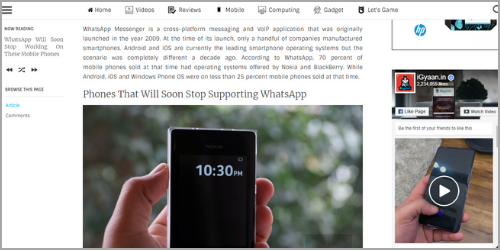 December 31, 2018
Summary: WhatsApp, cross-platform messaging and VoIP application, has stopped supporting some mobile phone units. WhatsApp is no longer working on S40 smartphones such as Asha 200 series, Asha 300 series, and the Asha 500 series of Nokia. This is due to seeing only 0.5 % are Nokia S40 phones out of all WhatsApp supporting devices. WhatsApp will also cut supporting other smartphone units such as Android device 2.3.7, iOS7, and older versions of both soon.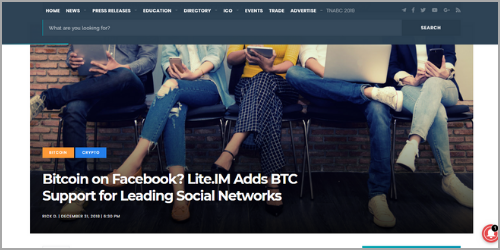 December 31, 2018
Summary: Users of Facebook Messenger, Telegram, and SMS can now send and receive Bitcoin, as Lite.IM has stated on Twitter. Moreover, Litecoin, Ether, and ZTX already support the mentioned platforms. On the other hand, there is recent word that Facebook will begin their own digital currency. Telegram, which cancelled the planned ICO early this year, will finance a network that is now nearing its completion.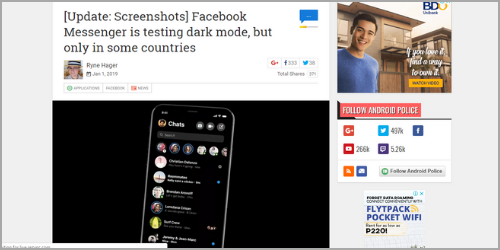 January 2, 2018
Summary: Facebook has started its public testing for future changes in their messenger's UI. A famed social app teardown expert, Jane Munchun Wong, has provided some screenshots of this new experimental "Dark Mode" in messenger. Based on the screenshots provided, it can be thought that the new mode will replace all the bright white backgrounds with black while inverting all the text from black to white. The search bar and some other UI elements have a darker grey tone. Also, a short message will pop up stating that this mode is still a work in progress and is not available everywhere. As of today, the list of the countries supporting this new mode is still unknown. Hopefully, the dark mode will soon be completed.
Social Networking Apps: Updates on Photo-Video Sharing App
Instagram accidentally rolled out tap-to-advance feed, removes it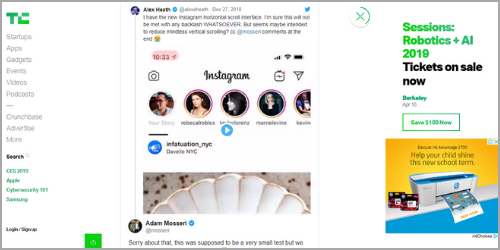 December 27, 2018
Summary: Last week, many users were shocked to see their Instagram navigation style changed from the accustomed vertical scroll to horizontal scroll. According to Instagram, a bug caused this massive change. This bug accidentally enabled the "Tap-to-advance" feature that they are currently testing. Unlike the current navigation style or vertical scrolling which takes adjustments to view a post in full, the Tap-to-advance navigation style is a new and easy way to switch between posts that users can see the whole top to bottom of the photo and video without being cut off. According to the Head of Instagram, Adam Mosseri, they are attempting to test this feature in Explore to only a small percentage of users. He advised users to restart their Instagram to make the changes disappear. Instagram has apologized for the confusion as many users complained about the surprise change.
Customer voices are becoming more and more visible for businesses, and this is because of the connection that social networking apps provide. Social media companies learn how engaging and building a relationship with your customers help in putting your business on their radars.
References
The following trends shared came from the cited articles. Credits belong to their respective owners, websites, and organizations.