Blog Nov. 07, 2018
The Effective Social Media Strategy Plan to Help Building Business this 2018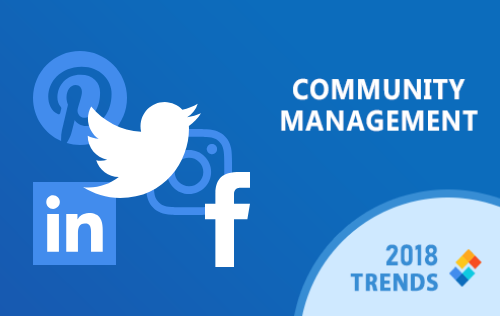 Community Management Trends from October 19 to 26, 2018.
Engaging with your customers in social media is not that simple, as it takes a lot of planning before executing. These trends can give you ideas on how to enhance your social media strategy plan whether taking advantage of better opportunities or advanced tools.
Refining Social Media Strategy Plan with Better Opportunities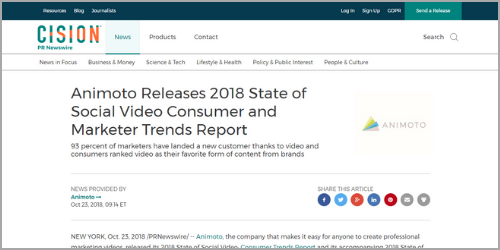 October 23, 2018
Summary: Online video maker Animoto, recently released their 2018 State of Social Video: Consumer Trends and Marketer Trends report, surveying 1,017 consumers and 501 marketers. According to the said reports, a video is the most preferred type of brand content on social media by the consumers, while video ads are found to be the number one source of how consumers are learning about a new brand or product before purchase. Compared to video ads on TV, 46% of consumers prefer to watch video ads on social media and 57% of it are millennial consumers. In terms of return on investment (ROI), videos on social media get the best ROI as a top survey response from marketers. 88% of marketers are satisfied with the ROI resulted from their video marketing efforts on social media, while 93% of businesses acquired a new customer.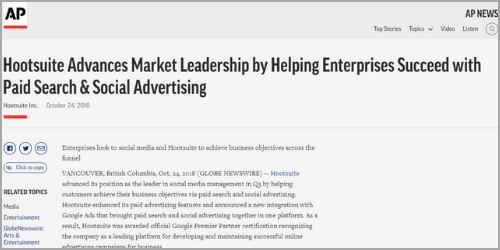 October 24, 2018
Summary: Hootsuite topped the first place in Capterra's Top 20 Most Popular Social Media Marketing Software report and was identified as the best private cloud company with their second successive appearance on Forbes Cloud 100. Hootsuite shows their annual social media barometer report and stated that 61% of businesses reported that most of the organizations today rely upon social media for their conversion and profits.
Level-Up Tools to Enhance your Social Media Strategy Plan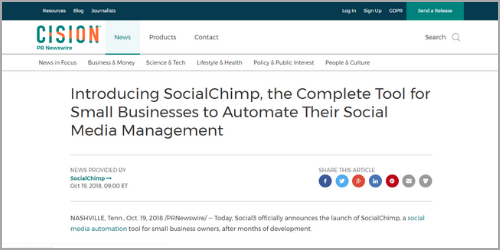 October 19, 2018
Summary:  The self-service social media automation platform SocialChimp has been launched on October 19, 2018. The platform takes the role of a social media manager in a business. It provides support by improving a brand's social media presence without any help from a third party through the automatic posting of new contents, customizable posting schedule, and social media advertising. Currently, SocialChimp is focused on supporting businesses in the real estate industry. In the future, it plans to expand its support in other industries such as dentistry, beauty and spa, home repair, and finance.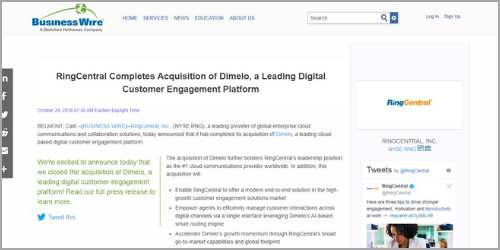 October 24, 2018
Summary:  RingCentral, a leading provider of cloud communications and collaborative solutions for global enterprises announced their acquisition of the leading cloud-based digital customer engagement platform, Dimelo. According to the Founder and CEO of RingCentral Vlad Shmunis, "the acquisition of Dimelo will increase the number of their next-generation customer engagement solutions. With this, RingCentral will achieve its vision of empowering people by giving them more freedom to communicate and collaborate using any mode of their choice." This acquisition will further strengthen RingCentral's position as the best cloud communications provider in the world.
Advantages of Using Social Media Platforms for Business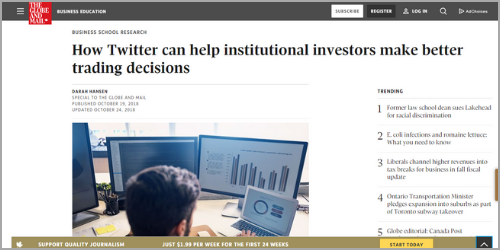 October 19, 2018
Summary: According to a research done by Toronto's Rotman School of Management, Twitter is an advantageous tool when it comes to investment decisions through means of empowering traders to learn new and updated information about stocks. This research study covers nearly 900,000 tweets related to 3,000 firms which were posted between the year 2009 and 2012. The researchers also discovered reports of having firms utilizing the platform to successfully forecast the stock's trend in order to meet their quarterly goals.
Social Media Strategy Plan: Invest in the Right Tools and Take Advantage of Good Opportunities
Having a huge amount of followers isn't enough for a company to 'exist' online. Without engaging in social media, your might give your followers the impression that you are inactive and may not consider your online presence. If time doesn't allow you to work on your social media pages, let these companies help you improve your social media strategy plan.
References
The following trends shared came from the cited articles. Credits belong to their respective owners, websites, and organizations.