Having trouble breaking into the Japanese app market?
Customer Success for Japan
Service
Japan seems to be a mystery in many ways, but it doesn't have to be with adish!
Break through the Japanese app market by making use of our services to optimize your app for the Japanese native audience.
We provide the following:
Culturalization and Localization by native locals
Consultation, Planning and Operation for CLV specific to Japanese targets
Providing customer success for 27% of the Top Global 52 Grossing Game Publishers
Quality Japanese customer support with an experience of over 1,000 products
Customer Success
Providing success solutions for the Japanese market
We have provided over 1,000 cases of customer success solutions for games, apps and services, and know how it all works. As a Japanese company knowing the Japanese market and local users, we create solutions so that we can turn users into "fans", achieving a low churn rate. adish has also helped in global expansion providing multilingual services. We think we are on the right track – with 98% of our clients continuing partnerships with us.
adish Customer Success Support
Solve user issues, trun negativity into positivity.
User
Use
Comments
Client service / product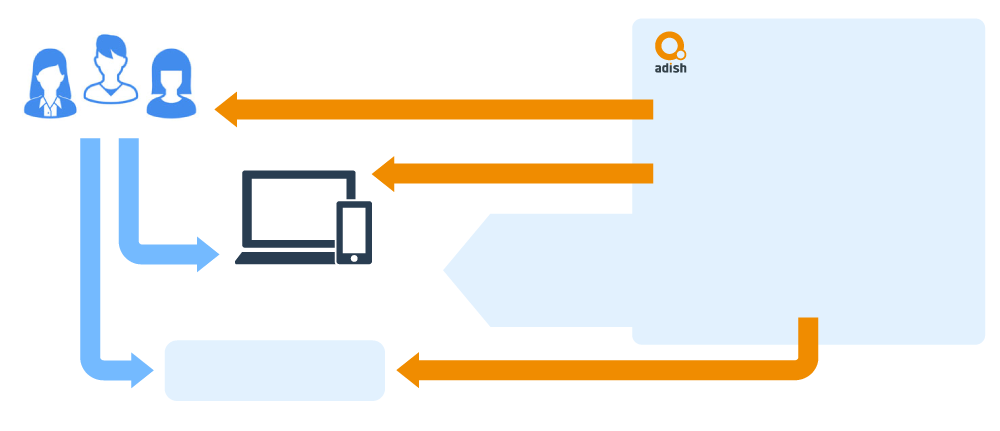 Improvements
Social Media and other Community Sites
Increase loyalty, attract new users and nurture fans.
Customer Activation

Consulting and operating strategies for Japanese CLV

We analyze user movements on your app, and use the data to construct marketing strategies and reduce churn rate. From UI improvements, push notifications and in-app messaging, adish can analyze, consult and operate customer activation methods to grow your app.

Social Media Management

Increase your Japanese followers, the local way

From official sites, forums to social media accounts such as Facebook, Twitter and Instagram, adish can manage your online community. Familiarity with the culture and language allows us to strategize and create regular post content, reply to users and engage them, to turn "users" into "fans". We nurture user loyalty as well as monitoring activity to pick up user voices.

Localization & QA

Optimize language and culture to the Japanese audience

Optimization, or the constant strive of perfection through improvement, is a concept deep-rooted in Japan. Whatever the product or service, the Japanese audience tends to be strict in terms of quality; whether a little bug or wrong use of polite form in language. With our experience and nativity in culture, we will make sure to translate every aspect of the product to the users with all the accurate nuances.

Customer Support

World-class quality customer support

Japanese culture is "high-context", meaning there are many unsaid rules, customs and quiet interpretation; that if you get wrong, might give the wrong impression. At adish, we pride ourselves in the Japanese quality of our service, providing customers with the best experience possible through "OMOTENASHI". We don't just stop at satisfaction but strive beyond.
Service Related on This Article