Blog Sep. 26, 2018
Community Management Platforms for Social Media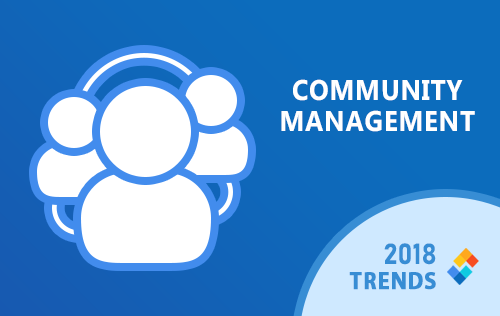 Community Management Trends from September 3 to 9, 2018.
Every company is struggling to adapt new technologies, new processes, and engaging in collaborations to stay relevant in the industry. An effective community management is all about building and maintaining relationships with users and reaching out to listen on what they want.
Here are the latest trends to know how companies improve their social media through different community management platforms.
Community Management Platforms in Digital Media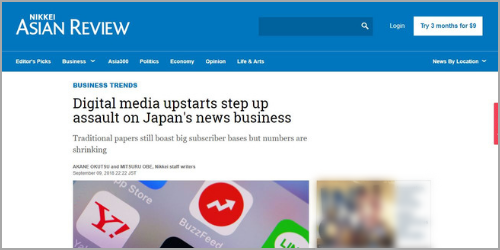 September 9, 2018
Summary: In Japan, newspaper subscribers have been slowly declining since the digital media age has taken over. According to the Japan Newspaper Publishers & Editors Association, from 2007 to 2017, the circulation of broadsheet newspapers declined to 17% at 38.7 million copies. From the data of the same period, the ad agency Dentsu stated that newspaper advertising revenue fell 46% to 514.7 billion yen, while internet ads have increased by 250% to 1.5 trillion yen. Despite all the efforts to embrace changes, the Japanese newspapers have yet to truly transform their business models.
The Impact of Community Management Platforms on Social Networks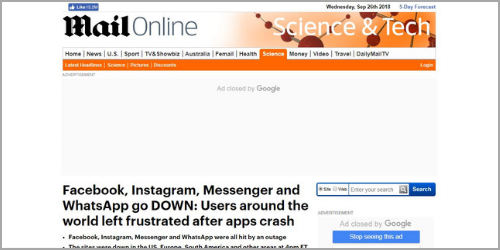 September 4, 2018
Summary: According to Down Detector, Facebook, Instagram, Messenger, and WhatsApp were hit by an outage last September 3, 2018, at 4:48 PM ET. The affected users were from the northeastern region of the US, some parts of Europe, parts of South America, Philippines, and India. Due to this incident, thousands of users reported that they were unable to sign-in to their platforms, taking to rival social media service Twitter to complain. About 38 percent of Facebook users reported experiencing a 'total blackout,' while 42 percent of Instagram users could log in, but was not able to access the app's News Feed. Majority of WhatsApp users are experiencing connection-related issue. Around 40% of Messenger users could not access the app due to server related issues.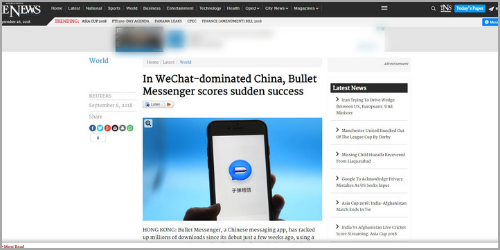 September 6, 2018
Summary: Bullet Messenger, a messaging app developed by the Beijing Kuairu Technology and backed by Smartisan Technology have been used by 5 million registered users within 10 days after its release. Bullet Messenger may be a potential competitor for Tencent's WeChat, being lighter and much simpler. However, Smartisan Technology expressed that the Bullet Messaging is not a threat to WeChat, only giving a niche alternative for users seeking for a faster communication.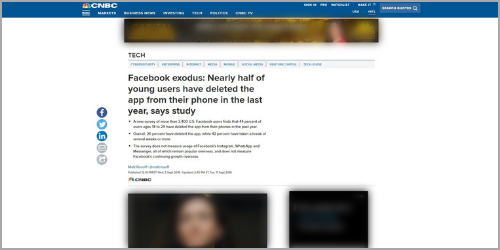 September 6, 2018
Summary: Facebook has spent the previous year struggling with a number of scandals related to the abuse of the platform. According to the survey conducted by Pew Research, out of 3400 US respondents, 44 percent of Facebook users ages 18-29 have deleted their app from their phones in the past year. The scandals are affecting Facebook's financial situation as its stock sunk by more than 20 percent on a single day in July, due to slowing ad growth and higher expenses related to fighting misinformation. However, Facebook overseas remains to be popular.
Community Management Platforms Latest Updates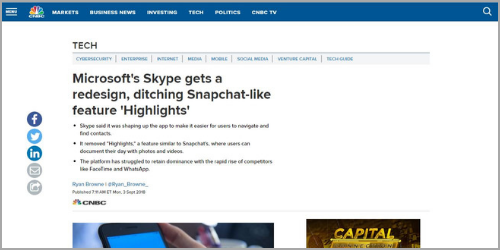 September 3, 2018
Summary: Skype announced that they will be removing the "Highlights" feature. This feature is similar to Snapchat's and Instagram's "Story" feature. The main purpose is to simplify Skype's navigation. For the redesigned version, the mobile version will be having three buttons at the lower part for opening up chats, initiating calls, and pulling up contacts. The desktop version will have those button on the top left corner. The "Highlights" feature was introduced on June 2017, however, it was not popular with the users. The platform has been struggling to gain dominance due to many competitors in the market. Skype users can still download this feature until September 30, 2018.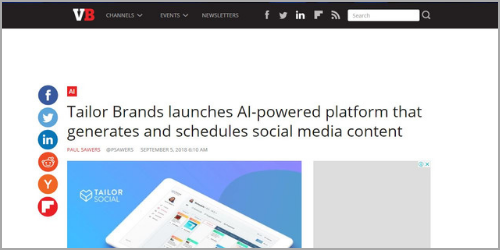 September 5, 2018
Summary: Tailor Brands, an artificial intelligence company has launched a new AI-powered social media tool called Tailor Social. This tool automatically creates, schedules, and optimizes content to share on social media. Tailor Social's social scheduling automation can be run with minimal human intervention or it can also be set to fully automated. Tailor Brand is targeting small-scale companies that need a simplified content recommendation and scheduling platform.
All progress should be considered as a change. However, not all change can be considered as progress. An important function in community management is listening for conversations that matter to your business. This will be your best defense against future vulnerabilities that may bring an impact to your business.
References
The following trends shared came from the cited articles. Credits belong to their respective owners, websites, and organizations.