Blog Jun. 08, 2018
Updates and Trends for your Social Media awareness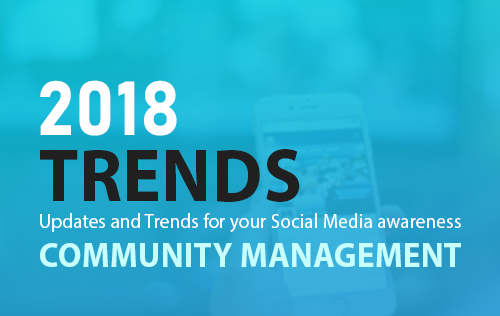 Community Management Trends from May 8 to 22, 2018.
Over the past few years, one of the keys that drive the growth of social media industry is innovation. Given that there are a lot of trends coming out, there are companies that can sway with the current consumer demands that keep them alive.
Check out the following trends related to community management.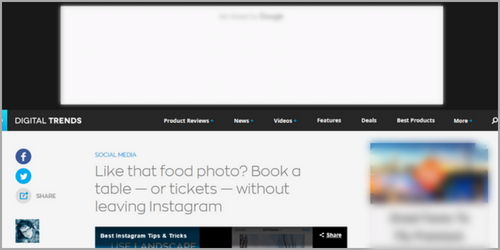 May 8, 2018
Summary: On May 8, Instagram has launched two new upgrades for businesses which are enhancements to Direct Messages and a new integration for booking. For booking, there will be a button on the business' profile page which will let Instagrammers book a movie or table at a restaurant. The integration can also let users auto-fill fields for emails and other data which is connected to the Instagram account. While the updated Instagram Direct will move messages, from new customers, to inbox rather than the pending folder. A new star option will note messages to come back to, while it will help businesses find certain messages quickly with new filters. Instagram will also launch beta tests for quick replies which will help businesses automatically respond to the most common questions.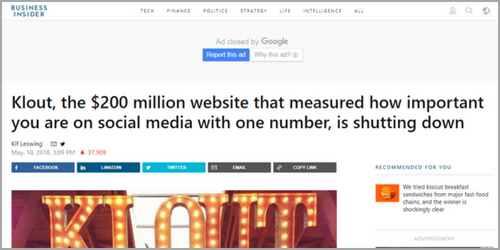 May 10, 2018
Summary: On May 11, Klout has announced that they will shut down their business on the 25th of the same month. The company was sold to Lithium Technologies circa 2014 for $200 million. As discussed by the Lithium CEO, he stated that Klout, as a standalone service, is not aligned with their long-term strategy.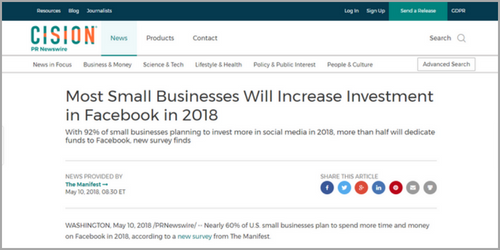 May 10, 2018
Summary: Nearly 60% of small businesses in the US plan to spend more time and money on Facebook this year amidst of the Cambridge Analytica scandal, proving Facebook is still a successful marketing tool. Engagement is also important, as it is the most valued metric that businesses use in tracking the success of their social media efforts. A survey also found that social media advertising has become significant in business's social media strategy.
May 11, 2018
Summary: As the leading AI-powered social media marketing platform, Socialbakers has been named a leader in four categories. The company helps known brands to ensure their digital investment is delivering quality outcomes. Socialbakers' social analytics and brand safety are their two highest rated features.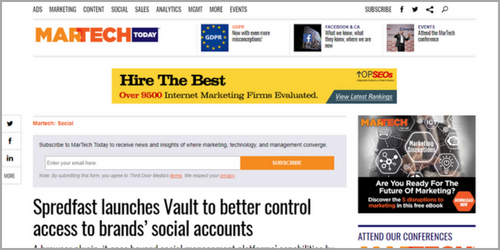 May 22, 2018
Summary: Unlike the traditional step of providing your brand account credentials to an organization, agency, or individual for business purposes, Spredfast launched the Spredfast Vault as a solution. The solution is able of making your accounts more secure as businesses are able to be more in-control of their social media accounts. The Vault is able to set up a time for when an access ends or provide the same native login but without revealing the credentials, as well as many other security tasks.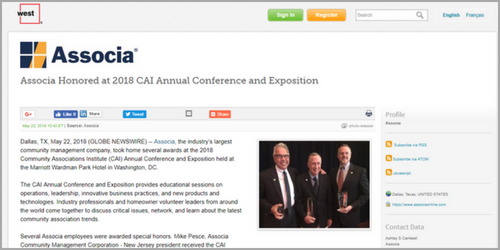 May 22, 2018
Summary: Associa, as the largest community management company, bagged several awards at the 2018 Community Associations Institute (CAI) Annual Conference and Exposition. The said event provides educational sessions on operations, innovative business practices, new products and technologies. It is also where the homeowner volunteer leaders from around the world come together to discuss issues, latest community association trends, and others. Associa delivers unsurpassed management and lifestyle services worldwide.
The changes in social media trends are not only brought by the companies but also trends that are being started by their patrons. With this, it is highly advisable to always join your customers on their journey to understand them and their behavior.
References
The following trends shared came from the cited articles. Credits belong to their respective owners, websites, and organizations.