Blog Jul. 18, 2018
Latest Trends about Community Management that can leave a huge impact to your business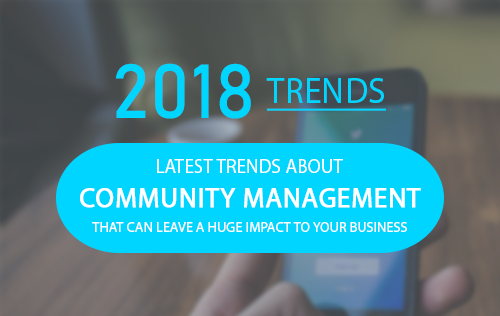 Community Management Trends from June 7 to 16, 2018.
Companies should be monitoring conversations in the social media to analyze how their brand is being perceived by their users. By monitoring the internet for conversations that matter to your brand, you get a chance to resolve your customer's concern and also compliment them as well.
Here are the new trends for community management.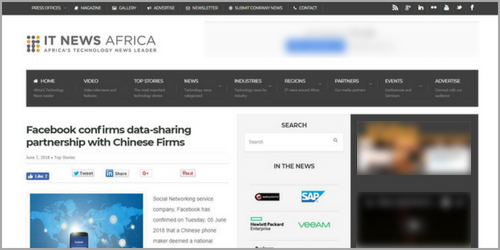 June 7, 2018
Summary: Facebook has confirmed on the 5th of June that Huawei, who was deemed a security threat by the US, has been given access to data on users. According to the reports, access was given to help the social network company in building Facebook "experiences". The report raised concerns that databases, including personal data and photographs, could be in the hands of the device makers.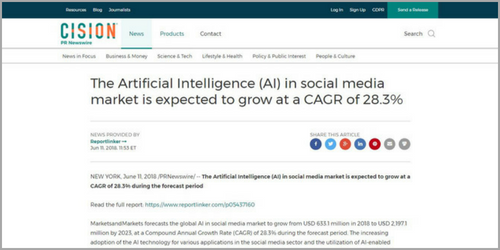 June 11, 2018
Summary: A leading b2b research company predicted the growth of global AI in social media market. Factors such as the adoption of the AI technology for applications in the social media sector and the use of AI-enabled smartphones would drive its growth. It is also said that North America is expected to have the largest market size in AI in social media market during the forecast period.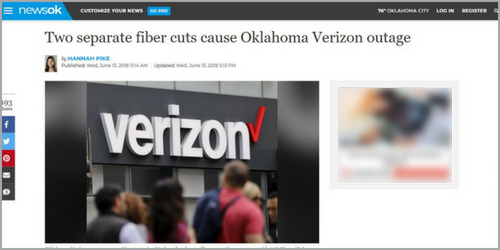 June 13, 2018
Summary: Verizon Wireless customers in Oklahoma woke up Wednesday morning realizing that a service outage had occurred. It began around 8 a.m. and engineers resolved the issue as of 2 p.m. According to the Verizon spokesperson, the statewide outage was caused by two separate fiber cuts. In regard to compensating customers who were without service, Verizon stated that they are still investigating the outage. As of late Wednesday, Verizon had not updated this statement. Oklahoma residents and businesses took to social media to voice their frustrations with the statewide outage.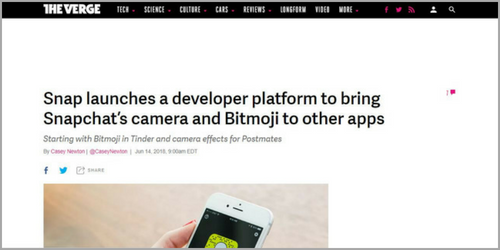 June 14, 2018
Summary: Snapchat now is letting other developers integrate some Snap features, like Bitmoji and augmented reality lenses, in their own apps through their newly introduced Snap Kit. Their Creative Kit allows apps to have their own stickers, filters, and links into the Snapchat camera. Tinder, one of the apps to use the kit, are using the features by giving their users the option to send Bitmojis back and forth with their romantic interest. This kit can also give the option for users to log in with Snapchat but will not let the developers of other apps receive information other than the user's display name and Bitmoji avatar. Snapchat hopes that this kit will encourage users to share these stickers and lenses back into Snapchat via the camera.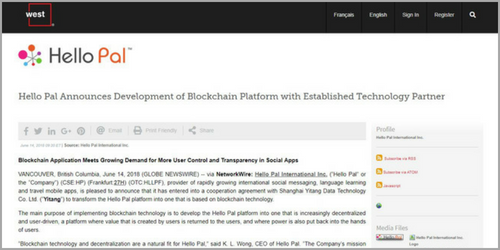 June 14, 2018
Summary: The provider of international social messaging, language learning and travel mobile apps, Hello Pal International Inc., has partnered with Shanghai Yitang Data Technology Co. Ltd. to develop their Hello Pal platform with blockchain technology. The platform is developed to transform into a decentralized and user-driven blockchain based social app. Hello Pal believes today's users value their personal data most, especially due to the recent incident on Cambridge Analytica with Facebook.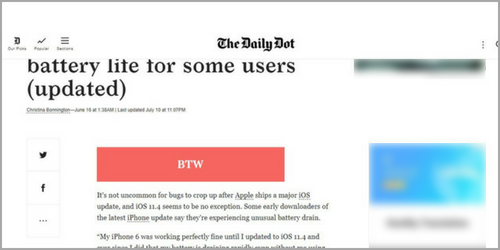 June 16, 2018
Summary: Apple's support forum is now swamped with complaints from iPhone users. Since the release of the iOS 11.4 update late last month, many users claim that their phone is running hot and the battery also drains rapidly while not being used. This new update includes new features and changes such as stereo pairing and multi-room audio for its wireless AirPlay 2 standard. The newest OS also brought updates to Messages stored in iCloud and addressed a handful of bugs. At the moment, it's still unclear how widespread the issue is, and Apple has not confirmed it as an official bug.
Community Management can leave a big impact on your brand. For every complaint or positive feedback, the message carries to one person to another and will be spreading quickly. By listening and engaging in the right way at the right time, you can turn a customer's complaint into a public complement or as big as starting a viral hashtag.
References
The following trends shared came from the cited articles. Credits belong to their respective owners, websites, and organizations.