Blog Dec. 23, 2019
Finance in the Philippines: The Situation of Fintech in the Country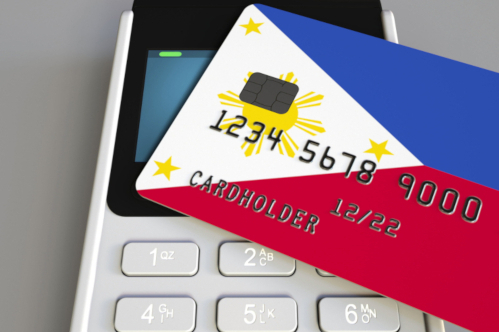 The Philippines is among the most vibrant Southeast Asian economies today, on account of the country's large yet young population, growing middle class, and increasing urban development. A dynamic labor market and substantial remittances maintain the robust consumer demand that drives the country's economic vitality. Commercial activities are thriving with remarkable performance in service industries such as business process outsourcing, real estate, finance, and insurance.* Significant economic changes are evident in recent years, owing to the active pursuance of growth in finance of the Philippine government in coordination with the country's central bank, the Bangko Sentral ng Pilipinas (BSP). This article will discuss the situation of personal finance in the Philippines and the rise of fintech in the country.
Finance in the Philippines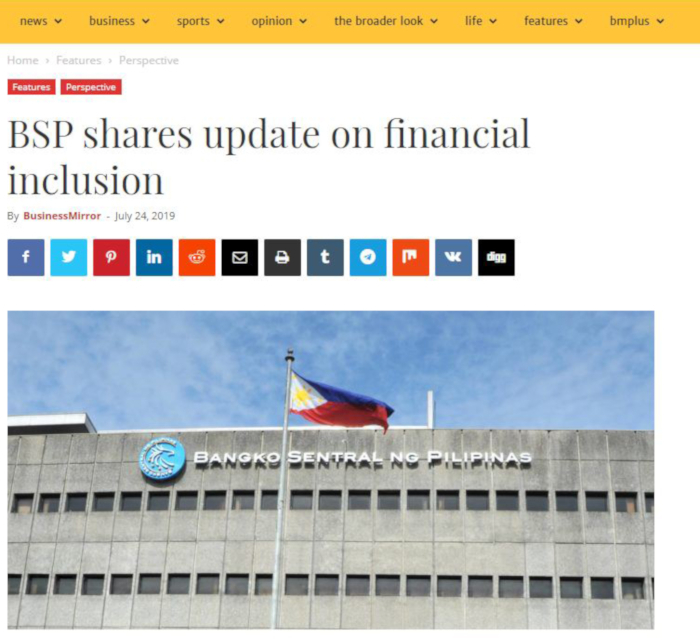 The financial system of the Philippines is comprised of the banking sector and non-bank financial institutions. According to the 2018 Report on the Philippine Financial System of the BSP, the country's financial system maintained its growth in the latter half of the year riding on the expansion of the banking sector, ending the year with an increase in deposits, loans, assets, and capital (See: Philippine financial system grows in 2018 as lenders' assets expand / Business World).
The BSP Report on the Philippine Financial System also indicates that the financial system's resources grew by 9.3% in 2018. The increase in the financial system was spurred by the 11.5% growth of the banking system's assets. Additionally, non-bank financial institutions' assets increased by 7.6%, stimulated mainly by the expansion in the loan portfolio of non-stock savings & loan associations and financing companies. Overall, the outlook of the finance industry continues to be positive as shown by comparatively strong macroeconomic performance, sufficient liquidity, along with increasing opportunities offered by the developing economy and innovations in technology (See: Philippine financial system grows in 2018 as lenders' assets expand / Business World). Despite the growth in the finance industry, many Filipinos remain unbanked and do not avail credit cards.
Banking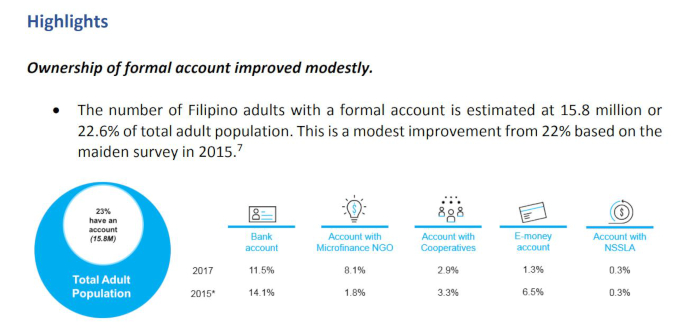 The BSP's Financial Inclusion Survey (FIS) in 2017 states that an approximate of 15.8 million adult Filipinos, or 22.6%, have bank accounts. Meanwhile, an estimated 52.8 million, or 77.4%, continue to be unbanked. These results are only a slight improvement from 22% of the population with bank accounts found in the 2015 survey. (See: Financial Inclusion Survey Report 2017 / Bangko Sentral ng Pilipinas)
On the one hand, 60% among those who do not own bank accounts indicated "not having enough money" as a primary cause, while 21% specified lack of need. In addition, 18% responded that "they do not have documentary requirements to open an account." Other reasons mentioned for not owning a bank account include the high cost and insufficient knowledge on how to open one, joblessness, and lack of awareness. On the other hand, the top reason given for owning bank accounts is "to save in case of an emergency" (42%), followed by "saving for an education" (31%) and "business" (29%). Other motivations include "safekeeping" (23%) and "as a form of investment" (12%). (See: 77% of Filipinos remain unbanked — BSP / CNN)
Credit Cards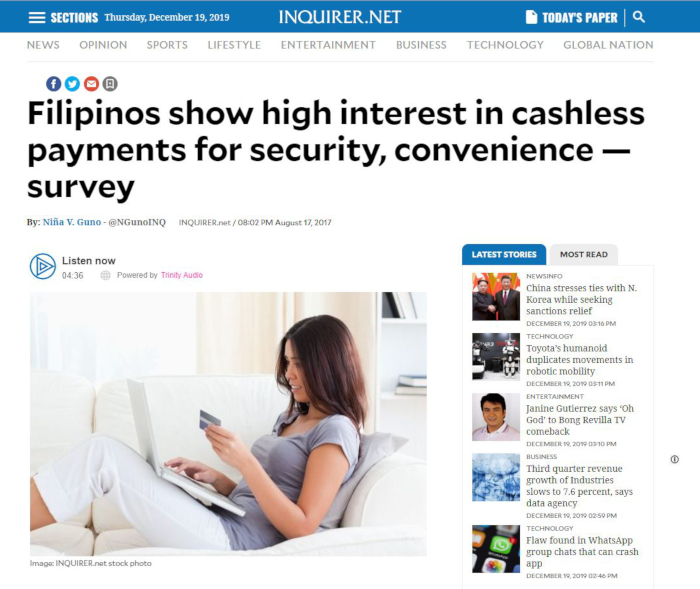 Credit card ownership continues to be low in the Philippines compared to its Asian neighbors. The World Bank's Global Financial Inclusion (Global Findex) Database for 2017 indicates that only 2.1% of the respondents own a credit card. (See: Global Financial Inclusion (Global Findex) Database 2017 / The World Bank)
This low penetration rate can be attributed to the strict requirements in applying for a credit card, as attested to by Cebu Bankers Club president Neil Darwin Credo (See: Credit card usage remains low in Philippines / The Freeman). However, even though the country is generally averse to credit cards, this mindset may be transforming due to the demand for convenience in financial transactions, particularly in online shopping.
The Emergence of Fintech in the Philippines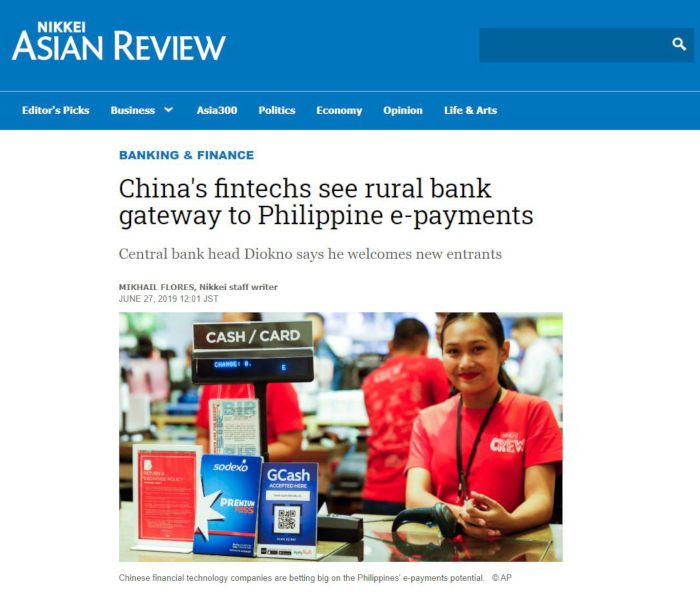 The Philippines is on the verge of a revolution with the growing use of financial technology—or fintech. Generally, fintech refers to a business that offers financial services with the use of software and modern technology. In other words, fintech utilizes technology to address the shortcomings of the finance industry. (See: What is Fintech and how does it transform the Philippines? / Acudeen)
The Philippines' high mobile and internet penetration, increasing incomes, and shifting patterns of consumption are making the local environment more lucrative for establishing fintech solutions. Even though these leading trends make the Philippines a stimulating market for fintech, there are still some key factors that make the moment truly ripe. (See: PH fintech is ready for its moment / Inquirer.net)
First, the critical need of the unbanked and underbanked provides significant advantages. Fintech holds the potential of supplying these financial products to millions of Filipino households. Second, fintech may lessen the economy's reliance on cash and checks, which are far more expensive than digital payments. Third, the BSP has been progressive in taking the initiative, having established the foundation to make the shift to digital much easier and quicker. These measures include several new regulations, like the National Retail Payments System, intended to set the change the country's needs in motion. Finally, more investors are taking notice of the country's fintech with around ₱5 billion investments in 2018 (See: PH fintech is ready for its moment / Inquirer.net).
Here are five services or products of fintech companies in the Philippines:
G-Cash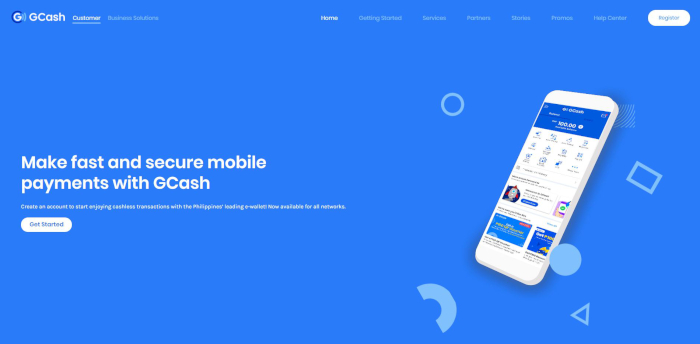 Globe Gcash, established by one of the major telecommunications providers in the Philippines, paved the way for the country's digital payment revolution. At present, it is a full-fledged digital wallet, which comes with an app and a card (GCash Mastercard or Amex). The GCash card functions as a regular credit card, which can be used for in-store and online purchases. Furthermore, the smartphone app offers an additional feature that accommodates QR codes, which is a popular form of payment nowadays. (See: Go Cashless With These E-Wallet Apps You Can Download Today! / iMoney Philippines)
One distinctive feature of Gcash is that customers can register for the virtual Amex or Visa card through the Globe app or apply and get KYC'd (Know Your Customer) by visiting Globe outlets. This digital payment system also has a robust integration with PayPal, which allows for more convenient money transfers between the two payment platforms. (See: Go Cashless With These E-Wallet Apps You Can Download Today! / iMoney Philippines)
Gcash also provides customer support through their Help Page, where users can access FAQs and submit tickets. Additionally, customers can reach Gcash through their hotline and Facebook page.
PayMaya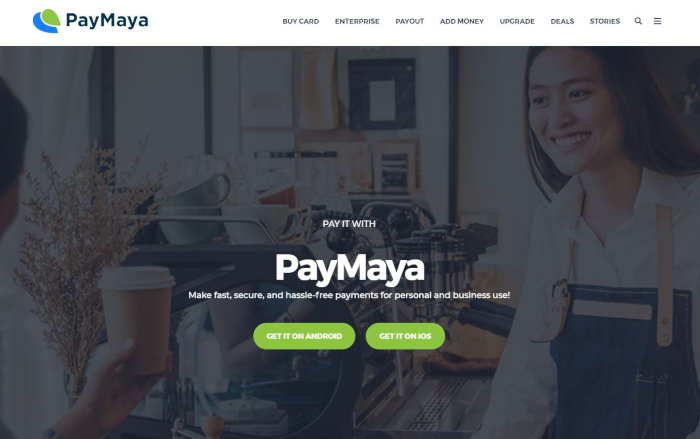 PayMaya is one of the country's earliest digital prepaid cards that can be utilized for purchases through a debit or credit card, such as booking flights, online shopping, and more. Users can also request for a physical card that PayMaya will provide and deliver to their address for only ₱150. (See: Go Cashless With These E-Wallet Apps You Can Download Today! / iMoney Philippines)
As of November 2018, there are already 8,053 PayMaya partner establishments and merchants that accept cashless payments. This e-wallet is established by PayMaya Philippines, a subsidiary of Voyager Innovations, which is under digital telco PLDT and its mobile carrier Smart. (See: Go Cashless With These E-Wallet Apps You Can Download Today! / iMoney Philippines)
Users can reach PayMaya customer support by emailing them at support@paymaya.com, calling their hotline, or messaging their Facebook page. Users can also access FAQs at the PayMaya website.
Coins.ph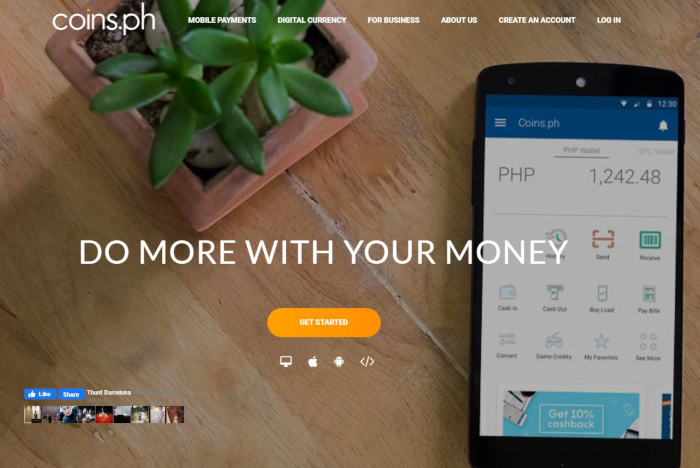 Coins.ph is a local e-wallet mobile app that utilizes Blockchain technology. It's the single app in the country that lets users purchase and sell cryptocurrencies like Etherium and Bitcoin, and collect it in the app. The app can also convert these cryptocurrencies into peso in real-time. Additionally, the app can be used as a financial tool for paying bills, money transfers, and more. (See: Go Cashless With These E-Wallet Apps You Can Download Today! / iMoney Philippines)
Users can open a Coins.ph account through the website or app, and have their identity verified to unlock the full features of the app. Cashing out from Coins.ph is reasonably convenient, and having a bank account is not required. (See: Go Cashless With These E-Wallet Apps You Can Download Today! / iMoney Philippines)
Coins.ph customer support is available through their Help Center, where users can find their FAQs. Customers can also email their concerns to help@coins.ph, call their hotline, or message them through Facebook.
GrabPay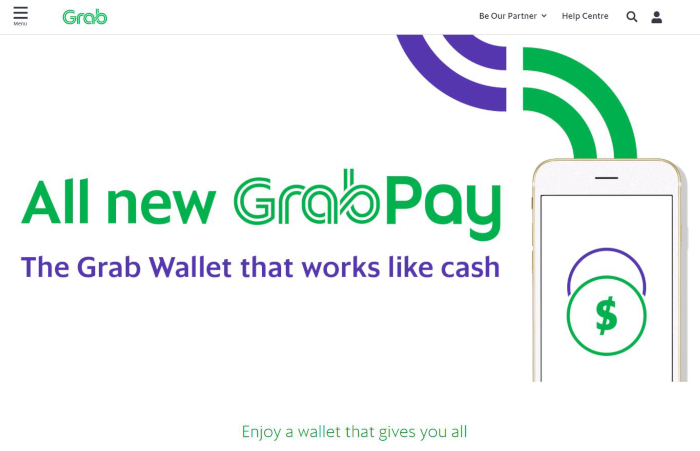 GrabPay, an e-wallet launched by Grab in the Philippines, serves as a digital prepaid card that allows users to go cashless through GrabPay Credits. With this app, users can instantly share credits or link their debit or credit cards for payment. GrabPay can be used on the Grab ride-hailing app, as well as with food, grocery, and parcel delivery. (See: 17 E-Wallets in The Philippines You Should Know / Fintech News)
GrabPay was launched in collaboration with Mastercard, a partnership that can probably lead to making GrabPay one of the first e-wallets from the Southeast Asia region to be accepted across the globe. (See: 17 E-Wallets in The Philippines You Should Know / Fintech News)
GrapPay provides customer support through their Help Centre, where users can check out their FAQs.
First Circle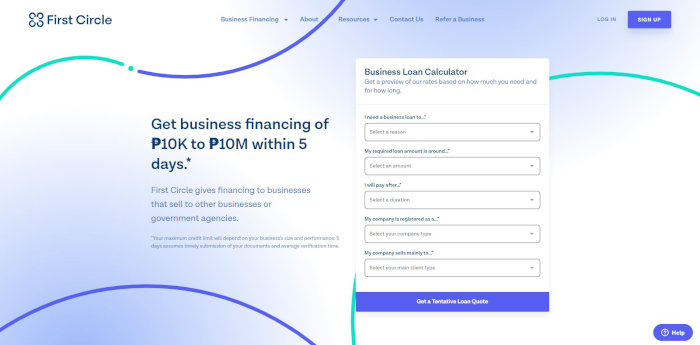 First Circle is a fintech company that finances business possibilities founded by Patrick Lynch and Tom Ennis. The company's primary goal is to "empower Small and Medium Enterprises (SMEs) in growth markets." (See: Our Story / First Circle)
This fintech lender is currently operating in the Philippines but is planning to expand to the rest of the Southeast Asian region. First Circle is one of the pioneering fintech institutions that are licensed by the Securities and Exchange Commission (SEC). Additionally, the Department of Trade and Industry (DTI) has also authorized First Circle as its finance partner. (See: Our Story / First Circle)
First Circle customer support details, such as their email and contact number, can be found in their Contact Us page. Their website also features chat support.
The Future of Philippine Finance
In recent years, the finance industry in the Philippines has expanded to encompass a broad range of institutions providing fintech solutions for payments, remittances, SME financing, and more. With numerous new companies striving to make digital financial services accessible to millions of Filipinos, along with the government's enabling policies, the country's finance sector is showing more potential than ever.
With the forthcoming digital transformation in Philippine finance, the country is ready with opportunities for aspiring fintech companies. However, many businesses may find managing operations, as well as providing adequate customer support, a formidable task. Through the assistance of customer support experts like adish Co., Ltd., fintech companies can outsource some functions to concentrate on their core business.
Since 2010, adish Co., Ltd. has provided multilingual online services in customer support, monitoring, and community management. With our expertise and hard work, we can help you achieve success as a fintech company in the Philippines. To learn more, contact us today at adish Co., Ltd.