Blog Sep. 28, 2018
The Most Important Customer Experience Metrics You Need To Track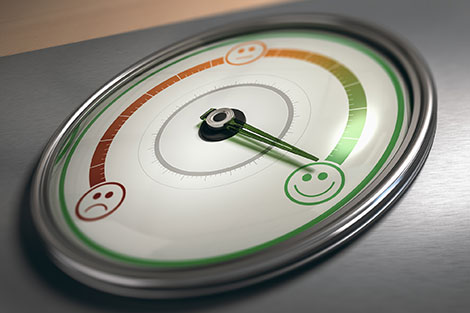 For many organizations, providing an excellent customer experience is part of their competitive advantage. If your company is customer-centric and dedicates time and resources to measure customer experience, there are numerous metrics that can explain to you where your business currently stands in the competition.

There is a lot of data that can be used to measure your customer experience (CX) level and how it influences your business success. However, you may feel overwhelmed by analyzing a wide range of numbers from customer experience metrics. Thus it is important to find out which metrics are better suited to measure your CX to minimize the range of numbers related to customer experience down into smaller insights.
In this article, we will break down the CX related metrics that your business should consider in order to measure and evaluate the level of customer experience and your service.
Customer Experience Metrics to Track
Customers satisfaction is incredibly important to the health of every business. However, If you don't measure customer experience regularly and failed to create insights from the data, then you can't manage it. If your company failed to manage CX, you will not be able to understand why customers are leaving your business or what strategy is failing.
Here are the important customer experience metrics you need to track:
Marketing Campaign Effectiveness
This metric is needed when you want to track your marketing effectiveness as it helps your business to evaluate its overall growth. It is also determined as return on investment (ROI) for a given marketing campaign initiative. The more campaign resulted in a satisfied customer, the better customer experience is presented and greater revenue for the business.
The basic formula for Marketing campaign effectiveness is:
(Net Campaign Revenue – Marketing Investment)
Marketing Investment
Direct Traffic
If you want to know how your marketing efforts influence customer experience through visiting your website, this is the metric to consider. This metric shows a particular company activity intended to drive traffic. The visitor arrives due to certain activities including the promotion campaign, direct mail promotions, email, and other marketing efforts.
Conversion Rate
This metric is to show the total percentage of your completed transaction that depends on your goal whether it is a website visit, a purchase, or an application download from the website. A proper analysis of this metric can explain what segments you need to optimize to enhance the customer experience at every touchpoint.
It's mostly measured with customized and configured goals by using Google analytics or other third party web analytics tools.
Average Revenue Per User
ARPU is an important indicator of margin growth and a metric that helps evaluate the customer experience of the company. Average revenue per user is the measure of revenue generated per customer. It is measured to provide a breakdown of what is driving revenue growth of the company. It enables businesses to sharpen their analysis of the revenue generation capability and growth per-customer level.
The basic formula for ARPU is:
Total Revenue
Number of Users
Customer Churn Rate
This metric is needed to be measured when you want to identify how many customers you are losing over a given period of time. It is often measured on a monthly, quarterly or annual basis. Churn rate shows the percentage of customers that stop following your company service either by canceling a subscription to a service or by failing to make a repeat of purchase over a given period of time. A crucial analysis is needed in order to monitor CX and reduce churn rates. If your customer churn rate reduces, it simply indicates that your efforts are effective. Furthermore, if it increases then it means you need to identify in which part of your strategy failed.
The basic formula for churn rate is:
(Customers beginning of month - Customers end of month)
Customers beginning of the month
Net Promoter Score (NPS)
This metric is a survey that shows how satisfied your customers are to recommend your brand to someone they know. Net promoter score is important for evaluating your customer loyalty and valuing overall opinion to your company service. This survey is usually applied when you want to know your customer overall experience to your service and when you want to assess where your company stands with your customer.
The basic formula for NPS is:
NPS = % Promoters – % Detractors
Cost of Acquisition (COA)
COA is the total cost of the overall money spent to earn a new customer. This includes the promotional ads, marketing campaign, sales, bonuses, and other strategy used to gain a new customer. It also helps the company to determine the highest amount they are willing to spend to acquire one customer.
The basic formula for COA is:
Total amount invested in the acquisition
Total number of new customers
First Contact Resolution (FCR)
First Contact Resolution is a metric that determines the number of customer issues that can be resolved by an agent with just a single interaction. This metric greatly affects customer satisfaction because it is clearly annoying for a customer to contact again with the same issue. It means the agent did not solve the customer problem or the customer did not get the help they needed.
It can be measured by collecting data through surveys which ask the customers if their issue has been resolved or not.
The basic formula for FCR is:
FCR = Issues or tickets resolved in first contact x 100%
All issues or tickets received
Total issues resolved - Total tickets reopened x 100
All issues or tickets received
Average Handle Time (AHT)
Average Handle Time is a metric used in measuring the average duration of every transaction, from the initiation of the contact to its resolution. It includes the handling time through a phone call, chat, email, or other forms of interaction.
This metric is needed to measure and gauge the speed of an agent in resolving concerns while giving quality responses to provide great customer experience.
The basic formula for AHT is:
AHT = Total talk time + Total hold time + Total Wrap time
Number of calls or inquiry handled
Total time of operation
Number of emails handled
Make your Customer Experience the Best Quality of Service
Measuring customer experience isn't simple, but it is essential if you hope to improve your customer experience. Understanding the drivers of customer satisfaction can help you determine where to invest your time and money.
Put customers at the top of your company priority. Providing customer service is not just about exceeding what your customers expected but also delivering high-quality service that delights customers and builds an everlasting relationship with them.
Monitoring the shape of your business requires you to evaluate CX and understand which metrics to measure in order to enhance customer experiences.  Mapping out your customer journey with the right metrics might make the most sense for your company to see where you're not keeping a good level of service. Data may not be a direct resolution but a helpful lead in improving your own services. These insights may help you think of better ideas, strategies, and smart innovative ways to serve your customers.