Blog Aug. 08, 2019
6 Most Important Ways of Social Media Marketing for Apps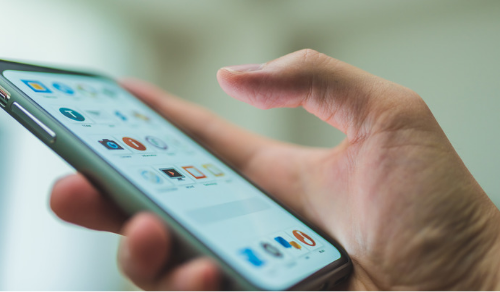 Mobile apps are crucial to the modern lifestyle. From making reservations, calling a ride to ordering food – "there's an app for that" (Apple, TM). This means there are millions of apps available and from a business perspective, millions of competitors.
There may be many ways to market products today, but using social media marketing for apps is no doubt one of the best ways to promote, increase downloads, and retain users. Besides, it makes more sense for a digital product to be marketed digitally too.
If you have an awesome app, make the most out of social media. Discover these 6 most important ways of social media marketing for your pre-launch or upgraded mobile app.
Why Social Media Marketing for Apps is Important Today
Compared to traditional marketing approaches, the use of social media has the advantage of reaching almost the whole world. There are no more walls or boundaries as sharing content, even across multiple platforms, has become easier. Through social media, almost everyone, no matter who or where they are, can be fed with the same news or content online. 
According to think with Google (2015), the highest source of mobile app discovery (more than 50% of respondents) was through friends, family, and colleagues. Good thing, the strength of social media is its ability to connect people, create influence, as well as create buzz and virality; all of those could help encourage and result in word-of-mouth awareness of your app. Social media can thus play a large role in fueling the source you need to for your app to be discovered.
Given these facts, if we weigh the marketing approaches of apps to other traditional methods in its effectiveness to influence a wider audience, social media may be a winning contender.
6 Most Important Ways of Social Media Marketing for Apps
There are many possible strategies on how to market on social media, but promoting apps is different. Meaning to say, one social media strategy may work better for apps than it would for promoting other products. That being said, here are the 6 most important ways of social media marketing for apps which will help you increase the downloads of your app:
Create Your Brand Personality and Build Community
Before anything else, make sure that you've decided what kind of tone or personality your brand is going for, and you need to be consistent in that. Choose the platforms (Facebook, Twitter, Instagram, YouTube, LinkedIn, etc) you want to join and build a fan base in. Initiate conversations or interactions with users online, throw games or contests, give incentives such as in-app items' price drops, promo codes, referral programs –  keep users engaged. Most importantly, aim to get good ratings and reviews regarding your app; encourage word-of-mouth. Be fun and active online!
Share Powerful Video Trailer of Your App
For mobile apps, especially games, what could be more effective than to promote through videos? Creating a trailer for your app on social media allows people to learn about what your app does, its unique selling points, how to use it, and where to download it. Not only that, but a powerful trailer can also help build people's curiosity and excitement to use the app. Do note that in order not to waste the excitement you could create using trailers, make sure to include a call-to-action so that the audience would know where and how to download it or what next steps to take. Moreover, you can post the video on all social media platforms that will help spread and create a hype for your trailer, whether organically or using paid ads.
Developer: DeNA Co Ltd | Publishers: The Pokémon Company, DeNA Co Ltd, DeNA Co., Ltd.
Do Content Marketing and Maintain Your Efforts
When it comes to social media, content marketing is the real deal. Content marketing is just about sharing online materials such as videos, blogs, and social media posts. It means you are focused on sharing quality content online. A lot of community pages are viral as their contents are shareable and on-point. Brands don't have to be limited in marketing online. Be as creative as you can get! Share screenshots, interesting stories behind your app such as how it started, development stages, inspirations, and more. Remember to also be consistent with your content – don't be inactive as users may forget about you if they no longer see your posts.
Reach Out to Bloggers, Influencers, and Other Brands or Organizations
Nowadays, it's common to get endorsers, influencers, sponsors, partnerships, to create blogs or reviews for apps, especially for games. Aside from dropping an e-mail to these influencers or organizations, a way to get them to partner or sponsor your app is to impress them. And yes, on social media! So make sure you include how well you're doing on social media in your pitch or simply be impressive. Increase your social media engagement as well as good reviews from users, to the extent that these potential partners will be the ones to come and contact you. Moreover, choose to partner with those who are beneficial to your app, perhaps, influencers or brands with the same audience or target market, and vice versa.
Make it One-Click Away to Download
Compared to products that should be bought in-store or be handed-over, mobile apps only need to be downloaded and does not require much effort. Instead of redirecting your audience to different pages in order for them to download your app, you can make it easier for them to get to the download button right away. Remember that users tend to have a short attention span online.
PicsArt Photo Editor | Seller: PicsArt, Inc.
Make Updates or Important Announcements and Boost Your Customer Support
Apps are updated or upgraded on the regular. If you want to avoid many user complaints, use social media sites to announce or let people know of issues such as a bug or the system down of your app pronto. You can also reach out to users who have individual issues or concerns regarding your app; check your social media comments, direct messages, or conduct social listening using hashtags or keywords to find these users. Using social media for customer support is the norm now!
Social Media Marketing for Apps: Promote, Sell, Increase Downloads, and Retain Users!
If you want your app to be successful, you also need to master marketing it; not just building and upgrading it. Create excitement and let people talk about your app in a good way on social media. Aim high – not only aim for your users to share your app to their family, friends, and colleagues, but also for them to proudly promote your app to eventually reach everyone online organically.
Your awesome app deserves awesome recognition! Let's start to market your mobile app on social media. If you aim to promote, sell, increase downloads, and retain users; adish is here to help you manage your social media page or online presence! Know more about the service here.