Blog Jun. 25, 2019
7 Benefits of Using Facebook Groups for Business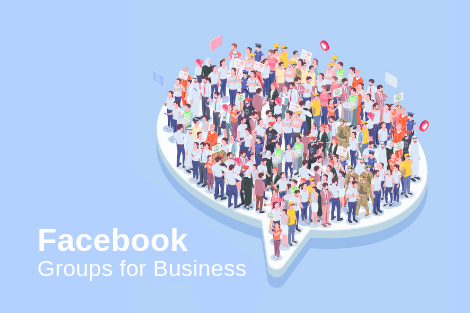 When it comes to Facebook, most businesses or organizations only focus on utilizing Facebook Pages; not realizing that they may also use Facebook Groups for business. In Facebook Groups, like-minded individuals come together on their own (i.e. without ads), to share their common interest, which is a great place to jump on.
In fact, it's way harder to increase engagement organically on Facebook Pages compared to other online marketing platforms – making it the one top reason why businesses become frustrated and abandon Facebook. Though you can run paid ads for your contents, it's still not good to always depend on paid advertisements. Sometimes the people you reached via ads may not still be interested in your offers even though they engaged one-time; meaning to say, you might only be getting a temporary increase in engagement. The next time around may not work for the same people. What you should be doing is nurturing your audience as well as building community. Besides, for small businesses, lack of ad budget is always a concern.
If your business is still on its long shot on increasing engagement on Facebook Pages, try to consider using Facebook Groups for business. In the meantime, here are 7 benefits of Facebook Groups for business; how Groups will help you market your brand and improve your brand's presence on Facebook.
What are Facebook Groups?
Facebook has two features for businesses to gather and build a community; Facebook Pages and Facebook Groups. But what's the difference between the two?
Facebook Groups have different purposes than Facebook Pages. Here are the main differences between Groups and Pages.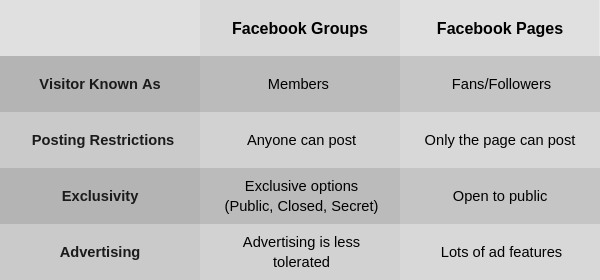 Pages are more likely seen as an advertisement and all about increasing fans because there's no exchanging of contents inside a page. On the other hand, Groups allow everyone, from admins to members, to post as many contents as they want. There is more freedom to interact in a Group than in a Page. Members of Groups also gain the chance for their content to go viral. It's also commonly known that in Groups, advertising is usually not tolerated. If you sound too "sales-y", either an admin may kick you out of the group, or members (even of your own Group) may simply ignore your posts. The essence of creating Groups should not be about just offering your products or services. Rather, you should use Groups to create a personality and influence. On the other hand, for Pages, it's normal and more acceptable to use paid ads or use a tone to sell in your contents. Moreover, a Page can definitely be viewed by anyone, while a Group can be set to "Closed" or "Secret" which creates exclusivity.
Types of Facebook Groups
Unlike Facebook Pages which are open to the public, Facebook Groups have different privacy options available.
Public Group – These groups are completely out in the open. Anyone can see the posts and contents on the group wall without joining. Anyone can also become a member, allowing them to then post contents, comments, and invite new members.
Closed Group – Only members can view the Facebook group wall and contribute in such groups. Anyone can search for this type of group and join, but the public will not be able to view the contents without becoming a member.
Secret Group – This type of group is not searchable unless you are already a member. Not everyone can join, as only a member can add another member. These groups don't share any information at all to the public or non-members.
7 Benefits of Facebook Groups for Business
People nowadays focus on quality content (or content marketing, see here why it's better to invest more in it) rather than ads. If you're trying to build up your Facebook Page, you need to invest effort in adding value to your contents. However, if you seem to be having a very hard time increasing numbers for your page right now, you might want to put your page on hold or mix it up with using (creating your own or joining) Facebook Groups. Take a look at why Facebook Groups for Business is worth your time. Here are 7 powerful benefits your business will gain:
1. The Right Specific Audience is Highly Targeted
Business, ads or anything "sales-y" can be intimidating as not everyone would want to buy what others sell. Convincing people to follow or engage with your page is almost the same as convincing them to buy since they also have the option to decline. This is the struggle that you may encounter when setting up a Facebook Page for your business. Facebook Groups, on the other hand, have healthier discussions as all group members are allowed to post regarding their common interest or passion in a space to "share" rather than be fed one way information. In a group, all contents are encouraged to be related to a specific interest as much as possible, Unless your brand is well-known, posting to a Page alone and hoping you're hitting the right target audience hardly works – for several reasons. One of the main reasons is that there are so many posts and thus competition going around; and Facebook's algorithm is said to work in a way to show the most engaging posts. Meaning to say, everyone has to earn their spot in peoples' News Feed. However, using Facebook Groups for business or joining Groups related to what your business offers, gives you a higher chance of being recognized by the right audience.
2. Learn from One Another
If you're in a Group, you'll see all sorts of discussions pertaining to a specific interest. Sometimes, there are topics that you never heard before. In a Facebook Group wall, you can gain new learnings and inspirations which will be helpful to your business. Since it's a highly targeted audience, all this information will be a lot more useful in improving your particular business. You may gain ideas for content, concepts, marketing strategies, what kind of contents are highly engaging, and what doesn't work.
3. Get Important Updates
Aside from learning new insights from other group members who share the same interest, you will also get to know important updates such as activities, events, "big" information, and more. If you really want to know your audience well, you need to be in touch with the same news or enough knowledge as what your target audience is getting. Being outside a Facebook Group, you might assume all trends are for everyone, however, that's not always true. You cannot assume your target will like, for example, Snapchat Filters, just because they are trending. If they happen to be into Instagram or Snow app, chances are, they may be biased to those and you may actually push your audiences away instead. Sometimes one specific trend isn't a big of a deal to other interest groups, so it's better to be sure that you're giving the right kind of information that your audience will care about.
4. Get Honest Feedbacks
Groups can also be used as a forum. Given its casual atmosphere, if you ask questions or throw polls and whatnots, you are guaranteed to get answers (as long as they are related to the group topic)! This kind of strategy will be helpful to your business, especially if you're uncertain with some ideas and don't know if they will work with your audience. In Groups, your audience is already validating the answer for you.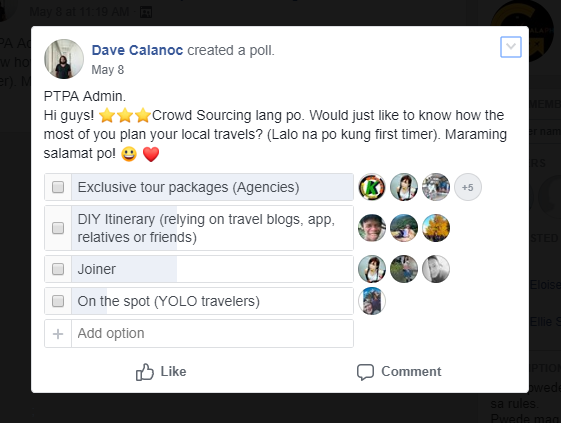 5. Increase Engagement Organically
Facebook Pages, especially small businesses' pages, are hard to grow organically. Unlike other platforms which Hashtags or constantly posting do the trick in increasing engagement, for Facebook Page, it's different. The use of hashtags isn't practiced a lot on Facebook for increasing engagement, as there aren't many users who search through hashtags. There's no way of getting your page constantly discovered unless your business is a known brand, use ads, get enough likes per post to be more discoverable, or you invite and convince your friends to like your page. However, such small strategies are high on effort while low or uncertain on impact. Thanks to Facebook Group's flexibility and potential, there is now one highly effective way. There are two types of approach: (1) integrating your posts in your Page on Groups (2) creating your own Group while you carry your business or brand with you. As long as you engage, build trust by providing value, your Group audience will definitely support your business and start liking or reacting to the things you put online.
Pro Tip: Some Groups allow others to join as Facebook Pages not just personal profiles. Engage and keep posting as a Page because you may also invite those who like your posts on Groups to like your Page. It's a helpful feature if users didn't visit or like your page. Give it a try!
6. Increase Leads or Conversions
If you can increase engagement through Groups, you also have a higher chance of increasing your sales or conversions. Users visiting your own business page might also stumble upon your sign up, purchase, subscribe buttons, and other more call-to-action strategies on your very own page. This is especially effective if your users become well-aware about your brand because you build trust through offering value in Groups that you own or joined in. Moreover, increasing both conversions and engagements could help save some of your ad budget.
7. Become a Part of a Community
If you want to improve your relationship with your audience, the best thing to build is a sense of community, where it's not only business talking to users, but also users to users. Build your own community or be part of a community through Facebook Groups. As you get accepted in the crowd of like-minded individuals, it would be now easier for you to introduce your business without sounding off or forcing anyone to follow what you can offer. Most importantly, the conversations keep going and the community keeps growing.
Use Facebook Groups for Business and Increase Social Media Presence on Facebook Organically!
Go where your audience is. Avoid doing so much product-pushing to just about anyone, rather, focus on your real customers. Your social media presence on Facebook won't be recognized unless you put yourself in front of those who are most likely to follow your brand or business. Since in Facebook Groups there is a highly targeted audience, learn from the members, get updated information and validated insights, and build a community inside in order to increase engagement, leads, conversions, and sales of your own brand or business. If you're short on an advertising budget, worry not, Facebook Groups for business can also do wonders to boost your brand's presence. Use Facebook Groups and its powerful benefits flexibly in order to improve your social media marketing strategy.
Need a hand to strategize your way in increasing engagement on Facebook? adish can help you grow your own community on Facebook using strategies such as Facebook Groups. Know more about social media management service here.