Blog Feb. 13, 2018
How much is the difference between the number of Downloads and Sales in major Asian countries? Between Apple and Google, which app store has more sales?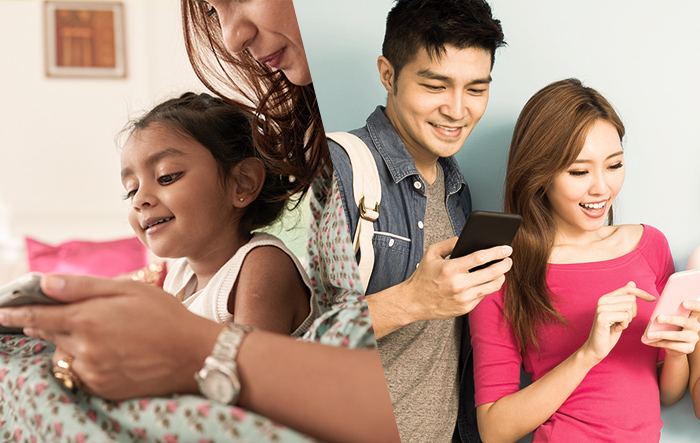 At present, Japanese game publishers are aiming not only for the Japanese market but also the global market. Above all, they are eyeing the Asian market. Originally, Europe and America were the centers of the game application market. However, due to the popularity of Japan-made contents, the interest towards the Asian market is on the rise in recent years. However, the gap for each country makes it difficult to put Asia as a whole. In this report from the July 2017 data, we did a comparison of the number of downloads by app stores and sales proceeds from nine major Asian countries, including Japan. This study will let us understand the characteristics of each major Asian country.
Apple App Store has a huge market in China and Japan. It has a wide gap from other countries.
China and Japan are important markets for Apple App Store. The number of downloads and sales is huge compared with other countries. The notable markets for the number of downloads are China and Japan. The Chinese market ranked first as it has 4.5 times number of downloads compared with Japan which is in the second place. It also ranked 1st in sales.
Japan ranked 2nd in terms of downloads and sales proceeds. However, it has more sales proceeds per download, making it a unique characteristic. Other Asian countries garnered lower sales proceeds with US$1 per download while Japan earns approximately US$3.57. You can clearly see the difference in the money spent for in-app purchases. On the other hand, India has lower sales proceeds per download. India ranked fourth in the number of downloads but it got the lowest rank among nine countries in terms of sales proceeds.
Other big markets following China and Japan are South Korea and Taiwan. These markets are less than 1/20 of China and 1/18 of Japan. On the other hand, India has a large population and it is expected to have a market expansion. The country, as well as Indonesia, has a great number of downloads. However, their monthly sales proceeds remain at US$5 million.
● Apple App Store / Monthly download number by country (July 2017 / Denomination: Millions)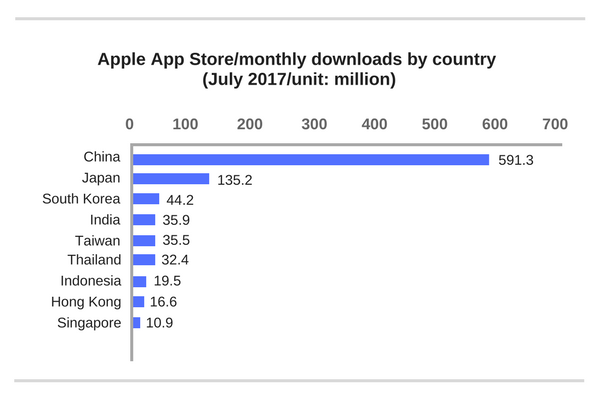 India tops the number of downloads in Google Play. The number reaches nearly 700 million a month.
The situation in Google Play is relatively different from Apple App Store. Since Google Play is not allowed in China, this investigation only includes 8 Asian countries excluding China.
As for the number of downloads, India is the top country. It reached an astounding value of 680 million per month. This number does not only top Asia, but also worldwide. It is the world's largest number of downloads by month on Google Play in July 2017. The country with the second highest number of downloads in Asia is Indonesia with nearly 300 million.
The reason for the great difference in the number of downloads from Apple App Store and Google Play in India and Indonesia is because of their high population rate (India with 1.3 billion, and Indonesia with 260 million people). Also, inexpensive Android devices are more widely used than expensive iPhone devices. As a result, the number of downloads in Google Play has drastically exceeded Apple App Store.
Japan tops the number of sales proceeds. However, compared to Apple App Store, South Korea and Taiwan's sales are increasing. South Korea's sales proceeds have reached 190 million USD in July 2017, and that amount is 7.6 times of the Apple App Store downloads. Taiwan's sales proceeds in Google play is at 60 million USD, which is 2.7 times of Apple App Store. The main reason is that many users own major Android devices from makers such as Samsung, LG, etc.
● Google Play / Monthly download by country (July 2017 / Denomination: Million)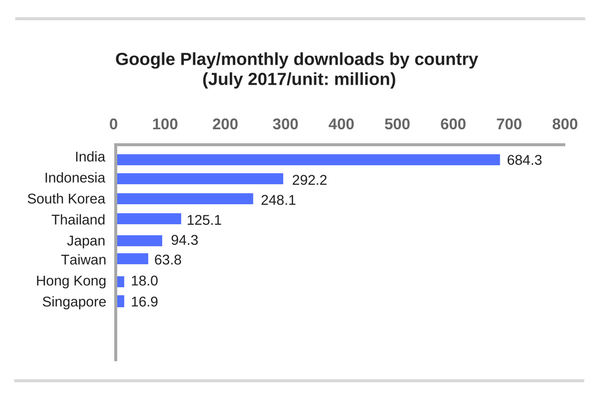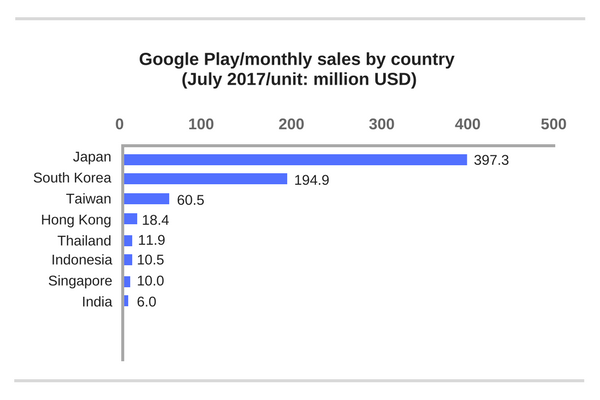 About PRIORI DATA
Established in 2013, PRIORI DATA is a smartphone app market data analysis company that is based in Berlin, Germany. They provide a number of estimated downloads of all apps from Apple App Store and Google Play, and offer sales proceeds data.
They can provide data from 57 countries as well as data from all categories, including game sub-categories. They also offer free trial for startup app developers for a reasonable price. In Japan, "2016 CESA Games White Paper" (supervised by CESA), "Smartphone White Paper" (supervised by Mobile Contents Forum) and "Famitsu Mobile Game Hakusho" are also used as an official mobile data. Furthermore, App Store Optimization (ASO) data was also added from June 2017.
Kindly check http://www.prioridata.net/ for more details.