Blog Feb. 19, 2018
What is Voodoo, the World's Renowned Game Publisher?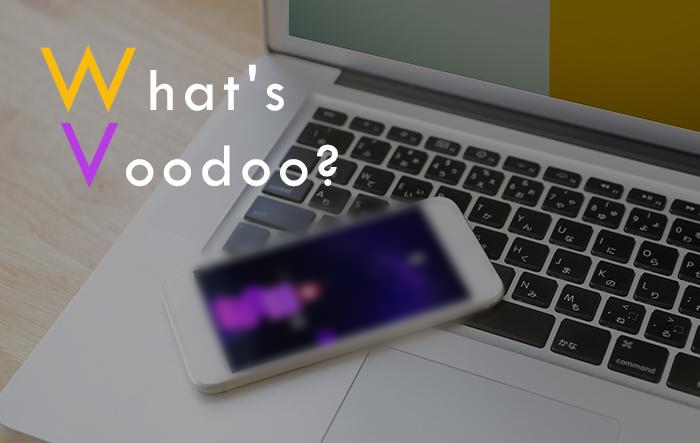 One of the game publishers that are currently popular in the smartphone game industry is from France: Voodoo. Next to Google, Voodoo ranked 2nd in terms of number of downloads among publishers worldwide in the Apple App Store. By November 2017, it was ranked 1st worldwide in the most number of downloads among game publishers.
This time, we will talk about Voodoo. What kind of publisher is Voodoo? What kind of apps do they release? How are they different from other publishers? This report will answer these questions.
As of November 2017, Voodoo's overall number of downloads in the Apple App Store's global market was 27.8 million
First, 27.8 million is an overwhelming value for overall monthly downloads in the Apple App Store's global market. This exceeded Facebook, Microsoft, Tencent and Instagram's as it was ranked next to Google.
November 2017, Apple App Store Global Market Top 10 Publisher Ranking by Number of Downloads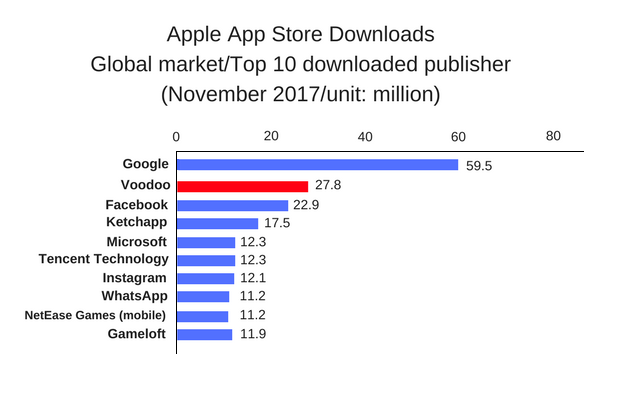 Top 9 Game Apps with Over 1 Million Downloads The features are simple / soundless / advanced game concepts
Next, Voodoo had nine apps with over 1 million downloads in November 2017. The top game was "Dune!", a simple action game where players let a ball roll in a desert. Released in October 11, it had 9 million downloads per month.
Looking into these successful apps that had more than 1 million monthly downloads, they are easy to operate and their graphics are simple. These games can be easily played even without manuals. Moreover, these games do not have sounds at all. Their configurations have been made as simple as possible. But despite the fact that the games are simple, their edge from other games are the advanced game concepts. Designed in a way that does not tire the users from using the app, they have an excellent balance in the games' levels of difficulty. They make games that get users "hooked" into them. This factor is most probably the reason behind the phenomenal number of downloads.
As for the business model, some of their apps have in-app charges but most of them are free-advertising.
November 2017, Apple App Store Global Market Voodoo's Number of Downloads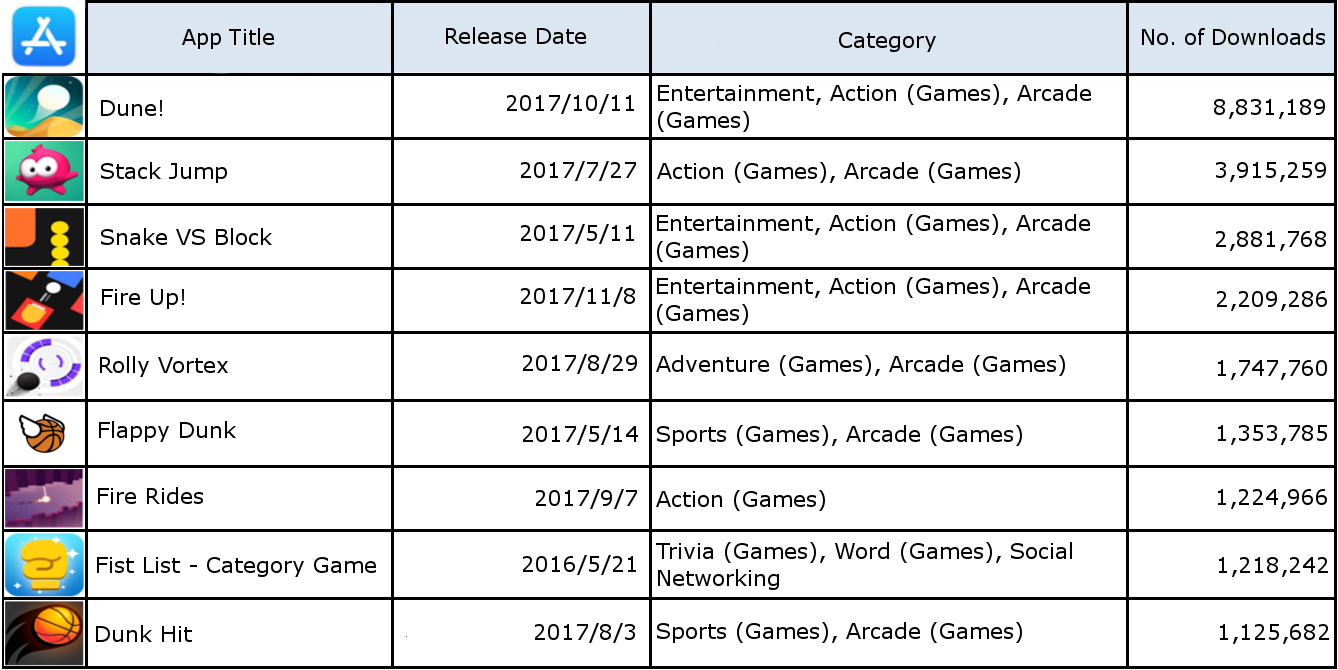 Moreover, looking at Voodoo's number of downloads chronologically, their success began with the release of "Snake VS Block" in May 2017. From then on, new apps have been released and 9 of them had 1 million monthly downloads by November 2017.
November 2017, Transition of Total Downloads from the 9 Main Voodoo Apps in the Apple App Store Global Market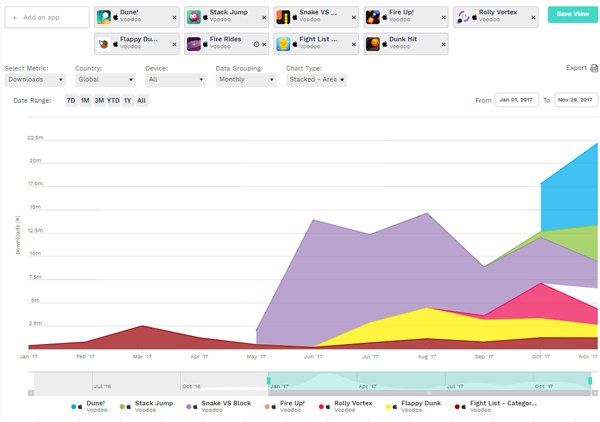 Voodoo is not a game development company. They collect and analyze a number of games from publishers and specialize in user acquisition and monetization. They only release products that sell.
Voodoo had created eight game apps that had over 1 million downloads in seven months, from May to November 2017. Is this possible? It certainly is for major publishers. But how was Voodoo, a startup company, able to do so?
It's because Voodoo does not develop games. Voodoo contacts game developers worldwide, gathers games that are being developed, and then analyze and improve them instead. These apps are then and only released in the market as something surely successful. This process made Voodoo release game apps that had around 1 million downloads in a short period of time.
With that, "We help you create a hit game (SEND YOUR GAME)" can be found at the top page of Voodoo's website.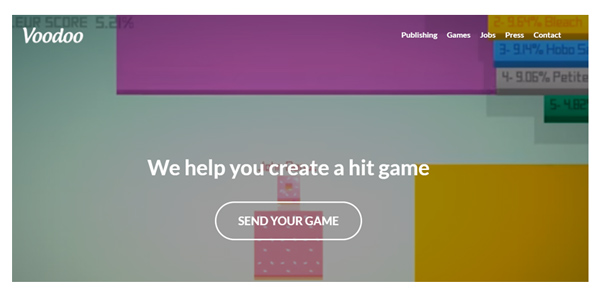 Furthermore, Voodoo's user analysis is excellent. With the GameAnalytics tool, they do daily analysis for every game. Through these analyses, they gather data for questions such as "What kinds of games will give us users?", "What factors can affect customer retention?", "What is necessary to achieve maximum monetization?" The data helps them evaluate and improve games that they will eventually release as something marketable. This made Voodoo successful.
As for the existing game apps, game companies develop and release most of them. Also, there are publishers who only specialize in publishing and do not develop games.
Voodoo's approach wherein they improve game apps through user analysis without developing games themselves is a new example of success.
It is expected that the number of publishers will increase, following Voodoo's success.
What is PRIORI DATA?
Established in 2013 and based in Berlin, Germany, PRIORI DATA is a smartphone app market data analysis company. They provide a number of estimated downloads of all apps in Apple App Store and Google Play and offer sale proceeds data.
They can provide data from 57 countries, as well as game categories, including the subcategories. They also offer affordable trials and free trials for startup app developers. In Japan, "2016 CESA Games White Paper" (supervised by CESA), "Smartphone White Paper" (supervised by Mobile Contents Forum) and "Famitsu Mobile Game Hakusho" are also used as official mobile data. App Store Optimization (ASO) data were also added from June 2017.
Kindly check http://www.prioridata.net/ for more details.