Blog Jul. 15, 2019
25+ Instagram Content Ideas for Businesses to Apply on Your Feed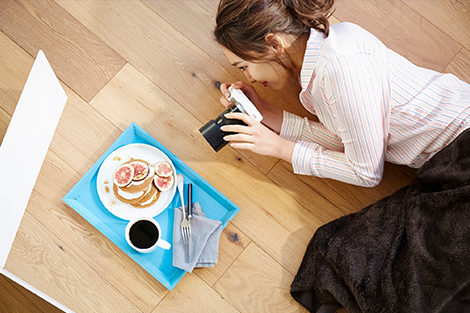 For obvious reasons, Instagram content ideas for businesses differ from content ideas for personal purposes. Users are freer to express themselves, whereas for business, you need to be conscious to build your brand personality in the most effective way possible. Your feed needs to be highly curated to keep your followers engaged and interested. According to Social Buddy, to post at least 1-3 times is expected per day. However, some Instagram marketers out there already face a challenge in posting one content per day. It's given that you need to promote your products or services, but what else should you post to your business account on Instagram?
Instagram has a unique interface and concept. There are actually many possible approaches to your posts. Here, we've collected 25+ Instagram content ideas for businesses to help you maintain a fresh feed and gain more engagement and conversion.
The Importance of Effective Instagram Content Ideas for Businesses
Instagram is a social platform that works great for any company, regardless of their size. Why? It's one of the most-used platforms, easy to learn, has highly engaged users, and is free!
Since it's an exclusive photo-video sharing channel, visual content is no doubt a king. A large budget may be an advantage to help businesses, but in social media content, the amount you pay isn't the only determining factor for success. Many viral posts, as well as influencers of today, started off with just a great idea and a whole lot of effort.
Where can you post?
Instagram (Main) Post

Instagram Stories

Instagram TV

Instagram Live
Instagram has given us a chance to be creative on the platform with its genius features. Don't only focus on the style or design of a single post but in the context of how your whole feed will be viewed as a profile. An Instagram profile can be styled by how and what you post in a specific order. Give your profile a personality whether through text, photos, videos, tones, colors, shapes, sizes, layouts, structures, or all of them combined. Be creative and see which Instagram content ideas for businesses may be applied to your account.
25+ Instagram Content Ideas for Businesses
Like any other app or social media platform, technological advances have helped develop the features of Instagram. The techniques you knew years ago for general social media may not be as effective as for today. As the Dave Chapelle meme says, "Modern problems require modern solutions."
Before you start posting content you need to decide or ready two things:
Create your theme concept

– All pink or blue? Two-tone or three? Serif or sans-serif? Are you aiming for a cute-looking feed, minimal or classic? Make sure you have it decided beforehand to avoid inconsistency on your profile.

Create your brand templates

– Decide what kind of templates you will stick to. For example, templates for quotes, announcements, promos, events, and more. These must be coordinated with the concept you are trying to apply or the personality of your brand.
Here are 25 Instagram content ideas for businesses, including examples for each, that you should consider applying on your feed:
Branding Ideas
Introduce your brand or business –

If you really want your audience to understand your brand, introduce yourself before anything else. Don't jump on selling your products or services right away as people nowadays would rather learn about a brand first before supporting them. So, make the first impression last like these sample introductions: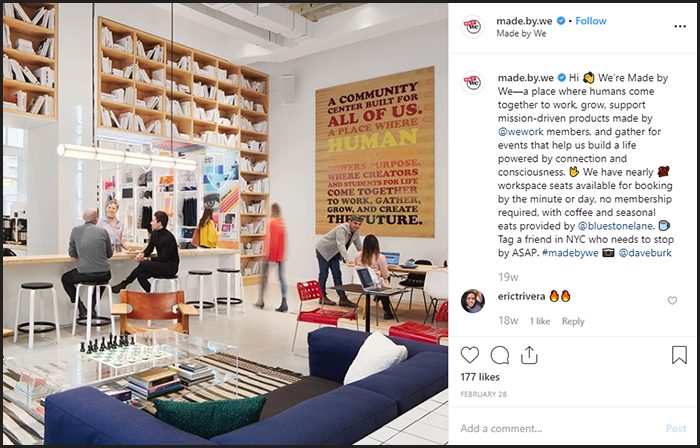 Made by We: @made.by.we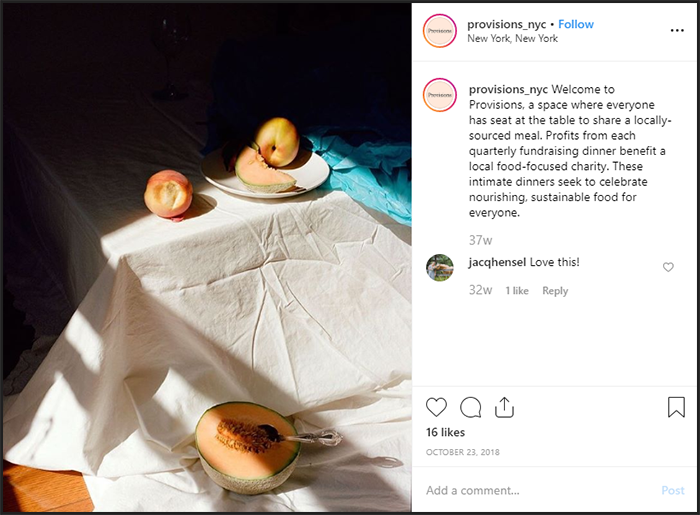 Provisions: @provisions_nyc
Hype your brand up –

Don't give away your everything about your new products and whatnots easily, or all at once. Create preview, teaser or trailer posts to build the hype, excitement, and curiosity of your audience.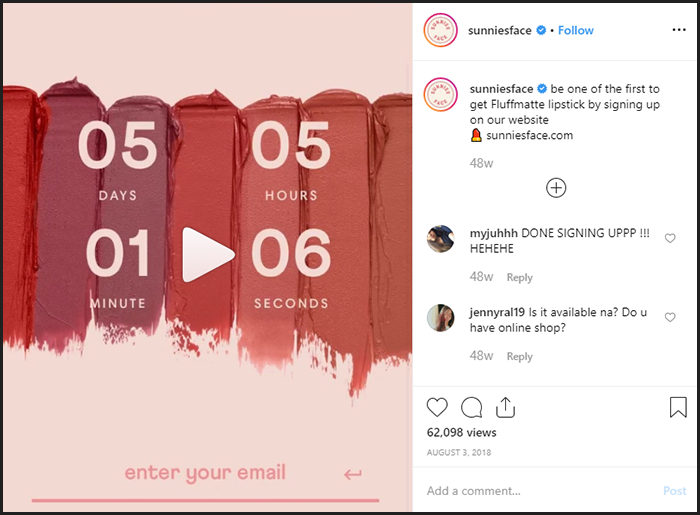 Sunnies Face: @sunniesface
Showcase your first product post –

You're finally set to display your first product post, after building the hype around your products. Consistently start with a bang! Scratch off those simple ideas of showcasing your products. In social media, especially on Instagram, creativity is a must.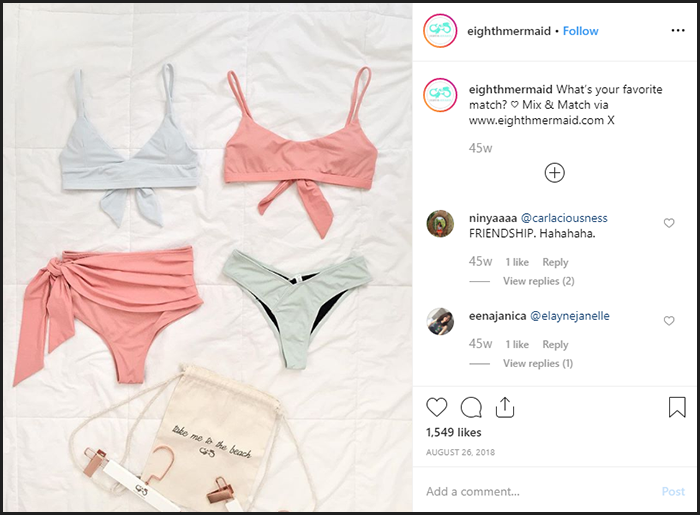 Eighth Mermaid Swimwear: @eighthmermaid
Showcase more product posts –

The first impression lasts, but in the online world where there are just so many distractions, you need to put a lot of effort into maintaining interactions. Continue to wow your followers with your interesting product displays on your profile. The more interesting your product looks, the higher the chance they will buy.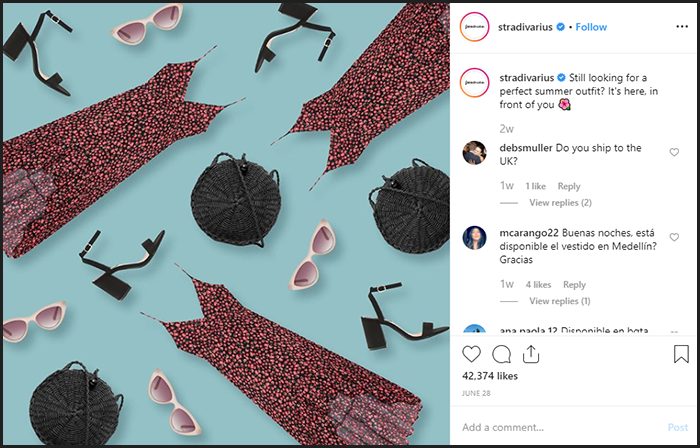 Stradivarius: @stradivarius
Highlight categorized Stories –

In case, you are still learning Instagram, know that you can highlight and categorize your Stories. In fact, you can organize them and give cover photos a concept. Use images, icons, text, and color code for each category. This way, users can easily identify and find each category to re-watch them.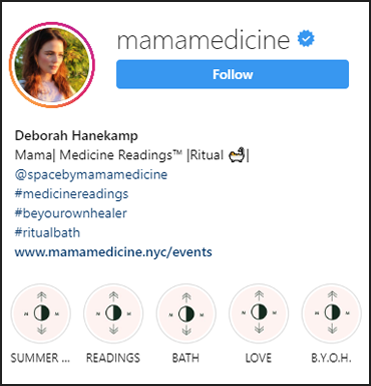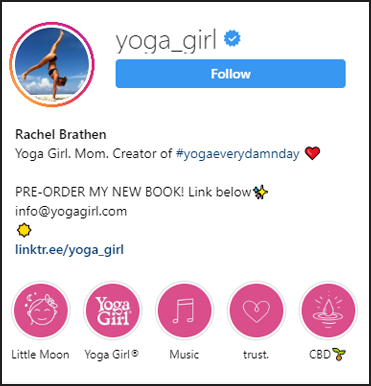 Deborah Hanekamp: @mamamedicine and Rachel Brathen: @yoga_girl
Interaction Ideas
Appreciate your consumers –

Thank or appreciate your consumers or followers from time to time. Not just for buying your products, but also for other kinds of interactions towards your brand. Did you reach thousands of followers and likes already? Has your event or promo been more successful than you thought? Thank them!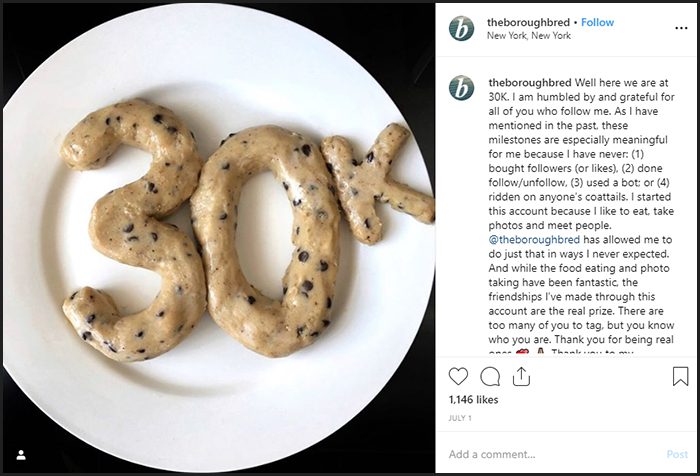 The Boroughbred: @theboroughbred
Re-post user contents and feedback –

Be and show that you are glad of the positive comments you are getting! Display them on your profile. Show others how your customers are using your products and maybe they could influence others to purchase too.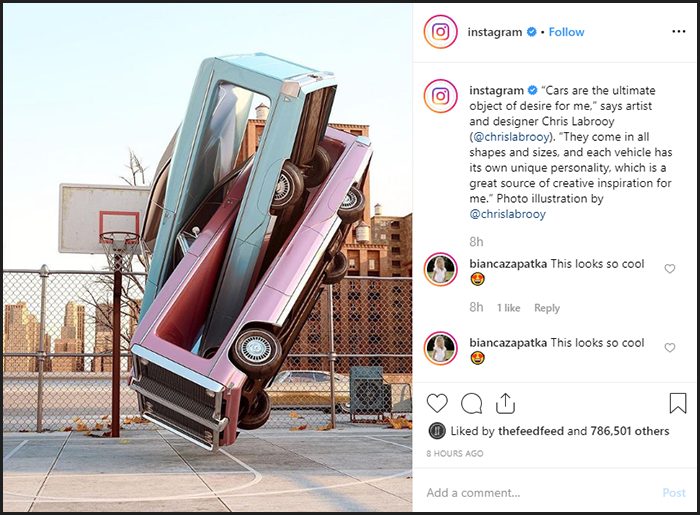 Instagram: @instagram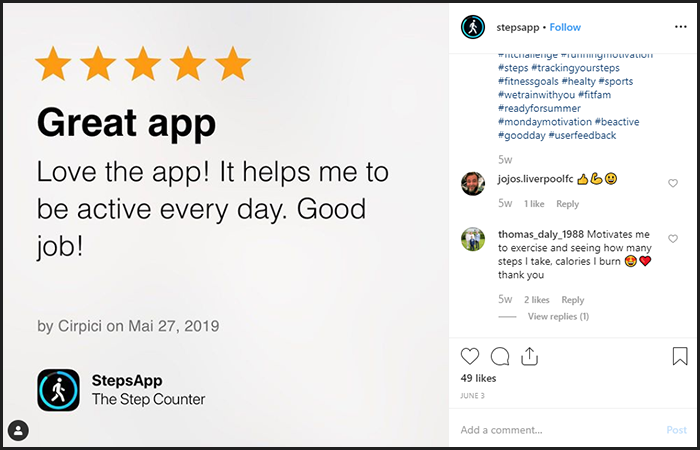 Steps App: @stepsapp
Add a personalized-touch –

If there's a personalized-touch you could offer that is connected to your product, show it off online too! For example, in exchange for patronizing your products, your customers are going to get handwritten dedicated letters, or are able to receive additional items with their names on it. Make sure to flaunt these features if you have them through visuals, as a personal touch is something that they won't be getting from all your competitors.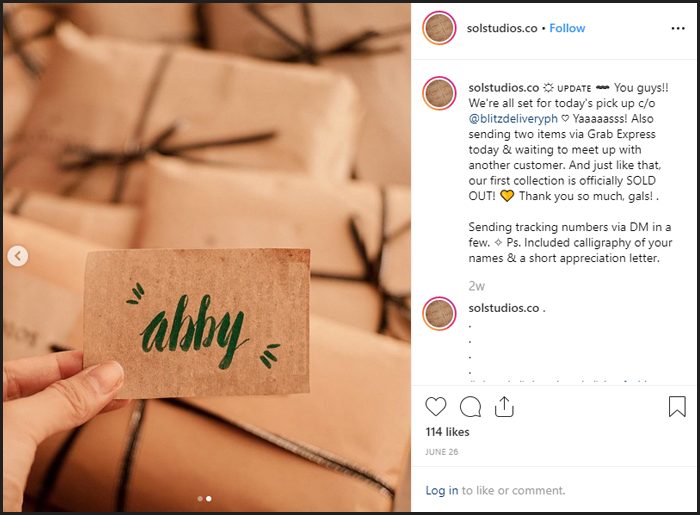 The Sol Studios: @solstudios.co
Run a contest or a giveaway –

Give people a chance to win free stuff in exchange for engagements or interactions with your brand. Ask users to re-post, follow, like, comment, use hashtags, or tag others. Not only does it help boost your brand awareness, this is also another way of thanking your customers.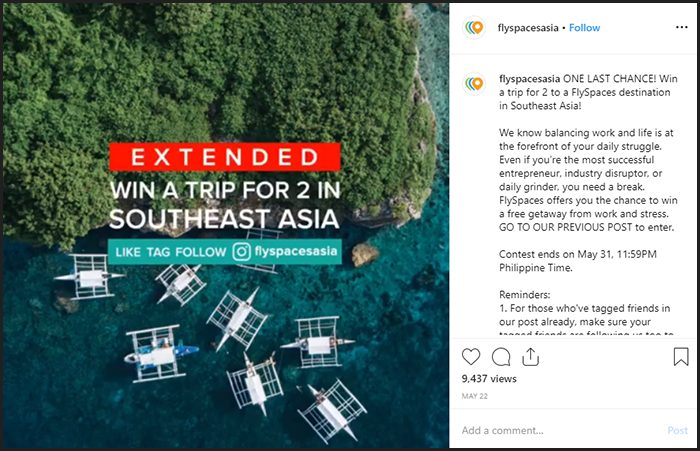 FlySpaces: @flyspacesasia
Ask interesting questions –

Ask questions through pictures, videos or captions. You may also use Instagram Stories and their features such as the poll sticker, emoji slider, and question sticker. Initiate and keep the conversation with your followers going!
Janine Gutierrez: @janinegutierrez
Gamify some of your posts –

One trend "in" right now are interactive and gamified posts. If you could gamify some of your posts, do so. There are so many new ways to gamify posts on Instagram such as "the last number of this post's likes is your.." Take a look at this example below:
Maltesers: @maltesers
Partnership Ideas
Show your community involvement –

Be proud – tell the world how involved your brand is in the community it is in. This could be an edge among your competitors. In this modern day, people definitely respect organizations that take part in a positive movement.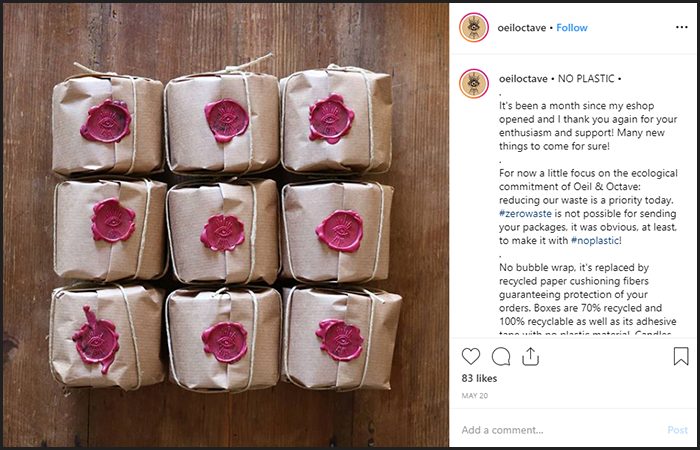 Oeil & Octave: @oeiloctave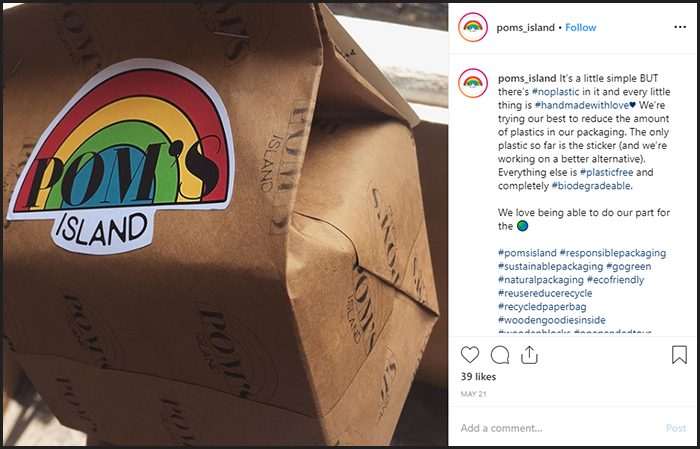 Pom's Island: @poms_island
Partner with influencers –

What is Instagram without influencers? Hop on that trend because influencers today are just as huge as celebrities. Get your influencers to use and promote your products or services. Either post the content directly on your account or re-post it from your influencer's.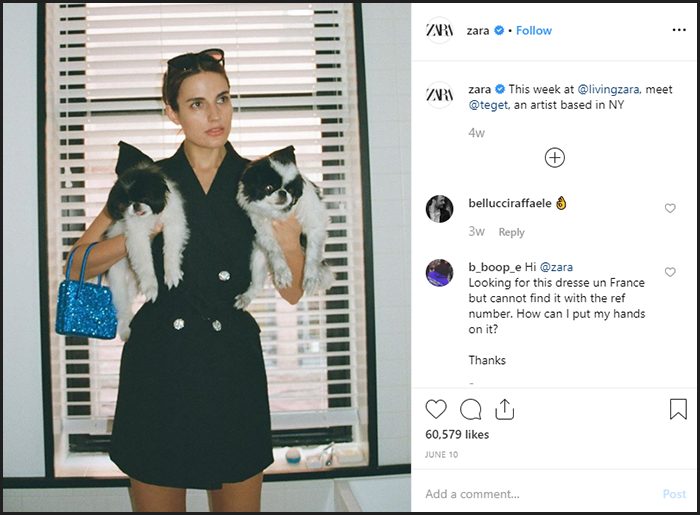 Zara: @zara
Cross-promote with other businesses –

Officially partner with other brands, or simply support them by just mentioning them in your caption how helpful their products or services are to yours. This is also a good impression that your brand is out there connecting and networking. Other brands' fans could be potential followers you can gain and vice versa.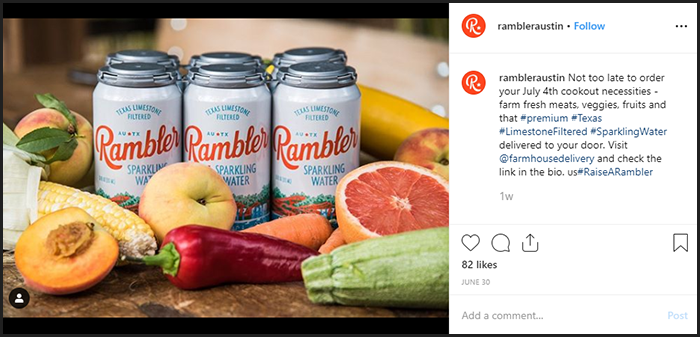 Rambler: @rambleraustin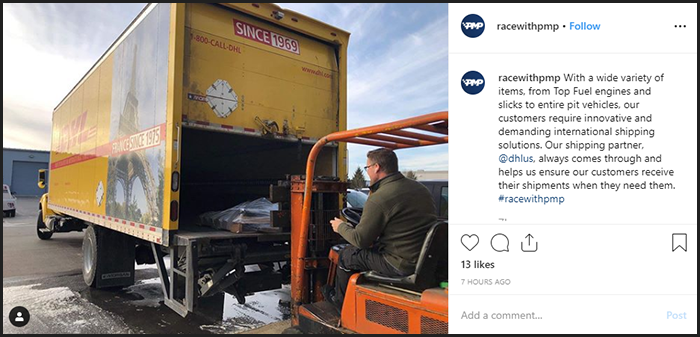 PMP: @racewithpmp
Attend relevant events –

There's a lot going on outside your business or brand. Don't just stay on your lane. Join events and let them know that you're part of it. Local food festivals, music events, charity runs, game conventions – where and what does your brand want to be recognized with? Besides, you could get new customers or followers from the event itself.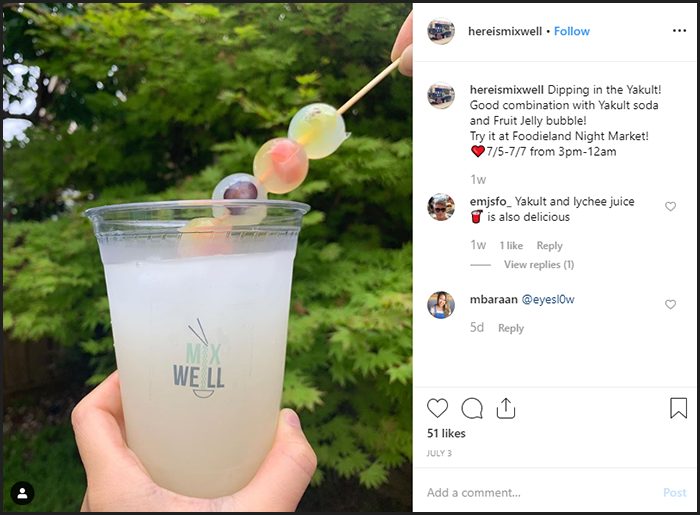 MixWell: @hereismixwell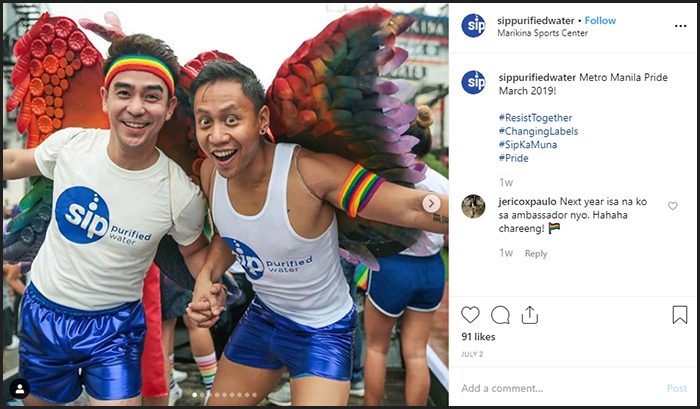 SIP: @sippurifiedwater
Updates/Announcements Ideas
Make regular updates interesting –

Are you about to deliver 10 product items this week? Preparing for shipping or a presentation? That could be content – photograph the packaged products or the powerpoint slides! Since you're on Instagram, take note: everything you post should be interesting and visually appealing – cue the camera angles, filters, and creative captions.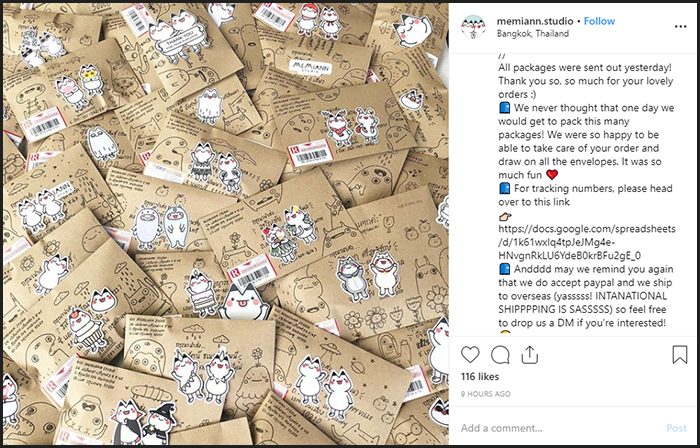 Memiann Stickers: @memiann.studio
Make big announcements –

Do you have new collections or big promos coming up? Putting that information on Instagram will surely help it to be known and recognized by a larger audience. Also consider how you announce it on Instagram. Forget the word ordinary. It's not for people like Instagram users. Make your major announcements the biggest deal – creativity in presentation will go a long way.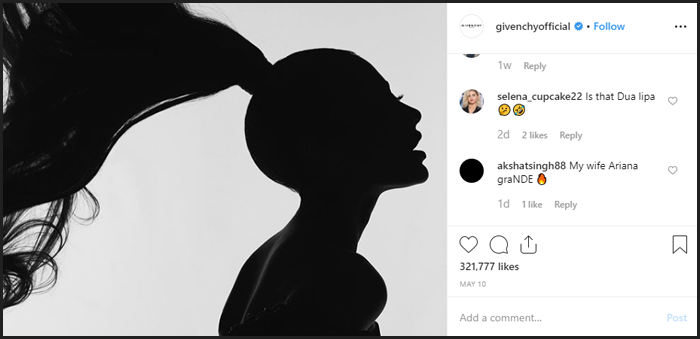 GIVENCHY: @givenchyofficial
Go with the flow using greeting or holiday posts –

Acknowledge the season or day. Is it pancake day today or mental health awareness month? As long as it makes sense to post on your profile, why not! Make contents about it and post it. Impress your followers that you are aware.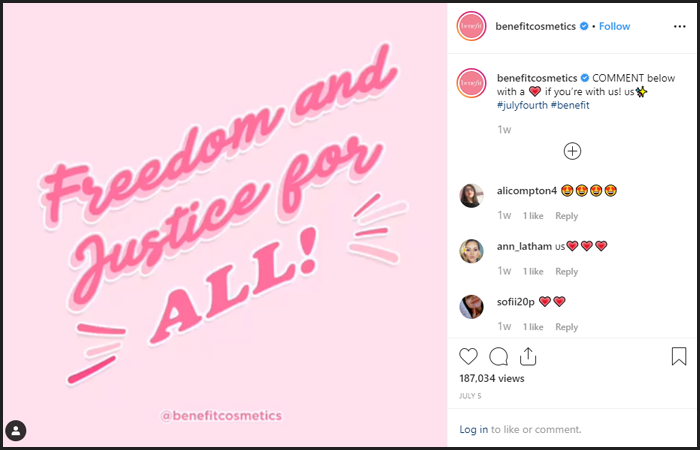 Benefit Cosmetics: @benefitcosmetics
Let people know about your team –

Be transparent! Let people know who are the ones behind the hard work and success of your business. Express how your team works and what kind of personality your team has.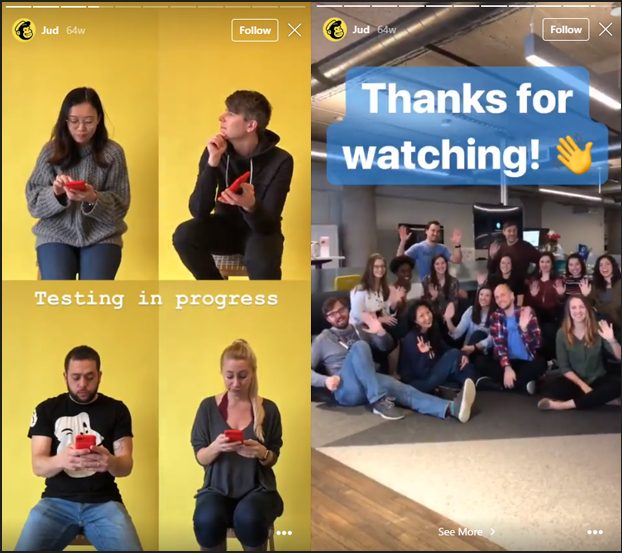 Mailchimp: @mailchimp
Share some behind-the-scenes –

How did you come up with your products or ideas? Are you cooking something up? Share them on Instagram as well. Most companies use Instagram Stories for their behind-the-scenes. You could use IG TV and Live too!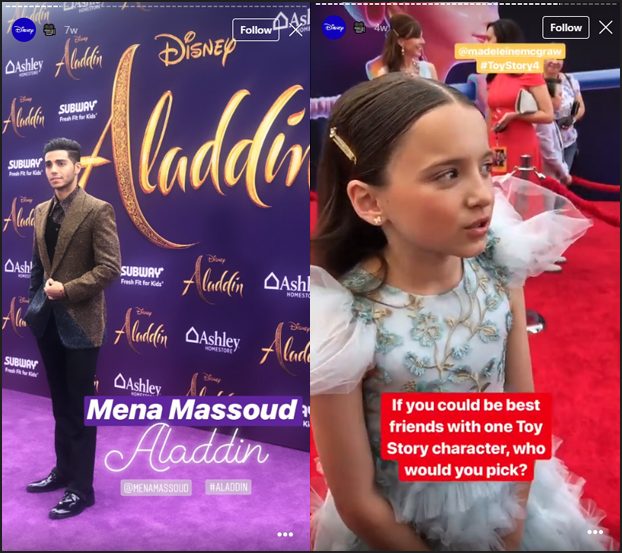 Disney: @disney
Be proud of your brand's achievements –

Share your business milestones. This is another way of increasing your customers' trust in your brand. If it's impressive, post it!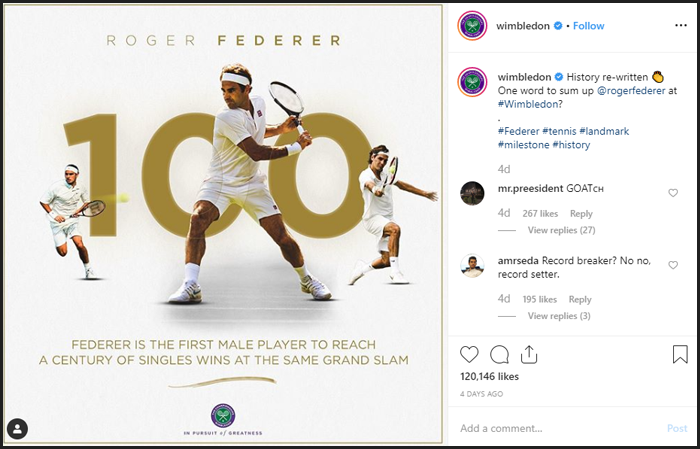 Wimbledon: @wimbledon
Provide FAQs –

Posting FAQs as highlighted Stories is quite a common practice nowadays, especially for small online businesses. It's good to provide FAQs right on your Instagram account so that they don't need to go anywhere else to search for the answers to their questions. 1+ point for customer support.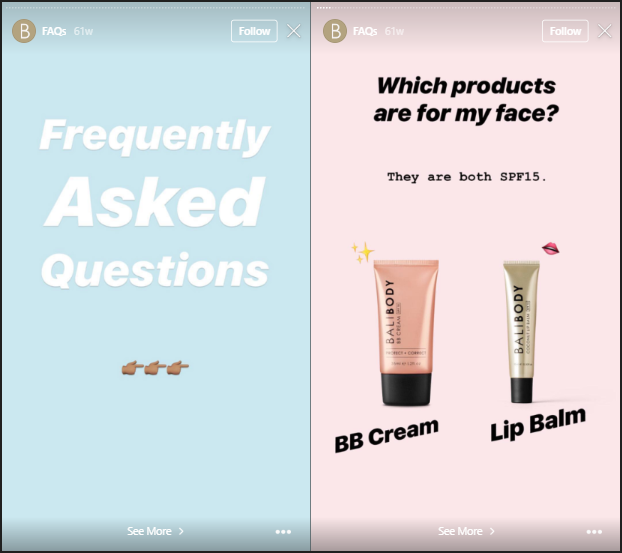 Bali Body: @balibody
Tips and Inspiration Ideas
Re-gram inspirations or pegs –

In traditional marketing, it may be weird to use inspirations or pegs for contents. In social media marketing, it's totally not! Just make sure you are getting permission or giving credit where it is due. This kind of content is like building your followers' interest in the specific topic that is related to your business. Take this post as an example: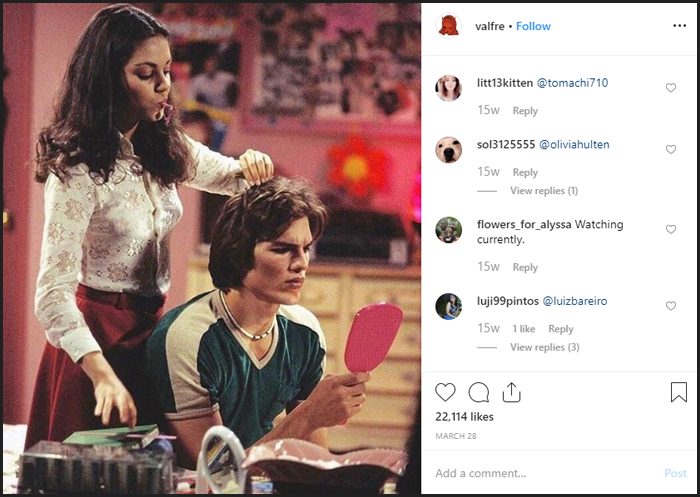 Valfré: @valfre
Create quick video tutorials or share some useful tips –

Aside from posting inspirations or pegs, you may also create quick video tutorials and useful tips. For example, if you are in the beauty industry, makeup tutorials, skincare routines, or ways to use one scarf, would be ideal. Note that if you use IGTV you could also customize your cover photos according to the topics.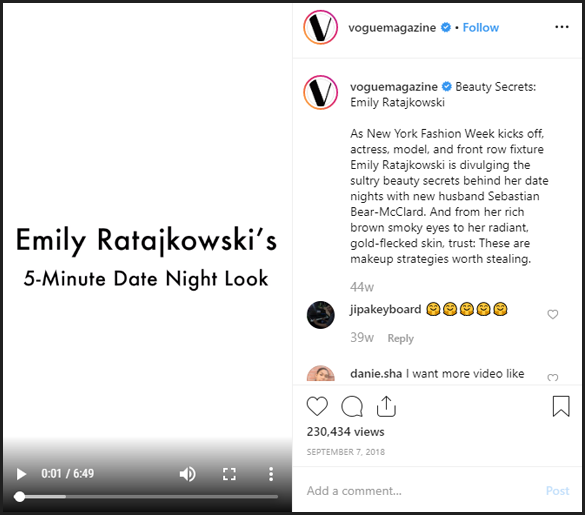 Vogue: @voguemagazine
Throw some relevant quotes – I

f you see quotes or sayings that are related or relevant to your business or brand, especially your followers, you may also share it on your feed. Different kinds of businesses have been posting quotes as a strategy.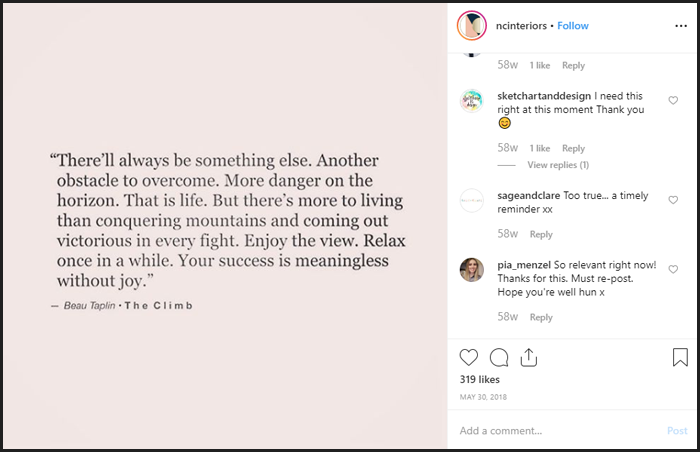 NC INTERIORS: @ncinteriors
Instagram Content Ideas for Businesses: Content Mix and Consistency
Bringing your business on Instagram means you also have to adapt to its environment; where style, aesthetic, and creativity is a big deal. Mix your contents to create an impression towards your customers that your brand is not only concerned about selling. However, be consistent with how you build your brand personality. Even a single post must not shy away from the personality that you are trying to shape for your business. Most importantly, you are on a platform where aesthetic means everything. So impress the users! Keep observing and learning where trends go or flow for Instagram. These 25+ Instagram content ideas for businesses is definitely not the only ways or approaches there are, but these can help you keep posting regularly.
Creating and curating an effective social media feed is quite a process. We hear you. adish can help you increase your social media engagement on your desired social media platform to use. Good thing, our social media management service also includes content planning, creation, and preparation. To know more about it, drop us a line here!