Blog Feb. 14, 2018
What are the Top 3 Publishers in Japan Apple App Store for 2017 Q1? Report by Category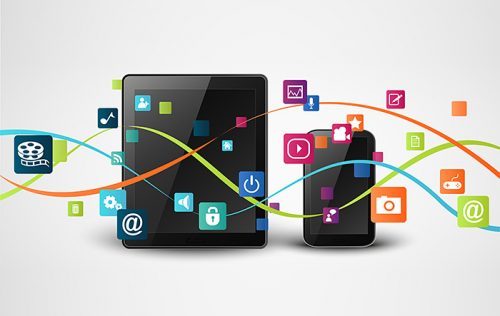 There are different app categories. What companies are included in the top ranking for each category?
Based in the data from Japan Apple App Store 2017 Q1 (January to March), we will show the top 3 publishers included in the 'number of downloads' and 'sales proceeds' from the top 10 categories by sales proceeds. In this report, it will not only show the apps but also the type of companies included in the top ranks by the number of downloads and sales proceeds for each category.
Notable publishers in Top 5 categories are: hap, cocone, COMICSMART, SHOWROOM and Smule!
Game
In terms of sale proceeds, Bandai Namco, X Flag, Square Enix remain in the top ranks since last year with no significant changes. On the other hand, "hap" ranked 2 for the notable number of downloads. Their free game "Hidden my game by mom 2" became the latest craze and has surpassed Nintendo's "Super Mario Run", which ranked at 3rd in the same period.
Social Network
Interestingly in social networks, Cocone is 2nd in the sales ranking after LINE. The company's sales proceeds had exceeded 500 million yen in this period with their very own app "Pokecolo." Furthermore, Eureka, a company ranked 3rd in terms of sales, has been garnering proceeds from the dating app called "Pairs."
Books
Companies like LINE, Shueisha and Shogakukan have secured the top ranks in the sales proceeds ranking. However, a new company has dominated the number of downloads. First on the list is COMICSMART with their app "GANMA!", and it has gained a great number of downloads.
Entertainment
SHOWROOM, a publisher that streams videos of idols, has gained popularity. It has overpowered LINE and Netflix and sits in the number 1 spot. By the number of downloads, Elokence, which released the popular character guessing app "Akinator," has topped the rank.
Music
There are various apps released in the music category. LINE MUSIC topped the ranking in the number of downloads and sales proceeds. Although it is an American company, Smule was ranked 3rd among karaoke apps.
January - March 2017, Apple App Store / Top 3 publishers by number of downloads and sale proceeds in different categories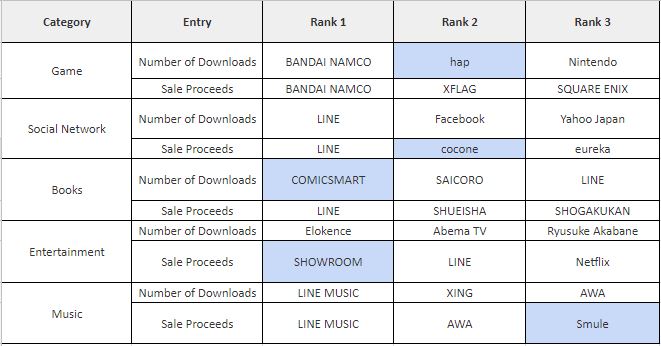 The notable publishers in categories 6-10 are BABYBUS, LT BOX, Square Enix, Shibata Shoten, Monokakido, Duet
Education
In the Education category, it achieved great sales increase last year. In this category, BABYBUS is one of the notable publishers in this category. It ranked 3rd in the number of downloads. The Chinese developer has released many educational apps for kids using panda. It is also gaining popularity in Japan. In terms of sales, LT BOX tops the ranking with its main app 'Real Eikaiwa.'
Utility
For utility, Square Enix game company has surprisingly topped the sales proceeds with its app "Dragon Quest X Boukensha no Odekake Benri Tool". Furthermore, Mayo Donburi was 3rd in the rank and is earning with Kokoku Blocker, an ad blocker app.
Food / Drinks
In the Food/Drinks category, the current video recipe app "DELISH KITCHEN" of Every, and "Kurashiru" of Dely has been remarkably competing in market shares through promotions such as TV spots. Among these apps, Shiba Shoten has been earning, and the Café・Sweets app was ranked 3rd in terms of sales ranking.
Dictionary/Others
For the sales proceeds of this category, Monokakido had released many dictionaries and language study-related apps, creating a wide gap among other companies. Google has topped the number of downloads with its main app Google Translate.
Work Efficiency
Among the notable publishers in this category, Duet is ranked 1st in sales. Its sales have exceeded standard apps like Evernote and Dropbox. The company distributes 'Diet Display'. It offers a feature that can be used as displays in iPhones, iPads and other PCs.
January - March 2017, Apple App Store / Top 3 publishers by number of downloads and sale proceeds in different categories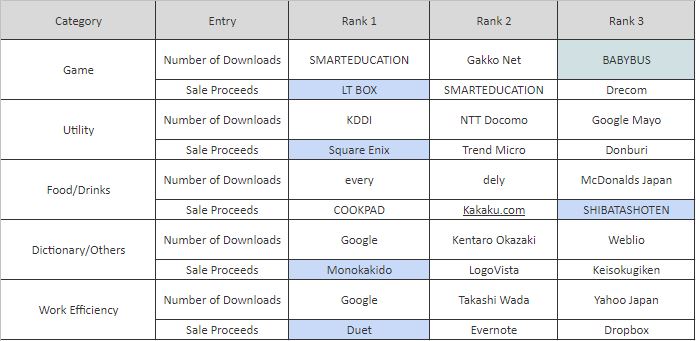 About PRIORI DATA
Established in 2013, PRIORI DATA is a smartphone app market data analysis company that is based in Berlin, Germany.  The company provides a number of estimated downloads from all apps in Apple App Store and Google Play, and offer sales proceeds data.  
They can provide data from 57 countries as well as data from all categories, including game sub-categories.  They also offer free trial for startup app developers at a reasonable price.  In Japan, "2016 CESA Games White Paper" (supervised by CESA), "Smartphone White Paper" (supervised by Mobile Contents Forum) and "Famitsu Mobile Game Hakusho" are also used as official mobile data.
Kindly check http://www.prioridata.net/ for more details.