Blog Dec. 14, 2018
Customer Success Movements to Improve Customer Experience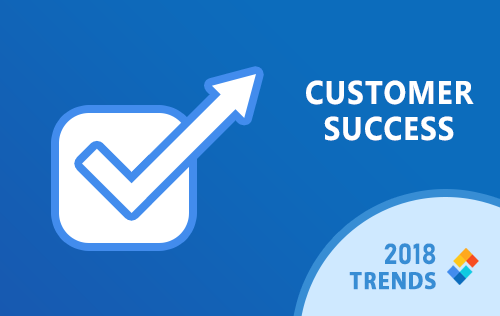 Customer Success Trends from November 30 to December 6, 2018.
Nowadays, more and more companies are implementing different customer success movements to improve customer experience. Businesses today are making sure that great customer experience comes not only after the purchase, but also before and during the transaction. Read on to get inspired by the business actions which the following companies below took or are currently taking.
Improve Customer Experience by Investing On What Drives Greater Success
Conversational AI Leader Conversica Unveils AI Customer Success Assistant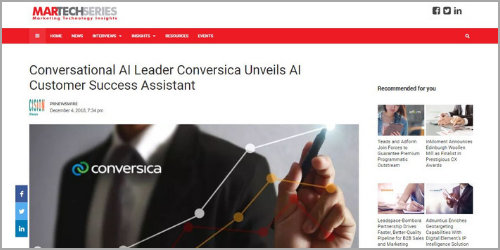 December 4, 2018
Summary: Conversica announced the release of their AI-powered solution called Conversica AI Customer Success Assistant. The AI is made to provide human-like support through email and SMS. It is also intended to empower the opportunities for the company, as well as to enhance employee and customer experience. The new AI Customer Success Assistant is also expected to help the automation of the company's existing AI sales and marketing virtual assistants through expanding post-purchase transactions. In addition, with its nearing implementation, the AI can also help the customer success teams in improving their metrics, as well as making their tasks more enjoyable.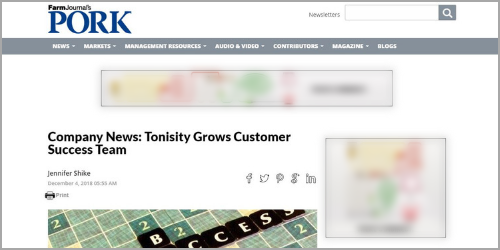 December 4, 2018
Summary: The animal health company Tonisity announced new hires Chad Steinkamp as director and Terry Coffman as manager of their customer success team. With about 20 years of contribution to sales in the swine industry, Steinkamp will build teams for optimal success. Coffman, who handled key accounts in Elanco Animal Health's swine business unit will bring his extensive pork industry knowledge and passion in the said team. Customers' needs for a reliable "information and innovative approaches to unlock pig potential and producer profitability" are the reasons why adding these two key people is important.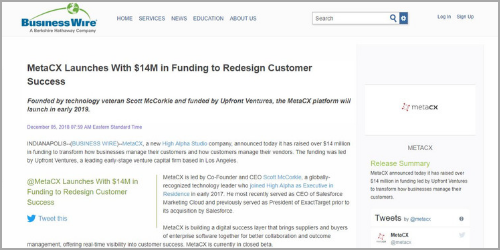 December 5, 2018
Summary: MetaCX, a new High Alpha Studio company will use $14M of its funding to help change "how businesses manage their customers and how customers manage their vendors." This funding was led by Upfront Ventures, an early-stage venture capital firm based in Los Angeles. MetaCX is building a customer success platform that offers real-time visibility and transparency against promised outcomes between SaaS buyers and vendors. The MetaCX platform is still in closed beta and the funds will be used to develop the platform further.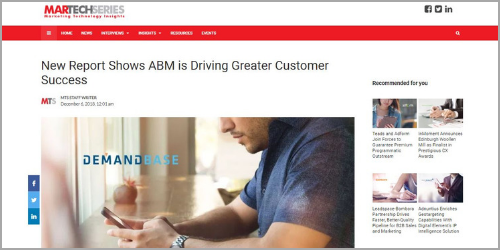 December 6, 2018
Summary: ITSMA and Demandbase released the "2018 ABM Benchmark Study", in collaboration with the ABM Leadership Alliance (ABMLA), The study found that 77% of B2B marketers claim ABM has driven greater success for their target accounts. Though ABM is still relatively new to most marketers, as 52% of them have implemented ABM for only less than a year, many companies are also adopting ABM and getting more sophisticated in their strategies. In fact, the research further tells that according to the marketers, 28% of their overall marketing budget is spent on ABM programs. Marketing and business leaders today clearly see the potential in ABM, as a lot of findings in the said study indicate that B2B marketers are getting better results and they believe that we're still in the early days of ABM expansion.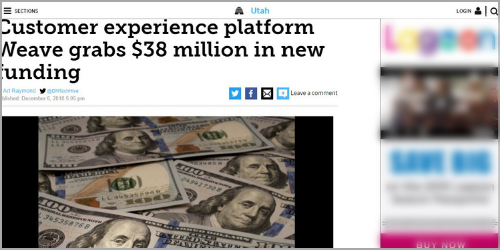 December 6, 2018
Summary: A customer experience management platform dedicated to patient interactions for dentists and optometrists called Weave got $37.5 million in new funding this week. This platform is used by thousands of small and medium-sized businesses across the U.S. Weave provides tools such as text messaging, email, marketing capabilities, and a phone service. According to Crunchbase data, the growth equity firm Lead Edge Capital was the one that led the Series C round, bringing the platform's total funding to over $70 million since its launch back in 2008.
Winning customers isn't a one-time thing to achieve, that's why companies always make sure to increase and improve customer experience through customer success strategies. From understanding your customers and connecting with them emotionally, to recognizing and reacting to their feedback urgently is a great strategy that businesses should put to practice.
References
The following trends shared came from the cited articles. Credits belong to their respective owners, websites, and organizations.