Blog Aug. 07, 2018
Why You Should Use Instant Messaging For Business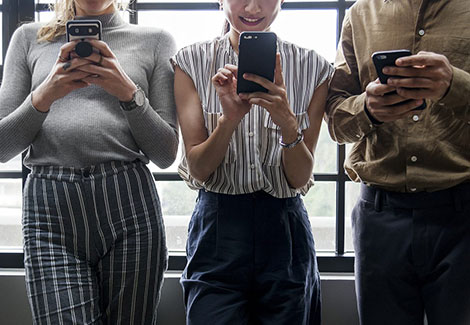 Previously, messaging apps were just seen as a backup for either text messaging or phone calls. However, mobile phones continued to develop, and so did messaging apps. They evolved to provide convenient features and functions that did not exist in traditional text messaging or phone calls. These features majorly transformed purely personal conversations into an efficient business tool.
It would be impossible to live without instant messaging apps for most people in this day and age. In fact, their users are constantly increasing every day.
According to Statista, as of July 2018, WhatsApp has 1500 million monthly active users (MAU), followed by Facebook Messenger with 1300 million and WeChat with 1040 million. Next in line are apps as QQ Mobile, Skype, Viber, Snapchat, LINE, and Telegram. All have less than a thousand million but more than 200 million MAU. Such large numbers of users are too big to ignore, and thus it's no wonder that businesses considered another channel to reach customers. Now is the great time for companies to take advantage of messaging apps, knowing that consumers are spending more and more of their time on it than any other platform. This is only one of the many reasons why instant messaging for business is necessary.
Read further to understand more reasons why you should give instant messaging a chance and how your business can start utilizing it.
A Shift to Instant Messaging for Business
A large consumer group prefers messaging apps as their main communication channel. This group is the millennials, who are also front liners on trends and big influencers of today. Other than messaging apps being a trend to join, there are a lot of other reasons why people decided to shift into this modern channel.
Instant Messaging (IM) is a real-time exchanging of messages online. In general, people want convenience and instant messaging apps have it. People want to create real-time and more meaningful conversations. It is hard to reach people internationally before, but now the world seems smaller than ever. Messaging apps can help you easily contact your loved ones, other people or even a public figure. As a customer, it would of course be convenient to be able to communicate with a business through a tool they use by default. This is why businesses are opening more channels for communication to eliminate any limitations or decreases which the effort needed from customers trying to connect.
While text messaging is still considered an instant communication, people discovered they could cut expenses through instant messaging online than text messaging. This is because carriers are still charging fees per SMS sent in most other countries.
As messaging apps evolved into a multi-functional channel, people now welcome what more it can offer. Users online can now enjoy a fun and friendly conversation through stickers, GIFs, emojis, pictures, videos, and even voice clips.
Why Businesses Must Embrace the Instant Messaging Apps Trend
Some trends these days may not be useful just mere entertainment, but instant messaging for business is one of the trends that can prove their important role in today's world and in the future. Here are the top reasons why businesses should connect with customers over consumer messaging apps:
Increase in Numbers
Messenger apps are no doubt topping the charts in the mobile app market because they have users globally. In fact, more than half (6) of the Top 10's Most Downloaded iOS Apps of All Time of 2018, are messaging apps. FB Messenger as 2nd highest, WhatsApp on 5th spot, Snapchat on 7th, Skype on 8th followed by WeChat and QQ respectively. With this, your business can reach more of its potential customers other than the current ones.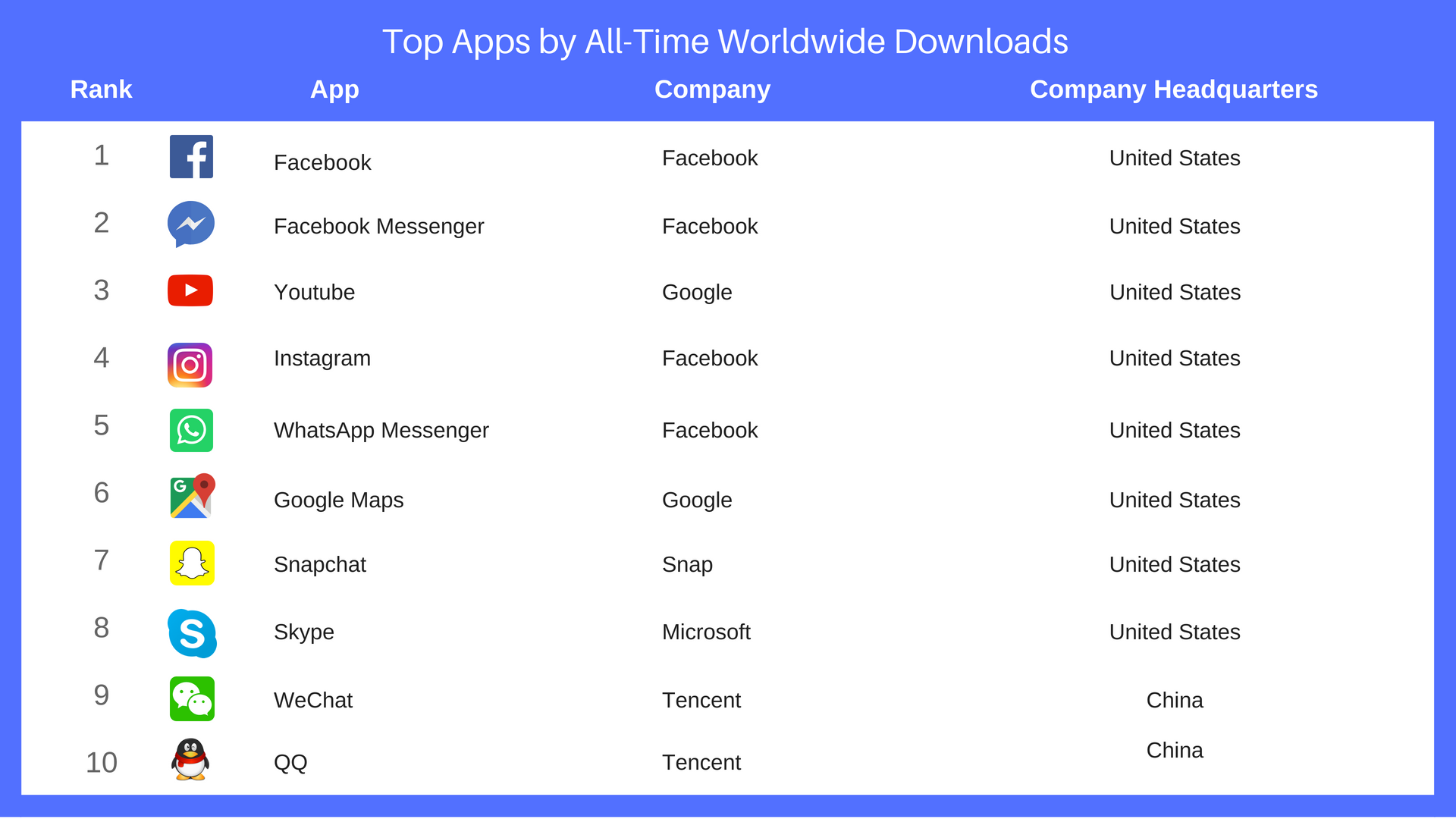 Easily Accessible
Instant messaging can reach anyone at any time, as long as there is an internet connection. It is way easier to connect online nowadays than to call or text message, especially for international instant messages, as other online alternatives like e-mail are not designed to guarantee a timely response. This channel of communication also offers a whole new level of flexibility as opposed to the traditional mediums which are stiff and limited.
More Personal
Having a privacy option compared to open environments such as social media, is not only an advantage to customers but also to businesses. Some things are best discussed privately, especially those that require an exchange of confidential information. Moreover, there are customers who will do everything first to reach any person-in-charge rather than posting complaints, rants or negative sentiments online. With this personal space, businesses can smoothly solve customers' concerns, increase their trust, and avoid putting their brand in a bad light at the same time.
Efficient
Running a call center is entirely different from integrating messaging apps into your business. Call support consumes more time and effort, not to mention its operational costs. IMs however, can be efficient in terms of allowing your business to access from any device anywhere, which is a huge flexibility. For reports and analytics, automatically recorded written transcript of the dialog can be easily retained, which is not present in other modes of communication.
Chatbots Available
Modern instant messaging is becoming more hi-tech day by day. Artificial intelligence is also available on these instant messaging apps. Although it is yet to be more humanized and accurate, chatbots in business can increase first contact resolution rate which helps agents solve more complicated customer issues. Moreover, it adds efficiency and improves customer retention.
Software Integrations
This function may still somehow be in an experimental phase, but some apps already have features that allow businesses to integrate with other software. Here are some of the three popular messaging apps' list of software connections: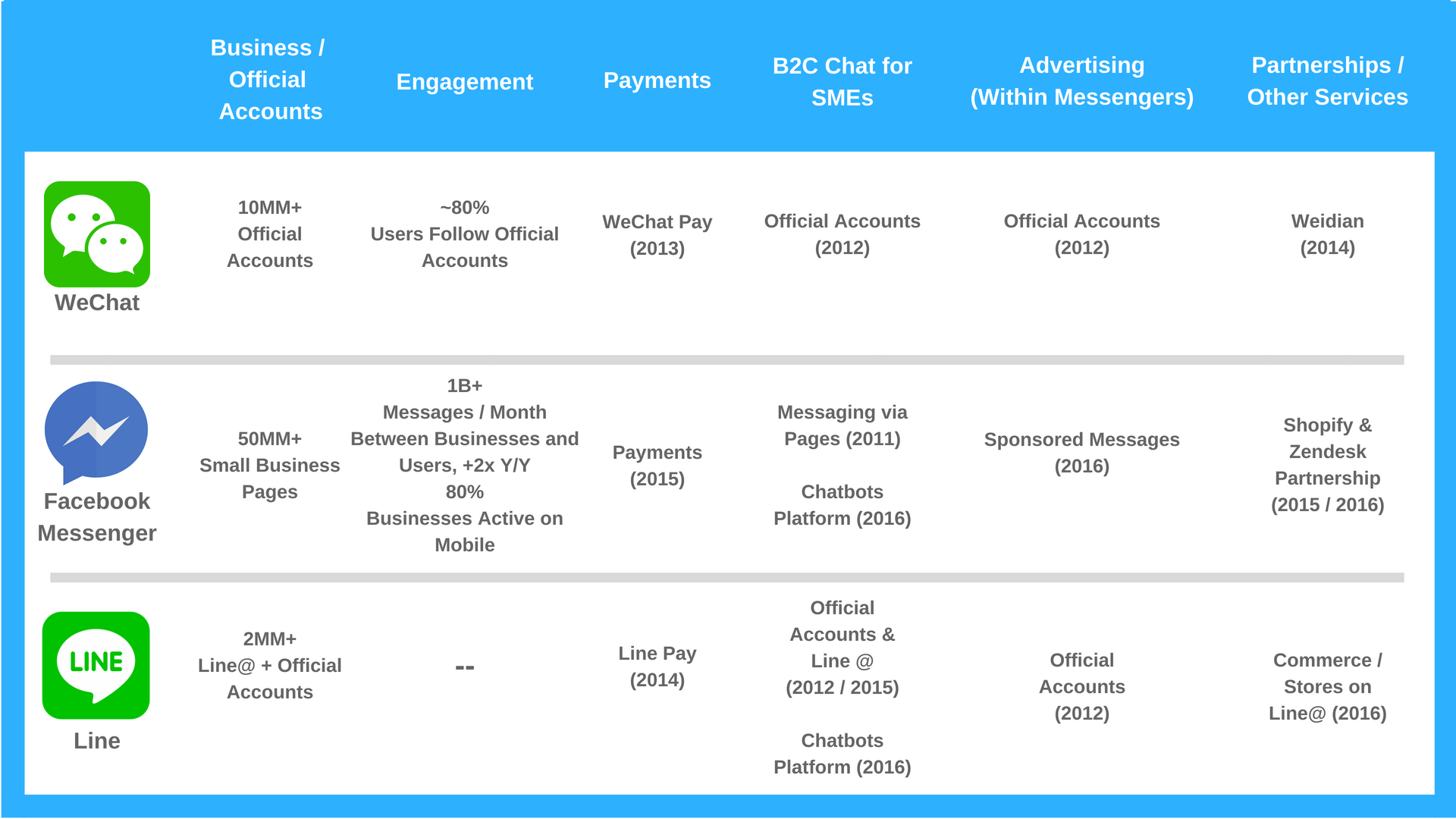 Uses of Instant Messaging
If you think instant messaging is just a master of one, think again. Here are best uses of instant messaging that you can practice in your own business:
Customer Support
One of the main reasons why businesses invest in messenger apps is to improve their customer support. Raised concerns or complaints should be attended to right away, and that's why being always available and at reach is very important. Customers find instant messaging less frustrating than waiting for phone calls or crossing your fingers for a fast response on e-mails. Messaging apps are more personal than communicating through other open platforms such as social media or websites. Instant messaging apps are designed for spontaneous or casual communication where you can be informal but direct to the point at the same time. This creates an easier environment for the customers to trust your brand more.
Marketing and Advertising
Today's messaging trend does not only deliver direct messages but also indirect ones. With a large number of their users being active, and the function to broadcast messaging available in many apps, it will be easier to capture people's attention. These apps are able to provide more features or gimmicks in creating and spreading contents which can be an avenue for advertising and promoting products or services. Integrations can be flexibly used.
Online Transactions
These apps can also be the perfect tool or platform for completing other customer transactions like payment and browsing products. This is especially because messenger apps are on their way to set up more and more features that experiment with e-commerce.
Content Updates
There are messenger apps that can function similar to how social networking sites do, to deliver more contents to consumers. Popular apps such as LINE and Snapchat let their users do more than exchanging messages. LINE has a timeline feature similar to Facebook or Twitter, which you can post and share images or links in your own profile. Snapchat originally made the feature called Stories. It lets you create daily updates removed after 24 hours using images and videos with emojis, stickers, filters, music and more.
Selecting The Right App
With so many messaging apps available today, not all are created for the same purpose but instead have unique features and user bases. It's important to know what will most effectively support your marketing strategies to find the best app for your business. Here are questions you need to think about before deciding which app to use:
Who is my target audience? – It is most important to define clearly who the target market of your business is. In this way, you could strategize according to the needs of the specific audience. Some instant messaging apps are catered towards a younger audience, or a specific linguistic group.

Who are the users of this app? – In order to find success in integrating an app, make sure first that your customers are likely to use it. Analyze the behaviors of your customers and the app-users to see if there's a match.

What app/s do I plan to use? – You must do your research thoroughly when choosing the right app. Know what kind of messaging apps there are as well as what each app can offer for both sides of the business and customers. Decide if you would use more than one app and if so, which are the appropriate ones for your business.

What is my business goal for using it? – Basically, instant messaging apps are for communication purposes. However, these multi-functional apps can also cater to other business agendas such as customer support, reach or engagement, and advertising.

What is my budget? – In every business aspect, managing expenses is important, especially if the budget is limited. Know your budget and choose the strategy that fits into it.

How will my customers benefit from it? – Knowing that an app is adding value to your customers is another good way to determine if you need to invest in it or not. For instance, the Snapchat app makes sense if used by businesses in the line of entertainment or those that showcase products. Thanks to its Story feature, it brings fun and easily accessible updates into one.

How will I utilize it? – What kind of content are you planning to provide for your customers? Is the app only for resolving customer issues or will you also be using it in hopes of reaching more potential customers?

How often will I be using it? – Frequency creates the impression of activeness. Not updating on these apps will make your customers feel like they have been abandoned.
The Future of Messaging Apps: Main Customer Contact Channel
These instant messaging apps aren't going anywhere, given the large number of users, whether businesses decide to jump into this bandwagon or not. Messaging apps have their specific functions or visions for a particular target audience. The key is to experiment and to know the highest potential when targeting a wide range of users. Instant messaging is one of the most important forms of communication with customers today. Turning your back on this idea is like disregarding customers who are comfortable in their own skin.
In adish, we believe in the importance of communication by providing the best experience every user deserves. We create a conversation where we really listen to users. We use technology for improvement except replacing the human touch in every response we craft.
Entering this channel should not be about disrupting customers, after all, disruption is not always a good strategy. Businesses should instead leverage on instant messaging to work more on becoming an organic part of people's lives. Besides, it's not the customers' job to reach out and bend, but your business's responsibility to keep up with technology and trends in order to meet them where they are.