Blog Sep. 26, 2018
Customer Success Platforms to Improve your Business Strategy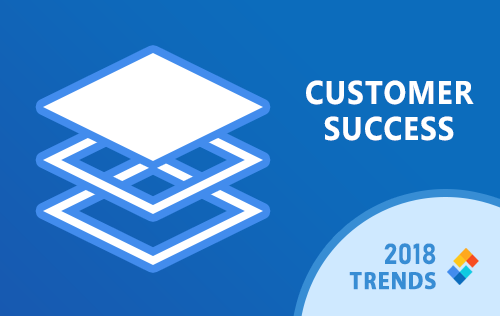 Customer Success Trends from September 14 to 20, 2018.
Brands are constantly finding ways to improve their business. Solution providers are now more important because of the innovative technologies they bring in. These customer success platforms help their business partners by not only integrating many processes but also by saving cost and improving their customer's experience.
Here are the customer success platforms trends that will help your success team to find out where your company stands in the competition.
Customer Success Platform in E-commerce Industry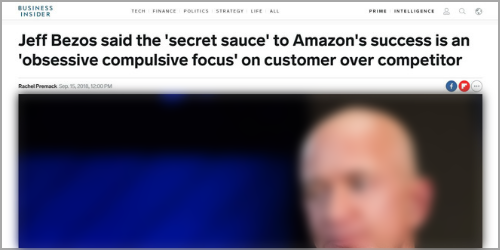 September 15, 2018
Summary: In Amazon, there are 14 leadership principles that guide its employees in their business decisions. However, according to the founder of Amazon, Jeff Bezos, only one of them is the "secret sauce" behind its success. Jeff said the one thing that made Amazon successful is being obsessive-compulsive about their customer's wants and needs, as opposed to obsession with their competitors. This thinking made the most profitable strategies.
An example of this is the development of Amazon Prime, this was established for customers who love free shipping. Prime subscription service focuses on pleasing its customers rather than focusing on being unprofitable for the short term. Jeff also added the categories "missionaries and mercenaries" in the business world. Missionaries are the ones who build a product or service because they love their customers. While Mercenaries are building a product or services just to make more profits. According to Jeff, the "missionaries" usually make the most money.
Businesses Presented Their Newest Innovative Customer Success Platforms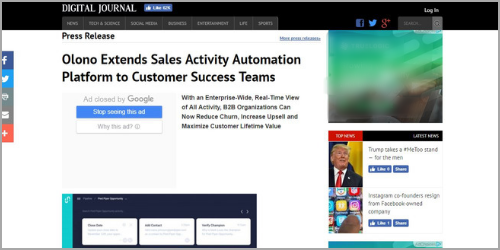 September 19, 2018
Summary: Nowadays, only 29% of B2B customers are actively engaged with their vendors. Customer churn is frequent due to low upsell, engagements, and renewal chances. Olono, a SaaS-based solutions company and the leader in sales activity automation has announced its expansion to Customer Success Management. Olono's Account Activity Management platform is providing managers a real-time visibility on an account's health. It can increase resolution rate by understanding the patterns of success and issues of every CSM teams by prompting every rep to take the next best action based on the activities occurred during the engagement. This also ensures highly accurate CRM data. Olono Account Activity Management is available as a tab in Salesforce. It can be deployed as a standalone app or as a mobile app. It can be integrated into a calendar, browser data, and other tools used by Customer Success Teams.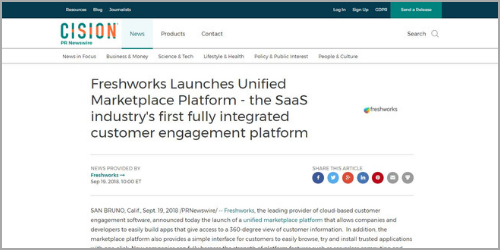 September 19, 2018
Summary:  Freshworks just recently launched a unified marketplace platform. This product lets both companies and developers easily build integrations that can be extended across different Freshworks products, all in a single interface. With this, it will be easier to access a 360-degree view of customer information and to help businesses reach all touchpoints of customer contact seamlessly. Not only that, but this platform could also help encourage customer success teams to take quick actions in order to nurture the customers.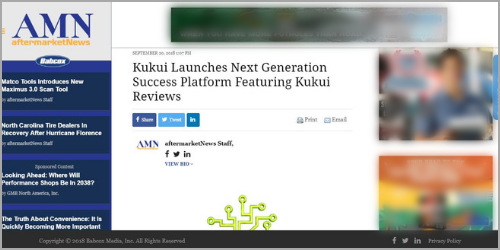 September 20, 2018
Summary: All-in-One Success Platform maker Kukui Corp, has announced the launch of their most advanced suite composed of integrated analytics, marketing, and customer communication tools called Kukui 5.0. Kukui 5.0 has 25 new features and the most notable ones are the completely rebuilt website core and the Kukui Reviews.
The redesigned website core provides enhanced performance and security for the best search engine and conversion rate optimization experience. Kukui Review focuses on the brand's online reputation. It contacts the customer to leave a feedback after they visited a shop. This provides convenience to customers by readily providing feedback form directly from their smartphones. This feature is available for a limited time only as an add-on for $99 monthly.
Customer Success Platform Achievement for Workforces Worldwide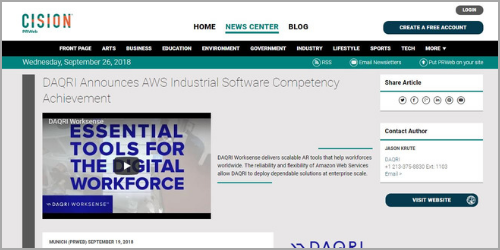 September 19, 2018
Summary: DAQRI is proud to announce that it has achieved the Amazon Web Services (AWS) Industrial Software Competency status. This award recognizes DAQRI demonstrating technical prowess in building solutions for discrete manufacturing and process industries. To receive the AWS Industrial Software Competency, AWS Partner Network(APN) members must undergo rigorous AWS technical validation related to industry-specific technology as well as an assessment of the security, performance, and reliability of their solutions.
Entrusting your business to a reliable customer success partner guarantees your success by helping your company transform to get ahead of the competition. Reconstruct and improve your customer success strategy by learning how these companies are innovating their business composition towards success.
References
The following trends shared came from the cited articles. Credits belong to their respective owners, websites, and organizations.