Blog Nov. 22, 2018
Optimizing Customer Experience Management to Achieve Customer Success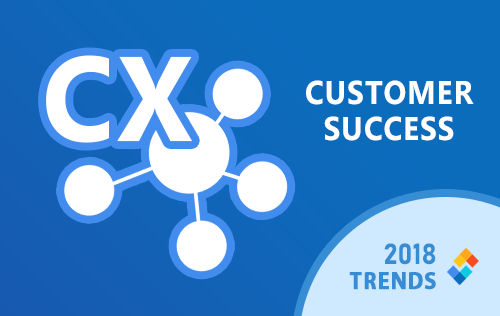 Customer Success Trends from November 12 to 15, 2018.
Customer experience management requires a strategy with process change and innovation in technologies in order to meet customer expectations and increase customer satisfaction. These trends will share how customer success improved in these following companies by optimizing customer experience management.
How Thriving Companies Innovate Customer Experience Management
Pendo Announces New Zendesk Integration to Improve Customer Success and Support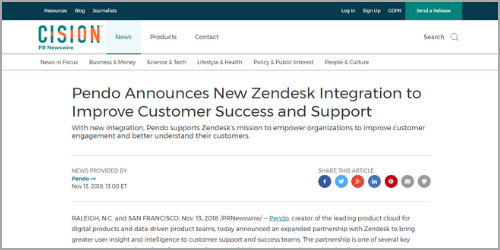 November 13, 2018
Summary: Pendo announced its enlarged partnership with Zendesk; in which the products were further integrated. Having Pendo in the Zendesk timeline allows both parties to see shared customers and understand their end-user behaviors that lead to a support request. Pendo enables support teams to gather valuable data in order to deliver a better experience for customers. With this, support teams can easily manage feedback, measure NPS, and announce new features in-app with just a minimum effort from engineering sources.
New Digital Approach for Customer Experience Management
3D Systems Continues to Invest in Customer Success with Opening of New Customer Innovation Center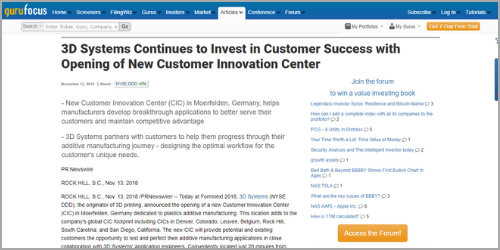 November 13, 2018
Summary: 3D Systems, the pioneer in 3D printing and solutions, is now collaborating closely with its users to help them optimize manufacturing workflows. The benefits of this approach will lead to a much lower operation cost, reduced complexity, and improved reaction time. According to the president and CEO of 3D Systems, Vyomesh Joshi, the company believes that they must know first what the customer aims to accomplish in order to fully understand their customer needs. By working directly with customers, 3D Systems can properly set their benchmark to ensure the best quality for their parts and products.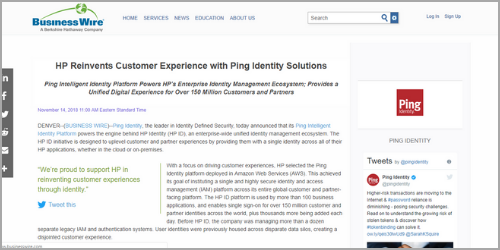 November 14, 2018
Summary: Ping Identity's Intelligent Identity Platform has been selected to strengthen the engine behind HP Identity (HP ID). HP ID is used by more than 100 business applications to enable single sign-ons for over 150 million customer and partners worldwide. HP managed more than a dozen separate legacy identity and access management (IAM) and authentication systems while their user identities were stored in different data silos previous to HP ID. Now, the HP ID initiative provides a single identity across all HP applications, whether in the cloud or on-premises. With this, the company sees Ping's customer IAM platform will "keep pace with their innovation and growth."
Integrating Customer Experience Management in your Business
Customer experience-focused brands gaining more growth in APAC: Survey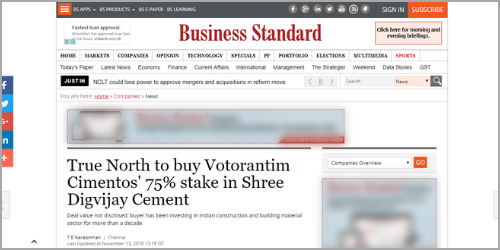 November 13, 2018
Summary: In the recent Adobe-Forrester APAC research, businesses in Asia Pacific who focus on providing meaningful customer experience are gaining an average of 23% in revenue growth. These companies are also more likely to grow 180% faster than other companies. This research is titled "The Business Impact of Investing in Customer Experience – A Spotlight On Asia Pacific." According to the study, companies that invest in providing meaningful customer experience will likely incur a higher cost. However, the companies enjoy twice as much return on investment when it comes to ads and revenue growth. When a company invests in providing a meaningful customer experience, it also doubles the amount of a customer's lifetime value.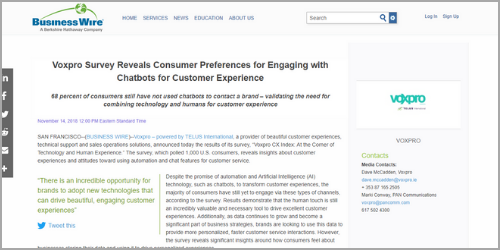 November 14, 2018
Summary: Voxpro, a customer experience provider for sales and technical support, has conducted a survey called "Voxpro CX: At the Corner of Technology and Human Experience." This survey gathered the insights of 1000 US respondents about using AI and chatbots for customer service. Based on the results, 68% of respondents haven't used chatbots or AI, and they strongly prefer to speak to an agent to resolve their concerns. It was also discovered that only 21% of respondents do trust brands with their personal information, while 45% of respondents have trust issues with brands due to concerns about hacks and data breaches. For businesses to provide an effective and memorable customer experience, they must understand that chatbots and other AI technology should be combined with human interactions.
Customer expectations may vary widely. There are people who require more attention or guidance than the others, while on the other hand, some people don't want to be interrupted. Customer experience management should be consistently improved by looking into what your business can do more to reach different touch points and shape better customer experiences.
References
The following trends shared came from the cited articles. Credits belong to their respective owners, websites, and organizations.