Blog Jun. 08, 2018
Recent moves made by companies towards Customer Success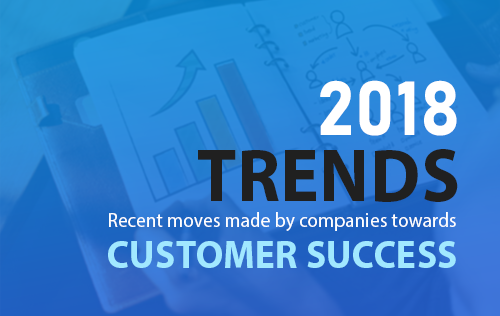 Customer Success Trends from May 9 to 22, 2018.
Is it time for your business to refocus your goals to achieve the success you want for your customers?
Check out the following trends relating to customer success.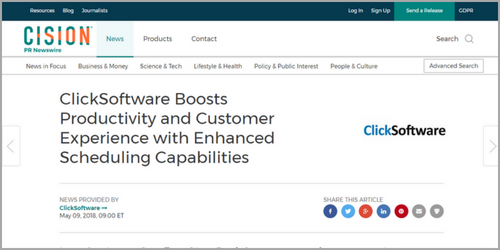 May 9, 2018
Summary: ClickSoftware, shared the new capabilities for Field Service Edge, the cloud-based, mobile workforce management platform; made for meeting the needs of the most demanding field service organizations. The company has enhanced scheduling accuracy, as well as managing customer expectations better and increasing visibility into field service operations; increasing efficiency across the board. Features include: live traffic updates, rapid creation of customer forms, prioritization of customer-confirmed appointments and improvement across a range of areas.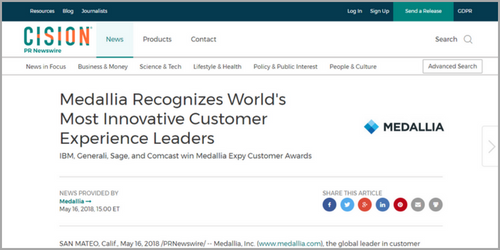 May 16, 2018
Summary: Medallia, Inc., the global leader in customer experience management, recognized the winners of the very first Medallia Expy Customer Awards. Winners were selected by a panel of judges including Medallia partners Deloitte Digital, LRW, commonFont, and the CXPA. The announced winners were: IBM for Engage Every Customer award, Generali for Optimize Every Experience award, Sage won the Activate Every Employee award, while Comcast won the Transform Your Company award.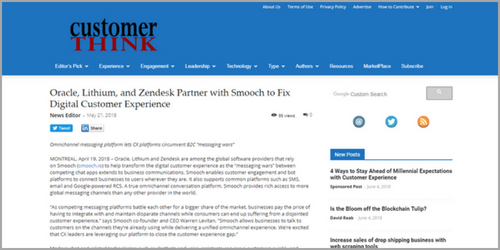 May 21, 2018
Summary: Companies Oracle, Lithium and Zendesk, three of the global software providers, will be partnering with Smooch, an omnichannel messaging platform. Such partnership aims to transform the digital customer experience (CX) as the "messaging wars" between competing chat apps has reached the realm of business communications.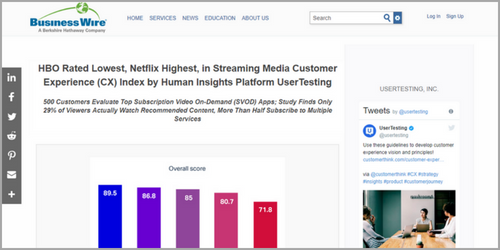 May 22, 2018
Summary: On-demand human insights platform, UserTesting, shared its Streaming Media Customer Experience Index. The competitive benchmarking study is of the top five SVOD (subscription video on-demand ) apps: Netflix, HBO Now, Amazon Prime, Hulu, and YouTube TV. 500 SVOD customers evaluated the apps based on five factors—Ease of Use, Speed, Credibility, Aesthetics, and Delight. Netflix was the overall highest-rated SVOD app with a CX score of nearly 90 (scale of 0 "negative" to 100 "positive"), while HBO scoring a low 72. The study also found only 29% of customers actually watch suggested content, and that more than half subscribe to at least two SVOD apps.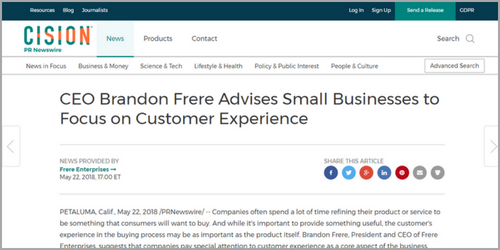 May 22, 2018
Summary: President and CEO of Frere Enterprises, Brandon Frere, advises that companies should focus more on customer experience as a core aspect of a business. "Your clients are often very busy individuals who don't have a lot of time to spend deciding whether to do business with you," he explained. With that, he stated that a good customer experience plan can help customers make that decision quickly and in your own favor.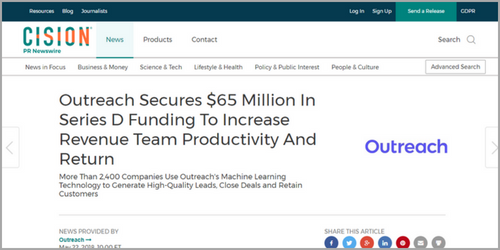 May 22, 2018
Summary: With more than 2,400 companies using the leading customer engagement platform, Outreach has secured $65 million in Series D financing. This more than doubles the company's valuation over its Series C round. The round led by Spark Capital includes investment from Sapphire Ventures as well as from existing investors; totaling Outreach's funding to $125 million.
Not everything in business goes exactly as planned as there are things beyond our control. What's important, however, is to create an opportunity that can lead you back to your path.
References
The following trends shared came from the cited articles. Credits belong to their respective owners, websites, and organizations.