Blog Sep. 03, 2018
Customer Success: Top Platforms and Success Stories that could step up your Business Strategy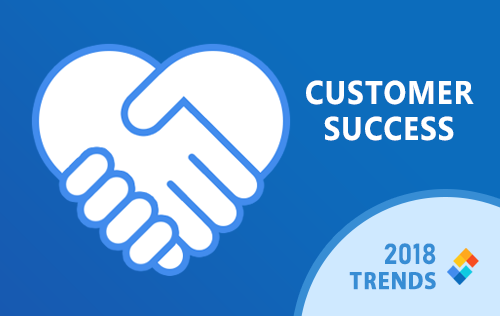 Customer success trends from August 20 to 24, 2018.
Taking care of your customer is equal to taking care of your business. Customer success is a business strategy that allows your company to improve, maximize profits, and develop business success. Here are 5 customer success trends that could shape your business strategy.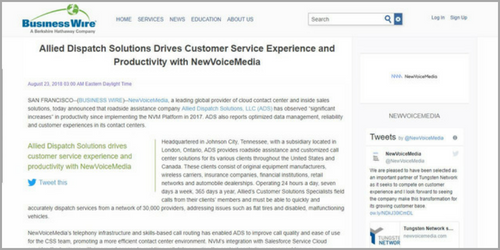 August 23, 2018
Summary: NewVoiceMedia, the leading global provider for cloud content and inside sales technology noticed that there was a significant increase in the productivity of their client Allied Dispatch Solutions (ADS) since it implemented the NVM platform in 2017. According to Anthony Royer, President and CEO of ADS, "NewVoiceMedia took the time to really understand what we do and provide a solution that allows us to deliver on that promise, and to measure and communicate our success to clients with confidence."
The NVM platform helped ADS CSS Team by improving their call quality and the ease of use. The NVM platform promotes a more efficient contact center environment. The platform also helped ADS identify and predict trends using an integrated system.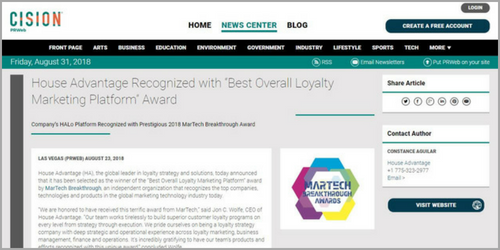 August 23, 2018
Summary: House Advantage's HALo Platform was awarded as the "Best Overall Loyalty Marketing Platform" in the Prestigious 2018 MarTech Breakthrough Award. MarTech Breakthrough Awards is a recognition for acknowledging the innovation, hard work, and customer success of top companies, technologies and products in the sales, marketing, and advertising category in the global industry.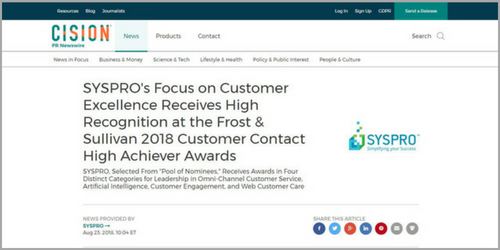 August 23, 2018
Summary: SYSPRO, an independent global provider of industry-built ERP software was selected among nominees to receive the Frost & Sullivan award on four distinct categories. They were recognized for showcasing excellence in the Omni-Channel Customer Service strategy, Customer Success through Artificial Intelligence, Customer Engagement, and Web Customer Care. Prior to the Frost & Sullivan awards, SYSPRO was also named as one of CIO Review's "20 Most Promising ERP Solution Providers in 2018" for their excellence in customer care, technology, leadership, and company culture. The award from Frost and Sullivan is an example of how SYSPRO is devoted to its commitment to ensuring the success of its customers and partners through innovation.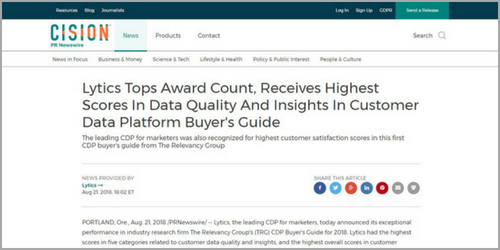 August 21, 2018
Summary:  Lytics succeeded to have the highest customer satisfaction scores in the first customer data platform (CDP). Lytics is the top CDP used by most of the marketers. It offers a smart platform for marketers to combine the customer data and experiences. According to the article, Lytics utilized unique strategies in order to beat competitors. The company's commitment to the idea of customer success made their customers become their "great partner". With this, the members of the company perceived their customers as an extension of their team.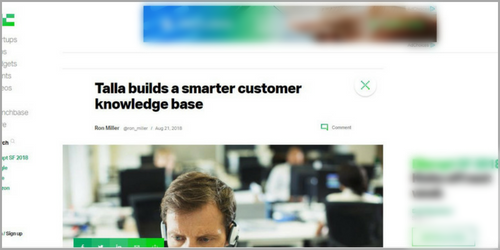 August 21, 2018
Summary: As of August 21, 2018, Tala has released its version 2.0 of the Talla Intelligent Knowledge Base. This tool has automation, machine learning, and chatbot features in it. It's designed to help customer support teams get all the info they need efficiently and it also improves their response time via the machine learning function.
The tool can be easily deployed on a website to provide customers with updated and accurate information. The bot can also show anything that is lacking in your knowledge base especially when it detected that it has no solution for an issue. Lastly, it can also incorporate another knowledge base from Salesforce, ServiceNow, Jira, and many more if needed.
Improving customer success with smart strategies, tools, and platform could improve your business strategy into a leading one.
References
The following trends shared came from the cited articles. Credits belong to their respective owners, websites, and organizations.