Blog Aug. 06, 2019
6 Facebook Commenting Tips That Most Marketers Didn't Know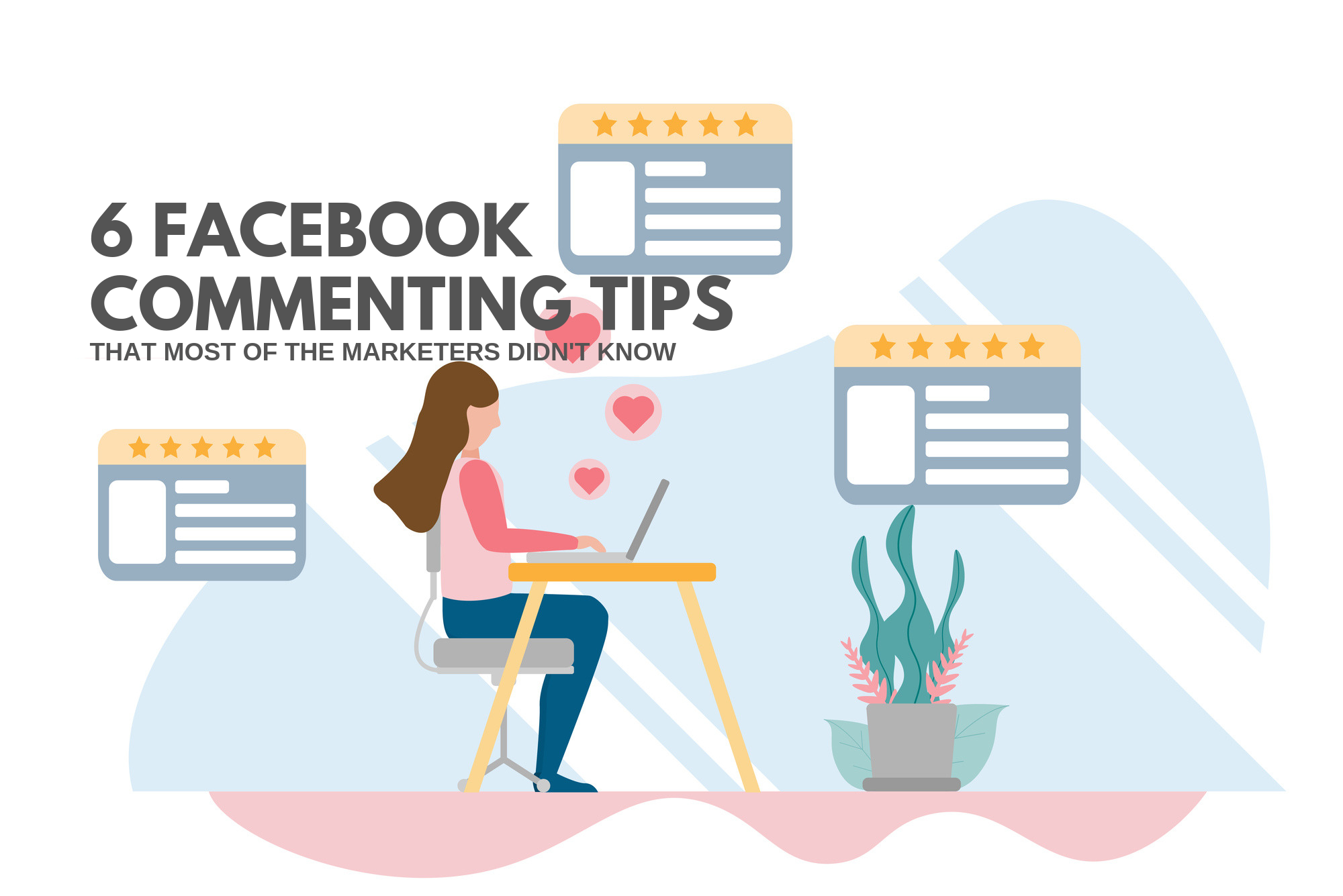 What makes Facebook interesting without the comment section? We use the comments every day to increase engagement and to build a strong relationship with our audience. In this article, we'll give you the best Facebook commenting tips to enhance your social media strategy.
But first, you need to understand why comments are important in a Facebook post.
Why is Facebook commenting and replying are so important?
Commenting and replying on your own Facebook posts are a great way to build a more active connection with your audience and strengthen your presence on Facebook. 
Replying to comments on your Facebook post encourages people to comment more and start a discussion. Psychologically, people are less likely to leave comments if they are going to be left unread or ignored. By replying, you're not only letting people know that you're actively involved in reading the comments, but you're also encouraging them to come back and comment again later. Thanks to "queuing up" psychology, more people feel likely to engage when they see an active discussion in a thread, according to citylab.
A reply can often lead to side conversations within the commenting area, which can add to the content and overall quality of your post. When people see your post as valuable, they will initiate side conversations naturally. Side conversations may tell your opinion or suggestion will be explained further, new ideas will be brought up, and questions that people may have to get answered; increasing the value of information on the post,
Here are some screenshots of side conversations: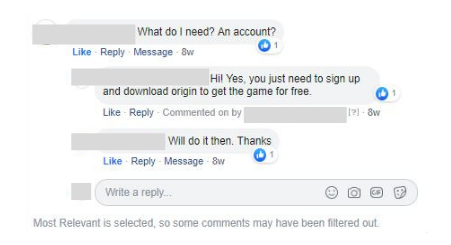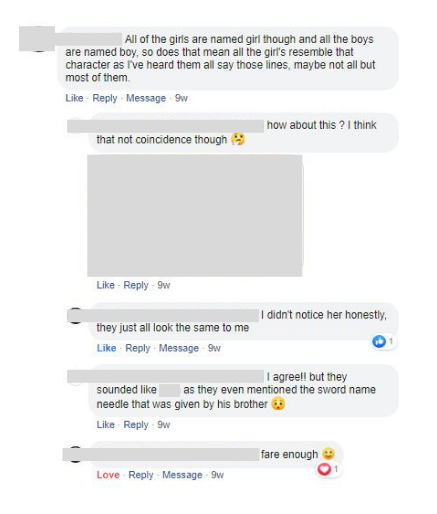 According to Social Media Today, Facebook's new algorithm works to personalize user news feeds to present the most relevant contents for the users. The new algorithm defines relevant content through valuable interaction; referring to likes, comments, replies and any other forms of engagement.
By interacting with users, you can make your comment section longer. The longer comment threads you have, the more people who are encouraged to engage in your post. This also means that more people are likely to see your next update on your Facebook page. Whether you add stories, post content, live stream, update your page information, etc, people who engaged on your page or post in the past are more likely to see your next update higher on their newsfeed.
So, here are the 6 Facebook commenting tips that you can add to your daily social media strategy.
6 Facebook Commenting Tips That Most Marketers Didn't Know
There are many ways you can interact with your audience on your Facebook comment section; such as replying with an image, adding reactions with emojis or posting a GIF. I guess you already knew these things, right? Thus, for these tips, we will be focusing more on what else you can do on your Facebook comment section.
Tip #1 - Turn on comment ranking
Do you want to give a pass on less relevant comments? Well, I've got good news – take advantage of this well thought out feature called comment ranking.  Enabling this makes the most appropriate comments appear first in your post.
Making the most relevant comment visible would help your content attract more audience and influence them to comment on your post.
Comment ranking is also useful for controlling trolls and spammy comments. It allows you to show the most liked and replied comments at the top of your comment section and show the less engaging comments at the bottom. This means the user comments that get the highest number of likes and replies will be raised at the top of the comment section. The comment that reached the highest rank will serve as the supporting material to convince the users to engage with your post.
Please be aware, however, that comment ranking is designed for only public posts. Hence, ensure that you have allowed anyone to view your posts on your page settings. Here's how you do the reset:
For pages
If you're an admin: Click

Settings

at the top of your Page.

From

General

, click

Comment Ranking.

To turn comment ranking on, check the box next to

See most relevant comments by default

. To turn comment ranking off, uncheck the box next to See most relevant comments by default.

Click

Save Changes

.
Tip #2 - Turn on comment notifications
Facebook perceives a "comment" as a powerful engagement, so it is beneficial for your page to encourage your audience to start a discussion within the comment section. Enabling comment notifications from your page allows you to get informed to see the followers' comment and therefore you can reply quickly.
Here's how to enable comment notifications.
For pages
Click Settings at the top of your Page.
Click Notifications in the left column.
Edit your notification settings.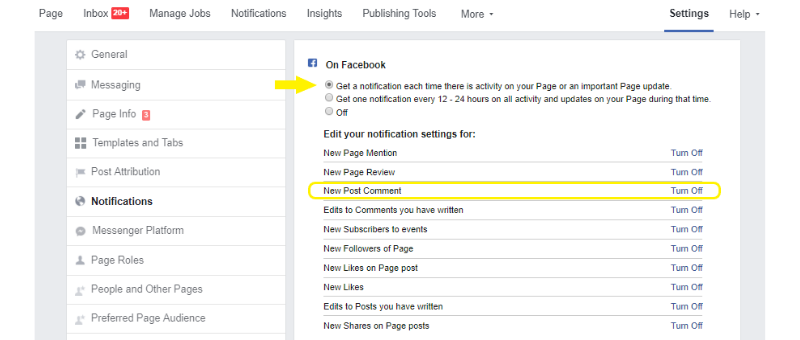 If you've turned on notifications in your page settings but still not receiving any notifications, it may be because you turned off notifications on your mobile device. Try tapping Settings > Notifications on your mobile device and make sure your notifications for Facebook are turned on.
Tip #3 - Do not ignore negative comments and try to handle them with care
Be proactive and responsive to all comments, especially the bad ones. Negative comments are inevitable, but by quickly replying with each comment, you can stop most problems from intensifying.
You can't escape from the fact that you will come across some people who are difficult to handle. Some will try your patience, but you must always remain professional when replying to comments on your Facebook Page.
If you lose your grip, it is your brand that will suffer. Rude reactions ultimately lose business. Facebook is a public platform. It may feel like you are speaking with one person but you aren't. People who come across to your post will also read your reaction.
So, whether you're talking with an angry person or a troll on your Facebook post, make sure you're doing the following:
Thank them for their opinion.

Apologize for the inconvenience ("sorry to hear that you're having problems with our product/service") 

If the person addressed that their problem is regarding the content of the post itself, then try to ask for their suggestions and promise with improvements.

If there are comments that you think shouldn't be spread or is unhealthy to stay on the comment section, try to encourage them to send you a private message.
More importantly, do not delete negative comments as long as it's not abusing or harassing anyone. Responding to negative comments gives the impression of sincerity or to show that your brand is always listening to customer feedback and that you do their best for the users.
Tip #4 - Mention who you are talking to
Mentioning the name of the person you are talking to on your comment section can inform your fans exactly who you are talking to.
This is important when commenting on posts, as it's an effective way to make the person reply again as you are reaching out directly to that person. You can mention the name of the person by writing @typename on your reply.
Tip #5 - Like Every Comment on your Posts
In addition to replying to every comment on your posts, it is recommended to like or react on each and every comment. This also let your fans know that you actually saw their comment and appreciate it.
It can also create a notification for the fan on their profile, which can lead to more interaction on the post. Keep in mind that the more interaction your post gets, the more people it will reach.
Just be careful of what emoji reaction you will click, as it must not offend them and you must avoid being misunderstood. Try to react mostly on positive comments only. If you're unsure whether the comment is positive or negative, try to avoid reacting with an emoji. If you react with a wrong emoji to negative comments, this might make the person angry and lash out further in the comments, harming the reputation of your page.
Tip #6 - How fast should you reply on comments in your Facebook post?
So here's the thing – the faster you respond, the better.
Normally, you should respond within 60 minutes of receiving a comment notification from someone on your post. Whether it is a positive or negative comment, replying immediately could leave a good impression.
Moreover, if you have noticed that the thread is getting longer and fans are still commenting on it, then that's the time to slow down your responses.
Observe their discussion. If you feel that they're mostly talking to each other then move aside and let them be. Keep in mind that these fans who already commented on your post will get notified when someone else commented. Facebook's new algorithm aims to create meaningful interactions. If the same people keep on commenting in a single post, Facebook will soon stop sending a notification to the same people. So, I recommend leaving your fans for a couple of hours unless they mention you and asked a question. After leaving them for a couple of hours, find the comment with the highest count of replies on the post and reply to it. Facebook will detect it as new engagement and will send notifications to all who had commented on that post. Doing this encourages your fans to look back on the post and start the discussion again, and your post will get a higher chance to be on the top of your audience's newsfeed again.
Keep your Facebook comment section engaging and stay at the top of your audience's newsfeed!
People are more likely to join in when they see other people commenting! Keep in mind that the importance of responding to Facebook comments cannot be understated. If done right, the audience will go a long way toward connecting with you as lifelong fans. So if you promote a business on Facebook, it's time to take control of your social interactions.
Here at adish, we put the utmost care in maintaining your brand's Facebook reputation. Our highly trained and dedicated team combines interactions so engaging and meaningful that it will bring more delightful connections. With our social media experts, we guarantee that your audience today will become your supportive fan tomorrow.