Blog Mar. 05, 2019
The 7 Twitter metrics you should track in 2019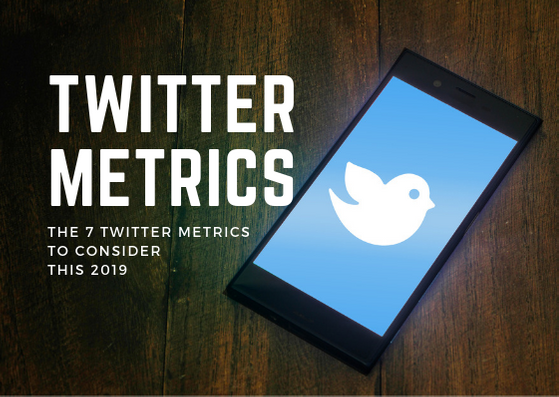 According to a forecast made by statista, from 54.7 million in 2017, the number of active Twitter users in the United States is projected to reach 55.7 million monthly active users for the year 2019 and will continue to increase up to 56.9 million monthly active users in 2022.
From these statistics, it can be easily seen that Twitter is one of the most popular social media platforms used by marketers. However, Twitter marketing is not an easy task and is very challenging especially if you cant identify what activity is effective or not. This is the reason why it is very important to have a set of Twitter metrics to understand whether your marketing performance is effectiveness and improve the results.
Why is it important to analyze Twitter metrics?
Analyzing Twitter metrics can help you understand how the content you share on Twitter grows your business. Each action you perform on Twitter can be recorded and measured; such as the number of tweets you post, or the amount of content you share. The same can be said for every action performed by other Twitter account that involves you in some way (e.g. being retweeted).
Learning how to track the right Twitter metrics is very useful to optimize your marketing campaigns and to understand how your message is being received online.
The 10 Twitter metrics you should track 2019
A number of metrics can be applied to get the analysis of the Twitter activity. Using the right Twitter metrics will show whether you are really getting the results you need. Here's the list of the metrics you'll need to start considering:
Followers
What does it measure?
This metric measures your audience- the number of accounts who follow your Twitter account.
Why does it matter?
Obtaining more followers means that your page draws the interest of your target individuals. It's a sign that users are seeing the value of your contents and increases the chances that users will engage more frequently on your page.

Having a huge number of followers is awesome right? However, you must be careful in following too many accounts, because your users might think that you only gained your followers by getting other users to follow you back. Remember that it must be their decision to follow your account because they find your business value and consider you as relevant to their interest, and not just because of you asking them to follow you back.

Demographics
What does it measure?

Demographics is known as audience insights that indicate the kind of audience you're attracting to your page. This metric gives you a comprehensive summary of who you should be tailoring your messages toward.
Why does it matter?
In any platform, knowing who your audience and collecting their information is a great way to start strategizing your contents. Information such as:

What is the primary gender of your audience?
Where is your audience come from?
What topic are they mostly interested about
The gathered data will help you to improve your approach and create relevant contents for the right audience.
Top tweets
What does it measure?
This metric measures the tweets that performed well on your account during a particular period of time. Performing well refers to higher engagement.
Why does it matter?

By measuring this metric you can find out the following;

What type of content does your audience show interest in the most?
What kind of approach does your audience mostly engage with?
Do they prefer tweets with video or image content?
Do tweets with links or without links perform better?
Posts in what day or time can attain more engagement



This way you can improve the performance of every message and content you want to present to your audience.
Video views
What does it measure?
This metric measures the number of times users have watched the videos you have uploaded to Twitter.

Why does it matter?
Measuring which videos are getting the most views allows you to formulate what kind of video contents can attain higher engagement from your audiences and thus refine your strategy to improve your engagement and increases the chance of gaining more followers.
Conversions
What does it measure?

Like other social media platforms, Twitter also has the function to set conversion goals. This metric measures the number of users who have taken actions that are included in your goal, such as making a purchase, signing up for a newsletter, or download your apps.
Why does it matter?

Conversion should be the focus of your Twitter efforts, so setting up your conversion goal is a must, especially if you're spending on ads. By measuring this metric, you'll be able to optimize your marketing strategy including ad campaigns for conversion goals. Also, measuring conversion allows you to improve your Twitter contents and identifying which of it is driving the most action.
Link clickthroughs
What does it measure?

This metric measures the number of times a user has clicked through to your web page from twitter either an organic post or paid post.  
Why does it matter?

By measuring link clickthroughs, you will be able to understand what strategy catches your audience attention the most, such as whether it is more efficient to run ads or use hashtags. Improving this allows you to reach a wider audience.
Hashtag performance
What does it measure?

Hashtags work for both Twitter and Instagram. This metric measures the number of times that the hashtags you are following or closely following were used in tweets by the users.
For example, if your page is interested in games and you do some quick search, there will be hashtags like #weekendgaming.  That would be aligned to your interest and you would want to follow it as well, even if it is not directly related to campaigns you may be running.

Why does it matter?

A hashtag (#) is big deal on Twitter as it is Twitter's most popular creation, making it easier to discover other Twitter users who are interested in the same topic as you. Today, it's almost impossible to run any kind of social media campaign without a hashtag marketing plan in your strategy. While you might need to stick to a few specific branded tags over time to help generate more attention for your company, you'll also need to run an A/B test for some of your hashtags to see which generate the best results.

If you're running a branded hashtag campaign, tracking these hashtags can help give you a sense for how far other Twitter users are spreading them. By learning which tags your customers respond to best, you can ensure that your next campaign is tailor-made to give you the highest levels of engagement.
Analyzing Twitter metrics can help improve brand performance
Knowing the right metrics for your business can turn data into valuable insights to make more accurate target marketing decisions. It can also help you focus on the campaigns that work, and helps you discover what it is about your brand that people value and connect with.
Through Twitter, brands can increase their visibility, deepen customer relationships, and even drive sales. By staying alert and flexible, brands can be adaptable to meet their customers' expectations and demand. Whether you're developing a social media strategy or running a marketing campaign, having a set of metrics for your Twitter analytics can help you support your ideas or refine your approach.