Blog May. 23, 2019
The 5 Instagram Metrics you must track to achieve your marketing goals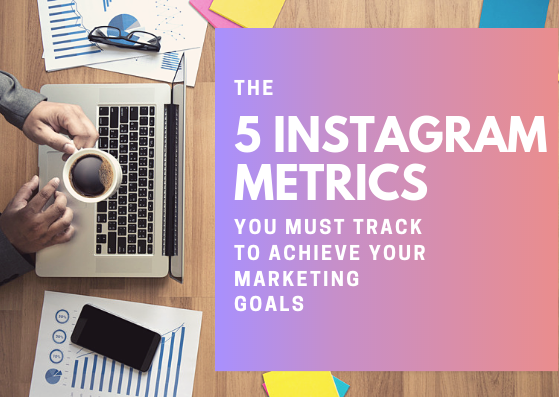 Instagram had hit 1 billion monthly active users in 2018, and over 400 million people now use Instagram Stories every day. Not only B2C and C2C companies but also B2B companies have understood that Instagram has a strong potential to reach out to their target audience, and its importance as a marketing tool.
If you want to promote your brand on Instagram, you will need to set a strategy to grow your audience. To plan, measure and reflect your strategy, however, you will also need to understand the metrics of Instagram. To help make it easier, we will talk about the 5 Instagram metrics to track to improve your Instagram strategy and performance.
The 5 Instagram Metrics you must track to achieve your marketing goal
1. Engagement Rate
This metric measures the number of comments, likes, and reposts. It is a key indicator of how well your audience is responding to your content. This is important because it tells you whether people find your post valuable and interesting.
Engagement Rate formula:
Engagement Rate = (like + comment) / followers x 100
Instagram is a great network for connecting with fans and customers, starting conversations, and building communities. However, when you're just starting Instagram, don't stress yourself out if you have a low engagement rate. It's normal; everyone starts from there.
When you're just starting off, you may not find the need to measure engagement metrics as you would first need to do a lot of experimenting to identify your target's interest. However, as your followers grow and you start posting content regularly, you will have to focus on how high your engagement rate is, and identify what kind of posts invites them to interact with you.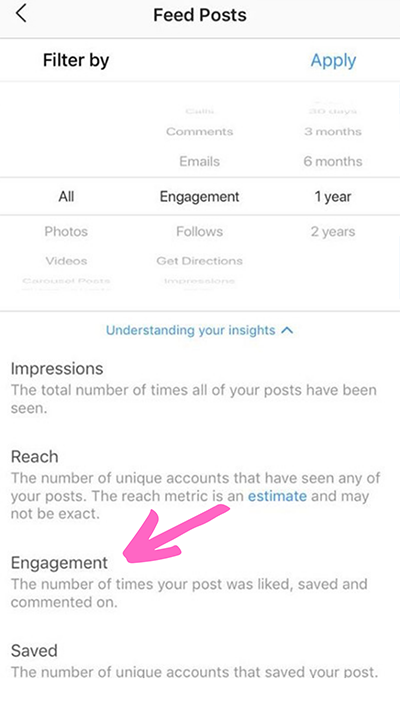 2. Hashtag Performance
This metric gives you an insight into what hashtag is more effective for you to use. Not only do Instagram posts with hashtags get more engagement, but hashtags also make your posts more discoverable.
Not tracking your hashtags yet? This could be because you haven't equipped yourself with the right tools. A study from Altimeter shows that 39% of businesses don't analyze their social media actions due to lack of tools and expertise. Using the right tools, you can track the performance of your Instagram hashtags more than just once.
For example, the image below is a screenshot of the brand24 tool. This tool can be used for social media monitoring and hashtag planning, which can help you to analyze your Instagram performance. Moreover, you can also try to look online for other social media monitoring tools that you can easily use in planning your Instagram marketing strategy.
Remember, hashtags on Instagram function like keywords used for search engine optimization. The hashtags with the most engagement are similar to the keywords you set to bring the most traffic to your website.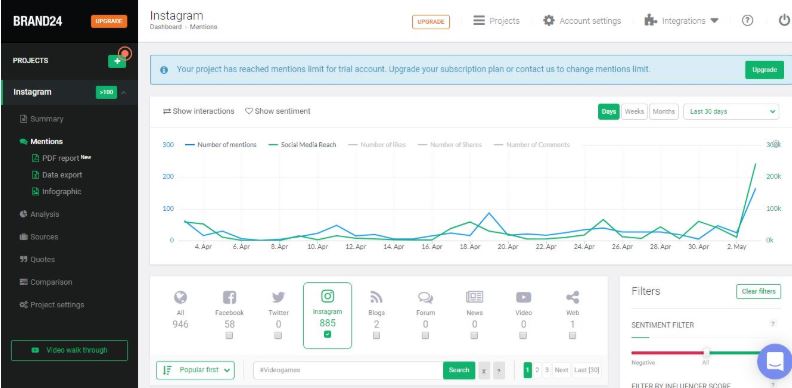 3. Follower Growth
To get the most value out of tracking your follower growth, measure it over a longer period of time rather than just day by day. Only tracking numbers as singular daily data won't give you the entire scope you need in order to make informed decisions.
For example, if you notice that you're only earning a handful of new followers each month, that means you need to increase your marketing efforts.
Nevertheless, if you have noticed a huge spike on one specific day, then you should look into what you did to achieve that growth. Dig into your activities on that day so you will be able to replicate it.
If you've been losing followers you might want to try to restrategize and experiment to see which one works for you.
It is sometimes true that most people today look at your number of followers as vanity metrics. However, the real benefit of measuring this metric is to learn what your brand's potential reach for the content you're publishing. Logically, the pages with more followers have more reach. The fewer people that see your post, the less engagement you are going to get. Gaining more followers gives you a better opportunity to get your content seen.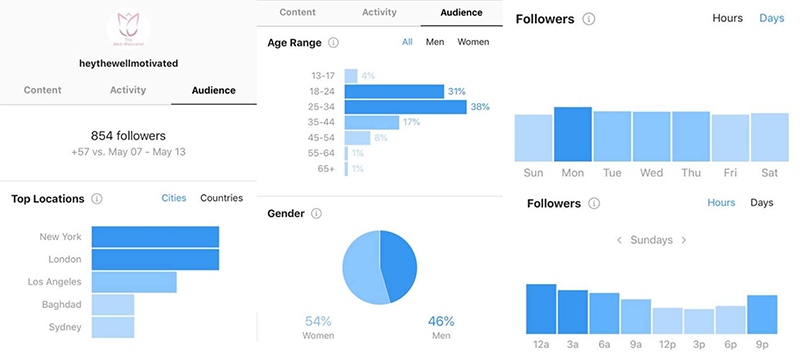 4. Reach rates
Reach refers to the actual number of people who have seen your post. Reach rate, however, is the number of people who have seen your post divided by the number of your followers.
You can calculate it by dividing the total reach of a post by your total number of followers. For example, if you have 200 reach and 1000 followers, your reach rate is 20%.
Reach rate = (reach) / (number of followers)
It is the number of unique views in each of your contents. It is a great indicator to know whether you posted during an effective time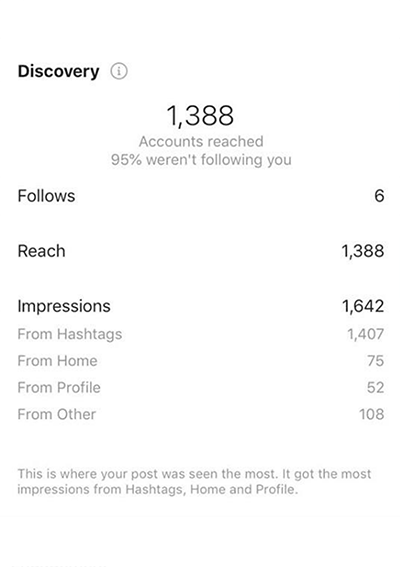 5. Instagram stories
This metric tells you how popular your Instagram stories are and how well it performed in retaining your audience.
With 300 million active daily users, Instagram Stories is now becoming a significant feature and more brands have jumped on board to test it out. But how do you know if what you're doing is actually working?
Reach-

This simply tells you the number of people who viewed your story.

Forward Taps

– This data shows how many people have tapped forward during your story in order to skip that part. If the number you get is low then that means your story is engaging and encouraging your followers to stay. However, if the number you get is high, then that means you did not retain the interest of your audience.

Back Taps

– This is the number of people who tapped backward to see your story again. If this number is high then it is a good sign and you should be happy, as it means people are loving your story and watching it more than once!

Exits

– The number of people who leave your story before it's finished. You should aim to keep this number low.

Direct messages to your story

– This data tells you the number of people who interacted from your story or sent a direct message.

Swipe-through Rates

– If you have verified business profile on Instagram, you will be able to use the Swipe-up feature. This feature allows you to put swipe-up links on your Instagram stories. This metric tells you how many people are accessing the links through your stories.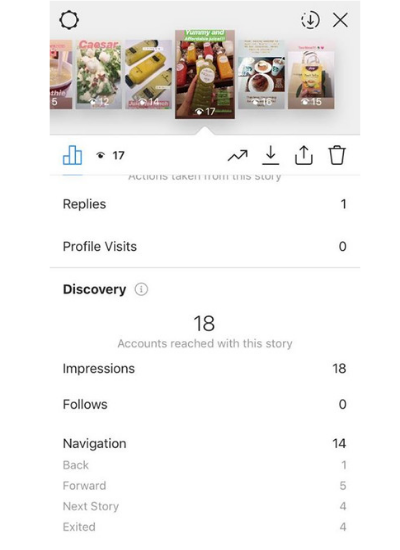 Analyze your Instagram metrics and advance your marketing strategy!
Instagram can be a great platform to market your business. It's fun, it gives you an artistic outlet, and it lets you connect with your audience.
However keep in mind, if you want your Instagram marketing to being profitable and effective as well as fun, you've got to track the right metrics regularly. In a nutshell, next time when you go to analyze how successful your Instagram account is performing, keep these tips in mind:
Keep an eye on your engagement rates to determine what kind of content your followers interact with most, and then create more of it.

The way your follower count changes over time can tell you how successful your Instagram marketing is as a whole.

Measuring results from your Instagram stories is tricky, but doable. You just need to keep an eye on the engagement received on them before the story disappears.

Focus on these important Instagram metrics, and you'll get a clearer picture of how your current strategy is performing.