Blog May. 21, 2019
Steam: Everything You Need to Know About the Video Game Distributor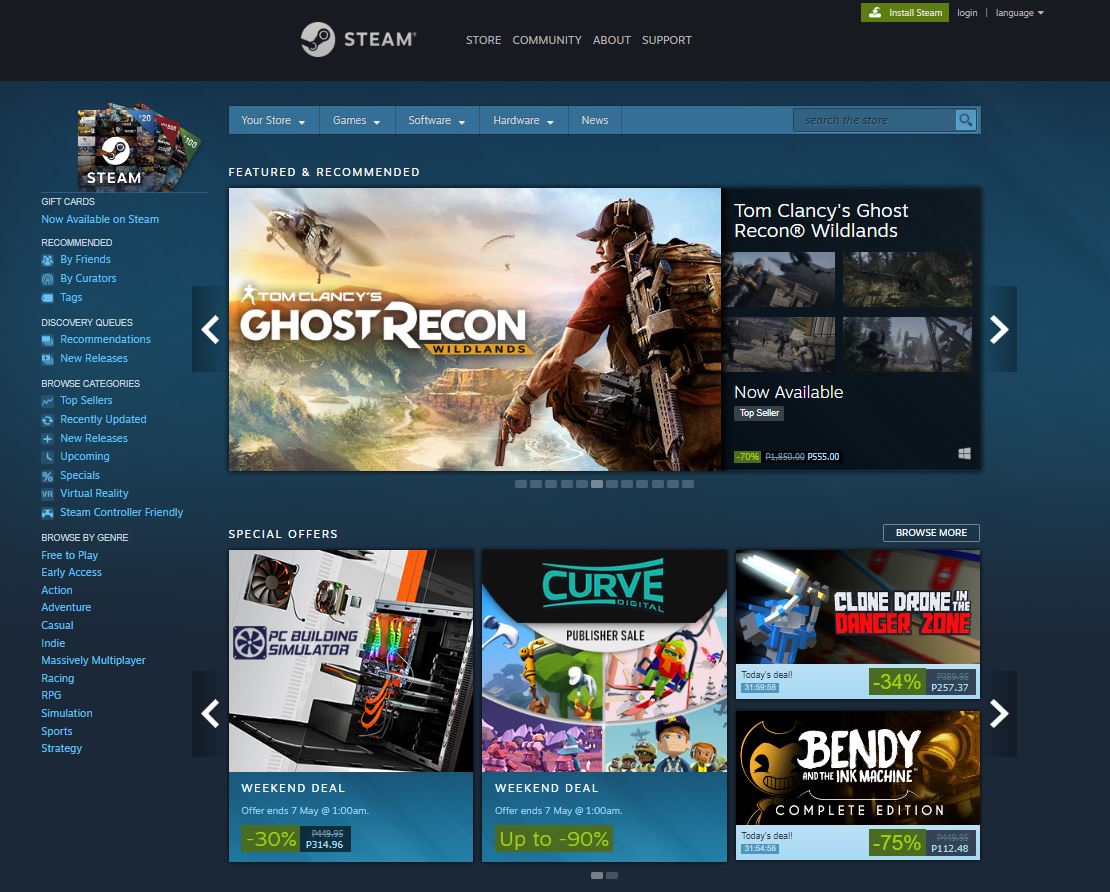 Video games have greatly contributed, and continue to contribute to the expansion of the entertainment industry. When the first video game, Pong, was launched in an arcade machine in 1972, it ignited a video game craze that quickly swept over the youth. With this, businesses such as Atari Games and Nintendo saw the golden opportunity of investing in a developing entertainment sector and began churning out gaming software and hardware. This caused the rise of the video game industry, which has generated over $109 billion in revenue and 2.2 billion gamers since its conception 50 years ago.
Together with time, the modernization of technology has helped the video game industry grow exponentially. Shortly after the release of Pong in arcades, Atari Games distributed a home version of the video game, making way for a wave of innovative gaming technology to accommodate players' needs. Beginning from arcade machines, modern games can now be played on handheld devices, home video game consoles, and desktop PCs. Naturally, gaming companies began turning to the Internet to distribute and promote their games, leading to the creation of the first digital distribution platform: Steam.  
Steam is a digital distribution platform for video games created by Valve Corporation. It is a gaming community where players and game developers can buy and sell video games online. Steam is one of, if not the most popular platforms in its field, due to its characteristics that accommodate users. A significant example of this is its customer support services complete with tools and features for the assistance and overall improvement of their users' gaming experience. Read on for an overview of the history and developments of Steam, and the characteristics that make it the popular platform that it is today.
All About Steam
With over 47 million daily active users, Steam has been operating for almost 16 years. Its constant improvement to better accommodate users has made its development notable in the video game industry.
What is Steam?
Steam is a digital distribution platform tailored to gamers and game developers. While it initially catered to PC games, the platform soon expanded its availability to home video game consoles such as the Xbox and Sony PlayStation. In Steam, gamers can log in to the website to conveniently purchase and play games online, a better alternative to buying physical copies of the games and manually downloading it on the computer.
Steam is also a convenient platform for game developers, whether for huge gaming companies or small indie creators. Any developer can partner up with Steam to add their games to the platform, as well as easily engage and inform the gaming community through a store page. If game developers wish to update or fix their game, they can use Steam to release "game patches" for players to download. This allows game developers to improve their games without enforcing a recall of their product.
How did Steam Start?
Steam was created in 2003 by the same company that created video game juggernauts such as the Half-Life series, Left4Dead, and Counter Strike. In an article written by Kotaku, the platform was developed in 2002 when Valve needed a platform where they can easily update their multiplayer games.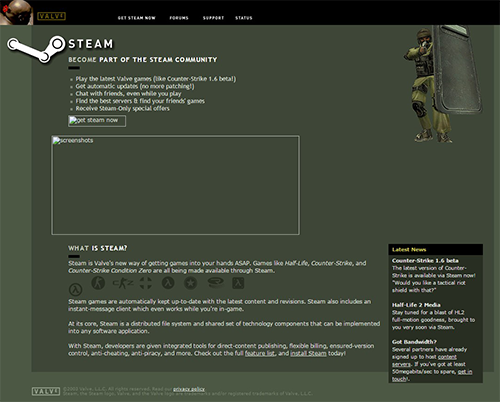 Image Source: https://www.pcgamer.com/steam-versions/
Steam did well initially, but soon did hit a bump. This was with the long-awaited release of Valve's Half-Life 2. Upon its release, the company required players to register to Steam for authentication and anti-piracy purposes. However, the surge of traffic caused the site to crash, creating great backlash from gamers. Valve was able to fix the problem quickly, allowing for the incident to serve as a wake-up call. When Call of Duty: Modern Warfare was released on the platform, the website was able to hold on to the onslaught of player registrations.
It wasn't until 2005, however, that the gaming community's perception toward Steam started to turn positive. Before that year, Steam was only relevant to games created by Valve. By signing on external publishers to the platform, Valve let other big and well-known gaming companies like Capcom and Activision distribute their games on Steam. The diversity of video games easily accessible on the platform was great news for the gaming community. Valve also started adding in other features that eventually made Steam into the gaming distribution platform it is known for today.
The Popularity of Steam
Six years ahead of Ubisoft's Uplay and EA's Origin, Steam is the pioneer of online video game distribution platforms. By the time other digital distribution services started their operations, Steam had already established itself as the best for the gaming community.
For Gamers
Gamers know Steam very well, considering that most go to the website to purchase games they cannot buy in their local gaming stores. Well-known video games like Five Nights At Freddy's and Subnautica, which were made available on Steam, also helped place the platform into the gaming community's limelight, with thanks to famous YouTubers' playthroughs.
Being easily accessible online, Steam is a good platform where gamers can purchase and download PC games directly into their computers. To buy games on Steam, users must register for a Steam account. This allows users to download their games on any digital platform that supports Steam by logging into their accounts. Steam informs users on updates and software patches for glitches and bugs. The platform also frequently presents bundle deals and discounted video games.
Players are given a Steam Library, a page where they can view the games statistics, achievements, the collection of played games, and friend activities. Steam also has an online community where players can interact with one another via Steam Chat and Game Hubs. Through Steam Broadcast and Steam Workshop, gamers can livestream their playthroughs and collaborate in creating player mods. Such functions provide the gaming community a whole new level of interaction, which greatly improves the player's experience as a platform user.
For Game Developers
Steam has been the go-to game distribution platform for game developers. Scott Cawthon, the creator of the popular Five Nights at Freddy's, released the rest of the game's franchise on Steam after its first game sold extremely well. Steam currently has over 30,000 available games, ranging from AAA to indie games.
Back when Steam was still new, it allowed any game developer to release their games on their website as long as they paid a certain amount and gave a cut of the profits back to the platform. While this was beneficial for large game companies, it was too much of a risk with indie game developers. This led to the creation of Steam Greenlight.
Initially, Steam used Steam Greenlight to know which indie games players wanted to be released on the platform. The Steam Greenlight was similar to that of a voting station, where the community chose the games they wanted to play. However, Steam Greenlight was replaced in 2017 with Steam Direct, where developers are charged with $100 to have their game released onto the platform. This eliminated the need for developers to appeal to the gaming audience.
Steam allows the distribution of games in its site with the use of Steamworks, a subsidiary platform where game developers can enter into a partnership with Steam. Once game developers have entered in a partnership with the platform, they can access Steam Direct and Steamworks: a free suite of tools that game developers can use to fine-tune their games for Steam.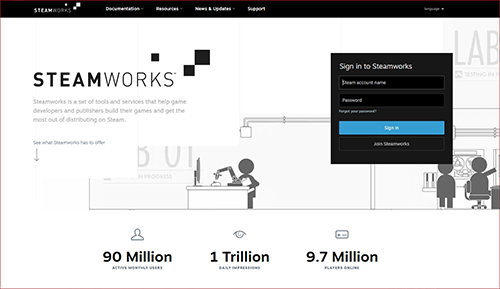 Image Source: https://partner.steamgames.com/
Moreover, there is the Steam PC Cafe Program, which is a commercial site license that offers Steam, Steamworks's functions, and the platform's licensed game titles throughout a game developer's company. The company members may even access and download the game content into their personal Steam accounts, and utilize the Steam Workshop as a guide in creating their games.
Releasing Your Games on Steam
Whether it's from a small indie developer or a large gaming company, adding games on Steam can reap several benefits. Aside from the platform having over millions of active players that are online every day, the site has an organized store where players can easily find the games that are new, popular, and discounted.
How to Add Games on Steam
Issues such as product distribution and product licensing can be a problem when developers add their games on a digital distribution platform. Luckily, Steam is able to make partnerships easier with Steamworks.
Through Steamworks, the process of uploading games in the platform has been made simple. Developers only have to sign the digital paperwork, pay the $100 app deposit fee, prepare their game for release, and then wait for Steam's approval. Once approved, the control over the game is given to the developer, which includes the release and updates.
To review the information provided in the digital paperwork, Steam also requires a 30-day waiting time between the date of the app deposit fee and the release date. Developers are also required to create a public "Coming Soon" page two weeks before the release date. This is to help developers establish their product and build an audience in the community.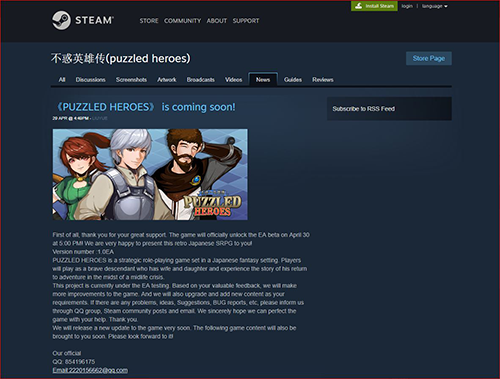 Image Source: https://help.steampowered.com/en/
There are also rules and regulations to be adhered to when releasing a game on the platform. Games containing the following are prohibited:
Hate speech, i.e. speech that promotes hatred, violence or discrimination against groups of people based on ethnicity, religion, gender, age, disability or sexual orientation

Pornography

Adult content that isn't appropriately labeled and age-gated

Libelous or defamatory statements

Contents you don't own or have adequate rights to

Contents that violate the laws of any jurisdiction in which it will be available

Content that is patently offensive or intended to shock or disgust viewers

Contents that exploit children in any way

Applications that modify customer's computers in unexpected or harmful ways, such as malware or viruses

Applications that fraudulently attempt to gather sensitive information, such as Steam credentials or financial data (e.g. credit card information)
To learn more about Steam partnerships, click here.
The Importance of Customer Support
It is important for companies to establish customer service to cater to inquiries, requests, and complaints about their product. Techopedia explains that customer support makes the product significantly more valuable. This is because customer support saves the customer's time and money by aiding them in implementing the systems needed or by acting as consultants to explain how the product works.
When it comes to video games, customer support is important as it can greatly influence how the audience will perceive the product. Gamers may inevitably encounter bugs and glitches in their playthroughs, but with a reliable and functional system to report these issues, developers may apply corrective measures to improve their players' experiences. Excellent customer support not only creates brand loyalty and convinces players to continue playing the game, but it also generates the feedback creators need to improve their game.
Customer Support in Steam
Steam has various customer support systems. One is Steam Support, an online help desk where users can look for the solutions to their problems. Steam Support covers nearly everything on the site, from problems within their games to issues with player's profiles and purchases.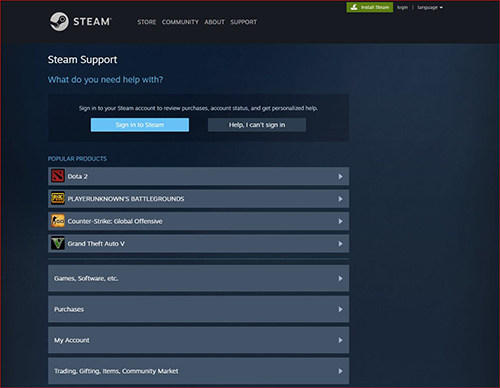 Image Source: https://help.steampowered.com/en/
The platform also provides its users with Steam Discussions, a page where players can have peer-to-peer discussions and reviews within forums. These discussions can range from helpful critique of the games to software managing. Steam Discussions also has moderators within them, of which some are volunteers and others are part of the Steam Developers & Support Team. This allows efficient communication between the company and the players. Player-developer communications are also easily conducted in the review section of the game's store page.
Valve has also created a customer support stats page to show data on customer services. The stats page shows the number of help requests the site receives every 90 days and the backlog of remaining help requests. Through this, Steam is able to see problems within their customer support and identify the areas that need improvement. This is useful to gamers and game developers as the stats page shows how efficiently Steam responds to their inquiries.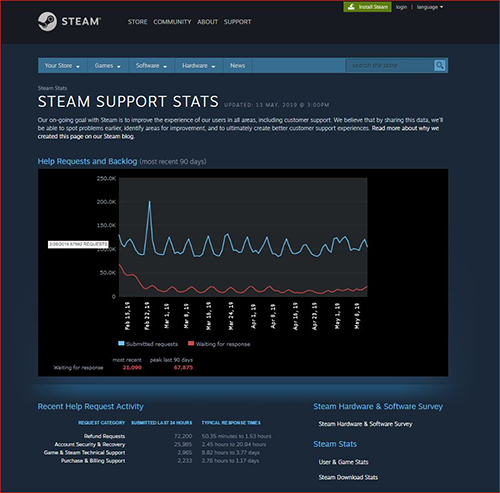 Image Source: https://store.steampowered.com/stats/support
Steam: A Video Game Distribution Platform
As an online video game distribution platform, Steam has become a giant in its field of expertise. Its creation in 2005 ushered a new era in the video game industry. While it was initially created as a way for Valve developers to update their multiplayer games without inconveniencing its customers, the creators of Steam quickly realized the potential it had as a game distribution platform.  
Valve tested this potential with the long-awaited release of Half-Life 2, but the online registration issue created backlash that caused gamers to look at Steam in a less than positive light. Valve then quickly worked to regain customer loyalty by improving their systems and adding games created by other game developers. By 2007, Steam's standing within the gaming community had greatly improved. Not only did gamers have a huge selection of games to enjoy, but Steam also made sure that its users were well-accommodated. This included the implementation of Steam Library, Steam Community, and Steam Support.
For game developers, Steam created Steamworks, a subsidiary website where they can partner up with the platform. Here, game developers can improve their games with Steam's gaming tools and read up on tips in Steam Workshop. Creators can also create store pages where they can show and release their product, as well as interact with their audience through the page's community hub.
What's in Store?
Valve has big plans for Steam in the coming years. In an article by Kotaku, Valve states that Steam will undergo big changes, which includes the addition of a moderation team to monitor the contents of the platform. The site will also improve its store discoverability with a new algorithm recommendation engine and new broadcasting and curating features. It will rework Steam's existing library, launch Steam in China, release a Steam Chat mobile app, initiate Steam VR, and much more.
As Steam is commercially available worldwide, players no longer have to buy physical copies of their preferred video games. They can purchase and download their games straight from Steam and have their gaming data saved on it. For game developers, Steam can be seen as a safety net where they can publish their games without too much risk on their part. With Valve planning to improve its gaming platform in the near future to handle new gaming technology, Steam will definitely continue to have a great influence within the video game industry.