Blog Jan. 08, 2019
What is Social Media Engagement and How to Keep Customers Engaged Online?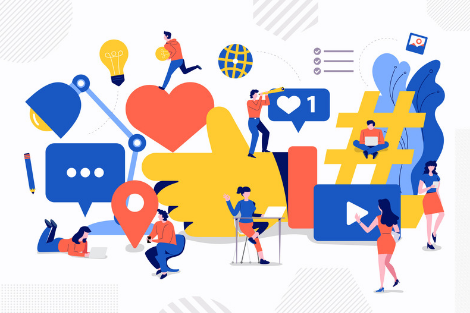 Social media may be an overwhelming concept for some businesses. With so many sites, platforms, users, so many things to learn first, and so many competitions. Where to even begin? Although, for others, social media is an advantageous place with exciting opportunities to grab, seeing that nowadays, almost everything seems to be happening in this particular channel. However, knowing how to manage certain platforms is not enough to maximize the use of social media. As a business, you also need to keep your customers interacting with your brand. It may sound simple, but how do we do that? Here, we'll discuss what exactly is social media engagement for business, what are the best practices to do so, and how to measure it.
To Increase Social Media Engagement, You Must Understand What It Is First
Social media engagement consists of different forms of customer interaction in any social media efforts, such as online posts, comments, and reactions, of a business or brand. It measures or determines the social media performance (such as likes, comments, shares, fans, and views) of a business page or post. Through engagement, a business may also identify loyal or engaged online followers, and can help convert them into sales or actual buyers.
Understand The Role of Social Media Engagement
Social media engagement also holds an important role in establishing a business profile online, and if done effectively, may also influence a purchase.
Furthermore, Increase Social Media Engagement = Increase Brand Loyalty.
Increasing social media engagement does not 100% guarantee to churn sales or profit for your business. Although the profits may not be direct, being committed in engaging your customers online will definitely result in nurtured and lasting relationships with potential and current customers. Thus, indirectly, when you increase social media engagement, you're also getting customers to become loyal to your own brand. With that, nothing can be more influencing and rewarding than your loyal customers promoting your business. Social media is thus a platform to nurture word-of-mouth marketing, and engagement is the fertilization process.
Best Practices to Increase Social Media Engagement
Keeping your customers engaged online can be quite a task. The key to increase social media engagement lies in the effort that you consistently put. To be able to get your customers attached to your brand online, you need to achieve the level of comfort, trust, and interest of your customers through your social media contents. Here are some practices which will help you increase social media engagement:
Post regularly
– Frequently post contents on your pages to make an impression that your brand is active and up-to-date. However, don't overpost everyday as this may look like spam, which will annoy users.
Start conversations or reach out
– Ask questions or give industry knowledge related and relevant to your business. Moreover, reach out by replying or reacting to posts or contents that has something to do with your brand. However, be careful not to overdo the way you reach out to customers as they can get annoyed if your brand seems to be interrupting them, instead of making its way to become a natural or organic part of their daily lives.
Set tone and be personal
– Set your brand tone to create the brand personality online and stick with it. Be personal with your approach or messages to every customer, but don't make it seem like you're always hard-selling. People want an approachable brand, just like they would want to speak with an approachable human, not a snob or robotic one.
Use visuals
– Use images, videos, GIFs, emojis, and more, as visuals are often easier to understand and way more eye-catching. Moreover, visuals are more likely to get reactions, comments, and shares from customers.
Participate in the latest topics and happenings
– Jump on relevant topics and join their conversations. This gives your brand the impression of being widely concerned on the issues around the world. If you can also relate the newest trends and stories in your own product or service posts without sounding offensive but rather clever, that's a good move to get your customers' attention too.
Throw contests
– Gamify your contents and give interesting perks (or perhaps your products) to bring in a little taste of fun in your brand. This is a good way to increase social media engagement as no one would say no to free giveaways. Make sure your set of instructions for joining the contest requires customers a lot of online interaction with your brand page(s). Give a good reward that is equal to the efforts you're asking customers in order to join and win.
The practices of how you can increase social media engagement may seem simple, but each of them would require a lot of effort. Basically, you need to be confident and consistent with your online approach to your customers using the best tips above to increase social media engagement.
How To Measure Your Engagement Results
When you increase social media engagement of your business and measure it, you will know and understand your customers well. This understanding can be useful in making the right business strategies and decisions.
To measure your engagement results, your team needs to set goals first to be able to determine achievement or success. Say, your business page must accumulate (10) posts with (50) clicks, (100) likes, (20) comments, and (10) shares each in a month. However, be reminded that your goals should be relevant and realistic to your business strategy. Don't suddenly jump on high target numbers, but gradually increase your engagement goals depending on your results.
Here are the common social media engagement metrics in some of the most used online platforms. Aside from Impressions and Reach, they can be measured through:
Facebook

– Likes/reactions, comments, shares, messages, clicks, and followers

Twitter

– Retweets, favorites, Tweet replies, direct messages, clicks, and followers

Instagram

– Likes, comments, messages, clicks, views (Stories and Live), and followers

LinkedIn

– Likes, comments, shares, messages, clicks, and followers

YouTube – Views, likes, comments, shares, clicks, and subscribers
Aside from focusing on measuring each channel's engagement results using the given metrics, you may also go deeper through sentiment analysis and laying out predictions based on the data you have.
Sentiment Analysis

– High engagement rate doesn't equal to positive reception or results because customers may also negatively engage with your brand through reactions or comments.

Layout Predictions

– Create predictions using your social media engagement results. For example, a post about limited products has a high positive engagement result. You need to answer these questions:

Why or how did this specific post get a good result?

What does this result implies? Can you use it for your next strategy?

Furthermore, you may also analyze if:

Did this post generate sales? Did a revenue spike and the post happen the same day/time?
Increasing Social Media Engagement isn't an Overnight Success
As a business that wants to make use of social media to get in-touch with customers, it's important for you to focus on working to increase social media engagement. The results of engagement are more than just counting likes, comments, and shares. You won't only build customer interactions to obtain useful data for analytics; over the time you will also create brand awareness, loyal customers who will promote your business, and help increase sales.
It takes consistency and full dedication to apply what may seem to be simple practices like posting regularly and starting conversations, especially in a very busy channel such as social media.
Keep engaging your customers and measuring results despite failure because this isn't a one-night success.
To increase social media engagement isn't a one-man job either. If you want to focus on how to measure and improve social media engagement the right way, but find it hard to do so, then you've come to the right place.
Here in adish, we have the in-depth knowledge of creating an active online community for your brand. We make sure to continuously keep the touchpoints open and help you listen to your customers online. We also provide content creation, reporting/planning, and social media monitoring to help enhance your online presence.
It's time that your business online pages be managed in a more effective way, let us start engaging your customers here with adish