Blog Jul. 19, 2019
Inside eSports: The Billion-Dollar Industry of Competitive Gaming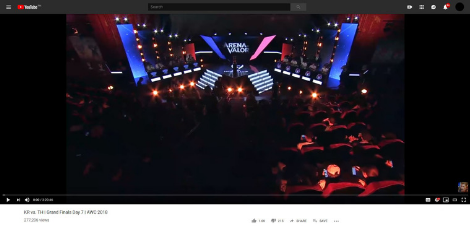 The video gaming industry is taking the world by storm. From being a casual hobby just decades ago, it has now evolved into another genre of eSports, a lucrative business worth over a billion dollars. Massive tournaments are dedicated to this global obsession, where millions of fans watch in fixation, the same way as in conventional sports. Just like any other sport, eSports attracts sponsors and investments from celebrities to international brands, resulting in sold-out stadiums and hundreds of millions of live stream viewers. 
With the money pouring in, eSports is being widely considered as a professional sport. Various universities are now offering varsity eSports programs in countries like South Korea, USA, and China. There have even been recent talks from the International Olympics Committee on its inclusion in the 2024 Paris Olympics. Let us look back to the brief history and the components of the dynamic eSports industry today.
*Image: Crowds gather for the Arena of Valor World Cup 2018, a tournament for one of the most popular mobile eSports today. (Source: YouTube)  https://www.youtube.com/watch?v=VLs3DBFGxv0
What is eSports?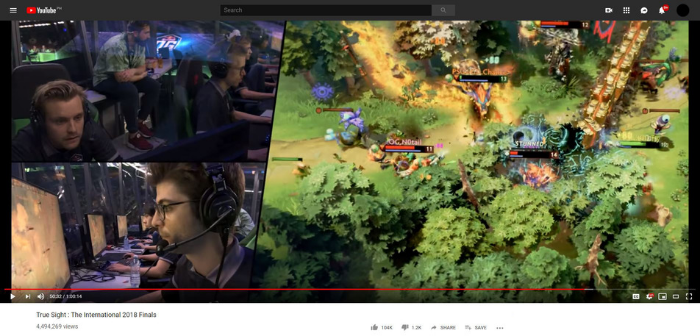 Like any other sport, eSports has very intense competition. (Source: YouTube) https://www.youtube.com/watch?v=Bv4CqIxqTMA
Electronic sports, or eSports, is competitive organized video gaming. Depending on the game, players compete in teams or individually for a prize pool that can reach up to $25.5 million. Leagues can vary from professional to college and high school levels. These tournaments are held in stadiums, with audiences that reach the thousands, and millions more from live streams.
eSports is a global phenomenon that has undergone an impressive revenue increase in just the last decade. Despite the industry's innovative image, the concept of competitive gaming itself has been long part of the video gaming industry. Here is a look at competitive video gaming through the decades.
Early Days of Competitive Games
1970s
According to the Rolling Stone magazine, the first video gaming competition goes back to October 1972, at the Stanford University AI Laboratory. Players competed in Spacewar!, a multiplayer space combat video game, for a prize of a year-long subscription to the said publication. However, it wasn't until eight years later that the first major video gaming event was organized. 
1980s
Competitive video gaming began to make its way to television during the early '80s. In 1980, Atari hosted "The Space Invaders Championship" with over 10,000 participants and wide media coverage. Additionally, TV shows like Starcade, Video and Arcade Top 10, and GamesMaster were dedicated to arcade and computer video games.
1990s
In the '90s, the concept truly gained mainstream traction, thanks to the rise of the PC and the Internet. The Red Annihilation Quake tournament, which is widely considered to be the first ever eSports tournament, was held in 1997. Out of the event's 2,000 participants, Dennis "Thresh" Fong won the Ferrari 328 of id Software CEO John Carmack.
2000s
With a steady rise in popularity, eSports gained significant support in South Korea, where two channels were solely dedicated to air eSports and other gaming content for 24 hours. In 2006, Major League Gaming (MLG) broadcasted their MLG Pro Circuit Halo 2 TV program in the USA. The concept, however, did not seem to appeal to the mainstream American audience until the following years.
The Rise of eSports
The entire landscape of the video gaming industry forever changed with live streaming. In 2011, Justin.tv launched its spinoff platform called Twitch.tv, which specifically focused on video game live streaming. Twitch then went on to become the most popular streaming site. By October 2013, it had amassed over 45 million unique viewers. This also catapulted the number of viewers for the League of Legends World Championships from 1.2 million viewers in 2011 to 23 million in 2013.

Game enthusiasts can watch eSports tournaments on streaming platforms like Twitch.tv. (Source: Twitch) https://www.twitch.tv/
With the rise of multiplayer games like Halo, Counter-Strike, League of Legends (LoL), and Dota 2, the world of eSports was thrust into the limelight. The demand for eSports tournaments also went through the roof, as demonstrated by the event by Riot Games at the Staples Center, which sold-out in an hour. By 2015, the viewership for the League World Championships had risen to 36 million unique viewers, beating the viewership number for the 2015 NBA Finals, the 2015 World Series, and the 2015 Stanley Cup. 
At this point, eSports had solidified itself as the next biggest investment. Organizations like the 76ers, Miami Heat, and the Sacramento Kings have established partnerships with eSports organizations while star athletes like Rick Fox, Shaquille O'Neal, and Magic Johnson have invested in the eSports industry.
eSports Today
In the first half of 2017, tech-giant Tencent had earned a massive $7.4 billion revenue through heavily investing in game companies such as Riot, Activision, and Blizzard. Also, the value of tournament prize pools continues to rise each year, with The International 2018 giving away $25.5 million, which is nearly a million more than that of 2017.
According to a report by Newzoo, a gaming industry analytics firm, eSports revenue will rise to $1.1 billion this year and could potentially increase to $1.8 billion by 2021. Worldwide eSports viewers are projected to surge to roughly 557 million by 2021. By that time, the eSports revenue is also expected to reach $1.5 billion. Currently, North America remains the largest eSports market, having over 23.9 million eSports enthusiasts with an expected revenue of $409.1 million for this year, mainly coming from sponsorships.
Within the entertainment industry, eSports has become much more mainstream than when it began, with numerous large companies getting involved in eSports events. A number of video game developers like Valve and Epic Games, host global eSports tournaments for their games, such as the International Dota 2 Championships and the Fortnite World Cup. These are just two of the most anticipated eSports events of many. Other large tournaments include the League of Legends World Championship, Call of Duty World League (CWL), The Overwatch League, and more.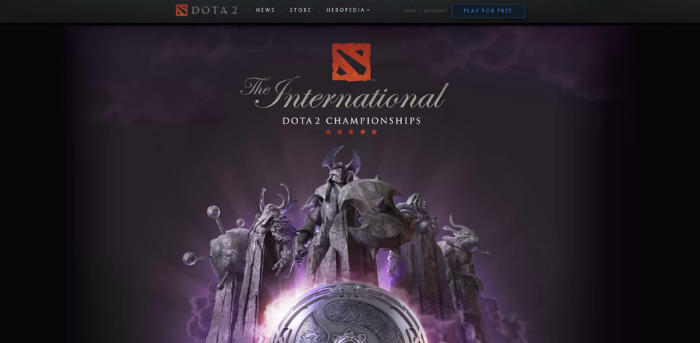 The International is an annual eSports tournament for the top Dota 2 players worldwide. (Source: Dota2 website) http://www.dota2.com/tournaments/international/announcement/?l=english
Many gamers are now looking to join the lucrative eSports industry as professional gamers or e-athletes. Being part of the industry is no easy task. A career in eSports goes beyond having a passion for gaming: it involves focusing on one game among various genres, selecting a gaming platform, studying popular techniques and tactics, and hours upon hours of practice. In addition, aspiring eSports athletes also need to enhance their communication with other players, join a team (if they are playing a multiplayer game), and participate in tournaments. In fact, there are already several professional teams competing across the globe and have been winning millions in prize money. One of such teams is Team Liquid, which has competed in tournaments for Dota 2, Counter-Strike, and StarCraft. As of this year, Team Liquid has already won a total of $24,448,847, with their players earning as much as $3,449,672. On average, professional players can easily rake in $60,000, although it is not surprising that the prize pool can sometimes reach up to seven figures.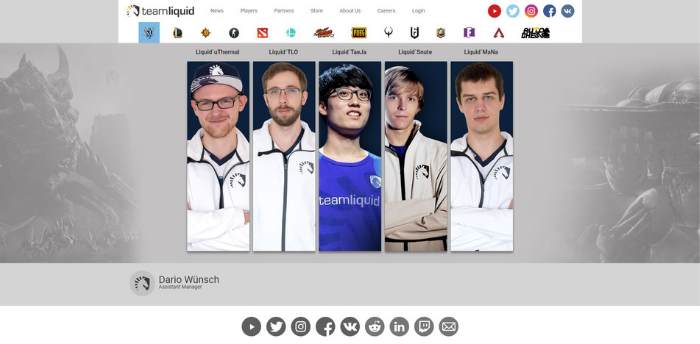 Team Liquid is one of the top eSports teams worldwide with different divisions that compete in tournaments for various games. (Source: Team Liquid website) https://www.teamliquid.com/players#sc2
ESports have taken the world by storm, especially in Asian countries. Back in 2003, China listed eSports as an official sport. After 13 years, it was declared a national industry. Another, and perhaps most renowned Asian market is South Korea, where eSports events have amassed a loyal following since 2000. The Middle East is also catching up, with the United Arab Emirates already starting to construct the region's first dedicated eSports venue. Saudi Arabia is also expressing interest in eSports, where competitive gaming receives official government representation and support.
eSports Qualification
Looking back at history, all genres of sports originated from games and hobbies, which then evolved into organized competitions and into businesses. For example, basketball is said to have emerged from James Naismith's idea in 1891 to shoot a soccer ball up and through a peach basket. eSports has followed a similar pattern in recent years. It developed from simple video games such as Pong and Donkey Kong into today's full-fledged league tournaments. Consequently, there are several factors which make an ordinary game into a professional eSport. These include the need to be competitive, be well-funded, have a large player base, and have spectator appeal. 
The competitive factor of a game is the first and foremost factor in determining whether or not it can become an eSport. Sports, in general, involves players competing against one another. Thus, a game cannot be considered an eSport if it isn't competitive. A clear winner needs to be determined in a good eSports game, unlike games such as Minecraft, Red Dead Redemption, The Elder Scrolls V: Skyrim, and The Legend of Zelda: Breath of the Wild.
Another, and perhaps the most important requirement for a game to become an eSport is proper financing. Despite the profitability of eSports, maintaining them also costs a lot. In holding events, companies need financing for venues, casters, video and sound technicians, writers, additional staff, advertising, as well as tournament prizes. These are all difficult to achieve without adequate funding. 
Additionally, eSport games also need a large player base. Having enough players is essential for a healthy eSports scene. These regular players are those who will view game streams, read interviews, and attend tournament events, so they are vital to propel the game and community forward. Like traditional sports, eSports games also need to be entertaining enough for spectators to gather around and cheer for their favorite teams and players. A game's appeal to spectators will decide whether or not it can become a favorite eSport. The following video game genres are some of those that transition into successful eSports.
Common Video Game Genres
The most popular eSports games today are multiplayer games such as League of Legends (LoL), Defense of the Ancients 2 (Dota 2), Counter-Strike (CS), Call of Duty (CoD), Overwatch, Player Unknown's Battlegrounds (PUBG), Hearthstone, Super Smash Bros, and the classic 1998 StarCraft. There are many more other notable games usually within the categories of multiplayer online battle arena games, fighting games, first-person shooters, real-time strategy, and sports games.
Multiplayer Online Battle Arena (MOBA)
MOBA is a sub-genre of the real-time strategy genre that is characterized as a strategy game that pits two teams of five against each other. The two competing teams move within a closed map, where the first team to demolish the other's base is declared the winner. Additionally, players control a "hero"; a character with unique skills. There is typically an immense variety of heroes in MOBA games, each with diverse strengths and weaknesses. Victory depends on ensuring that a team has a well-adjusted array of skills.
Among the most popular MOBA in eSports are Riot Games's League of Legends and Valve's Dota 2. Other popular MOBA games include Blizzard's Heroes of the Storm and Hi-Rez Studios's Smite, which have countless fans across the globe.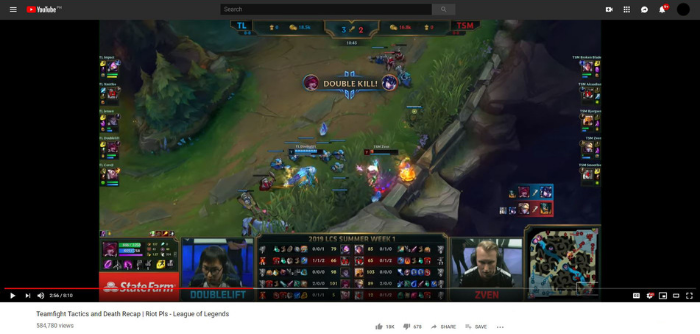 League of Legends, a MOBA, is one of the most played games across the globe. (Source: YouTube) https://www.youtube.com/watch?v=ADUMS8oZQkE
Real-Time Strategy (RTS) Games
RTS games involve controlling armies or civilizations and using units and structures to gain more territory on a map. Players need to destroy their opponent's assets to win the game. In a regular RTS game, it is possible to produce additional units and structures during the game's progress. This is normally restricted by the necessity of expending accumulated resources. In turn, these resources are gathered by controlling special points on the map or owning specific types of units and structures dedicated to this purpose. To be more precise, a usual RTS game features resource gathering, base building, in-game technological development, and indirect control of units.
Some of the most well-known RTS game series include Starcraft, Warcraft, and Age of Empires.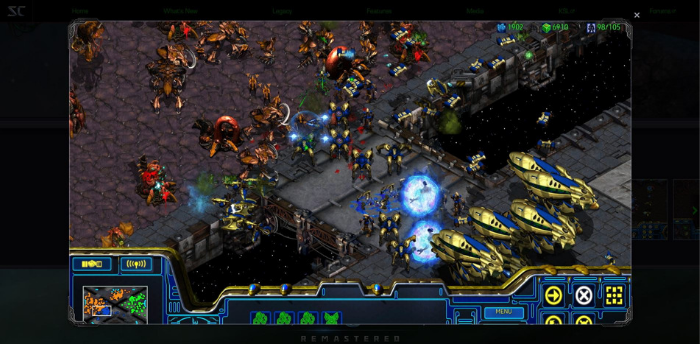 StarCraft, the best selling videogame of 1998, is still popular today. (Source: StarCraft website) https://starcraft.com/en-us/#&gid=1&pid=1
First-Person Shooter (FPS) Games
A First-Person Shooter game is characterized as being played from the point of view of the protagonist. FPS games typically plot the player's actions and provide visuals of what the character would see and do in the game. Similar to most shooter games, FPS include an avatar, one or more ranged weapons, and a varying number of opponents. Due to the 3D nature of their environment, FPS games tend to be more realistic than 2D shooter games, and have a more accurate depiction of gravity, lighting, sound, and collisions.
A number of the first eSports titles to hold their own major league tournaments were FPS games such as id's Quake III Arena and some of the early Call of Duty games.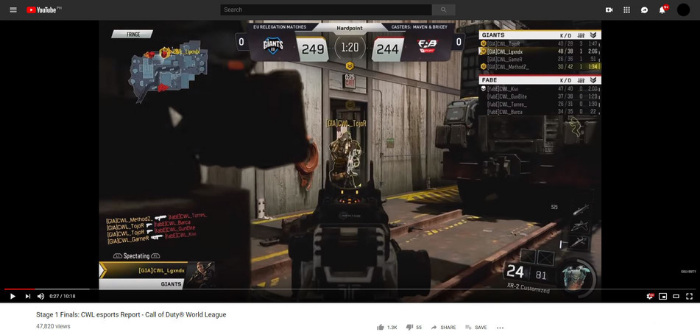 Call of Duty, one of the world's most popular FPS games, has been holding the Call Of Duty World League (CWL) since 2015. (Source: YouTube) https://www.youtube.com/watch?v=dnhcbUCsWJ8
Fighting Games
Fighting games are based on close combat between characters, in a stage with permanently set boundaries. Characters fight one another until they defeat their opponent or they run out of time. Matches typically consist of multiple rounds in an arena, with each character having various abilities. For these types of games, players need to master techniques such as blocking, counter-attacking, and chaining attacks together into "combos." 
There are several fighting games that have influenced the lives of countless players which includes Street Fighter, Tekken, and Super Smash Bros.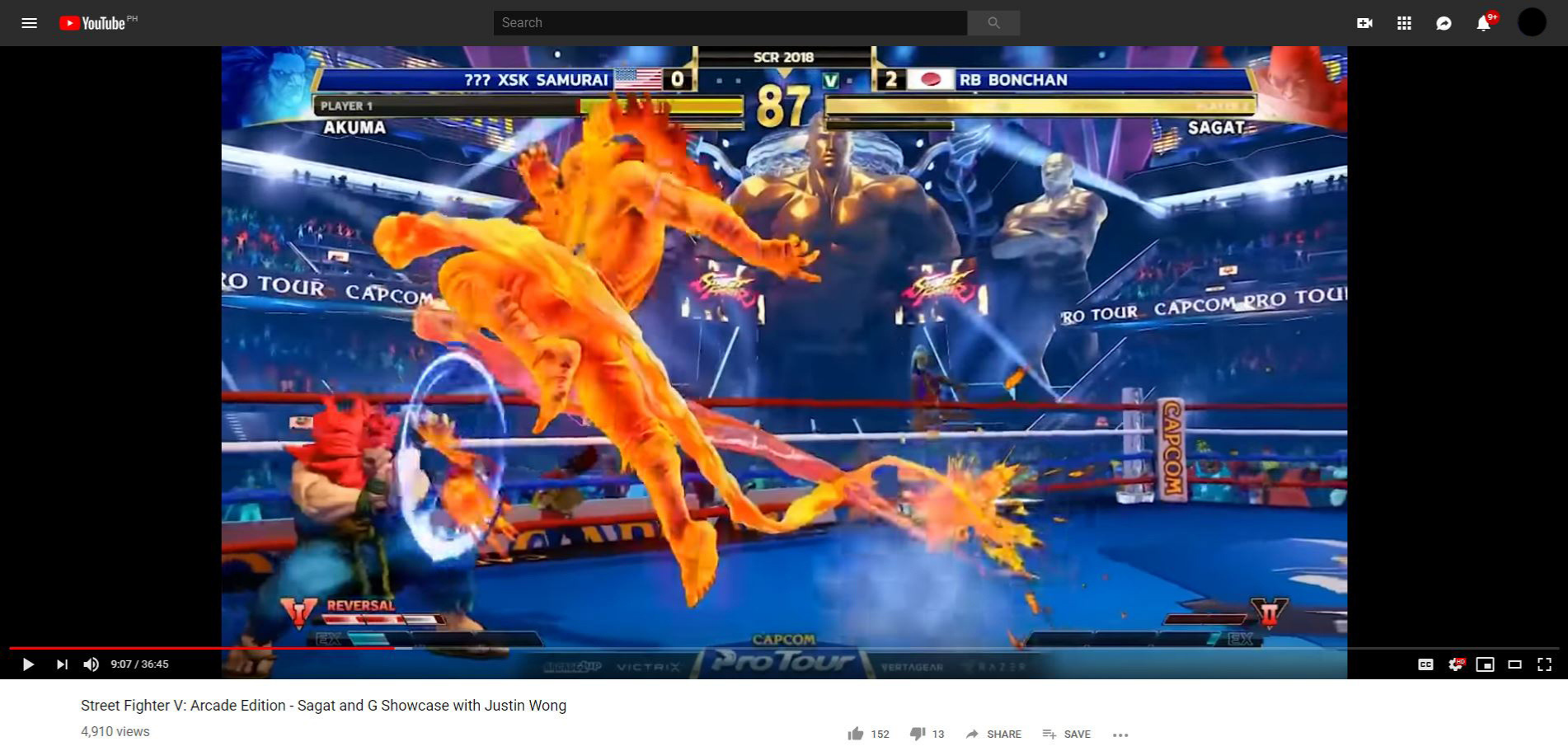 In Street Fighter https://cs-agents.com/en/contents/uploads/2019/07/eSports-Games-9.png5, two players compete by inflicting damage on the other person's character, ultimately leading to an overall winner. (Source: YouTube) https://www.youtube.com/watch?v=YXr2_V2OKgo
Sports Games
Sports games simulate the practice of offline physical sports such as  team sports, track and field, extreme sports, and combat sports. Most sports games endeavor to model the athletic characteristics necessary for the sport they represent, including speed, strength, acceleration, accuracy, and so on. As with their respective sports, these games occur in a stadium or arena with clear boundaries. Some sports games also feature play-by-play and color commentary through the use of recorded audio.
At present, the sports genre is dominated by EA Sports and 2K Sports. EA's franchises include the Madden NFL series, the NHL series, the FIFA series, and the NBA Live series. 2K Sports' franchises include the WWE 2K series, NHL 2K, and the NBA 2K series. These games all feature real leagues, competitions, and players.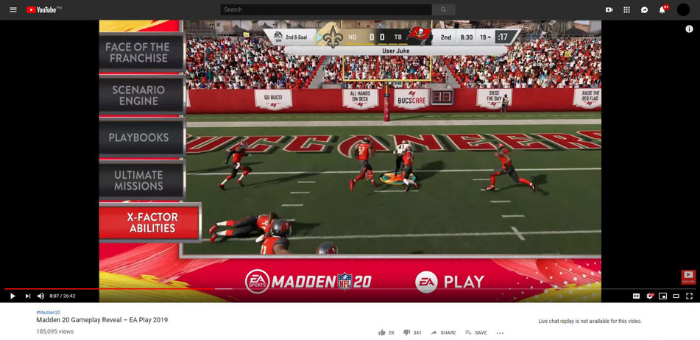 A sports game developed by EA Sports, Madden NFL is based on the American National Football League (NFL). (Source: YouTube) https://www.youtube.com/watch?v=iMjoohwe1OQ
Customer Support in eSports
Digital games have developed from narrative-based, single-player experiences into social platforms with integrated point-of-sale and real-time communication. The revolution of games as a service facilitates deep engagement between game publishers' and players,  through features such as in-game sales of downloadable content that offer customization, personalization, new challenges, and free content that keeps the game fresh.
Contrary to professional physical sports which are organized in leagues with independently owned teams, each eSports game is controlled by a single publisher. This type of ownership typically means that each publisher needs to work closely with leagues, players, advertisers, and broadcasters on one occasion that a specific game becomes popular enough to develop an ecosystem. Developers have an abundance of incentives to improve playability, fairness, engagement, and value—and to uphold the popularity of their titles over time with updates and sequels.
eSports Collaborators
Contrary to traditional sports leagues, companies involved in eSports can wear several hats within the industry to run a lucrative business. A company can work as competition organizers, rights holders, and content creators all at the same time. A single organization can be in charge of financing a tournament through brand partnerships, producing broadcasts about it, and distributing that content to streaming networks.
 One of the important roles in eSports is that of the publisher or developer. Aside from developing games, these same companies also host and produce coverage for some of the industry's largest competitions, such Valve's Dota 2 International.
Publishers can also license their games out to streaming platforms and external league organizers. Video game developers are now more encouraged to turn their new competitive title into an eSport due to the numerous advantages, which include extraordinary exposure both online and off, and cascading profits that can be earned from competition-themed in-game content.
Similar to game publishers, numerous third-party companies run their own competitions and, at the same time, also plan and produce coverage around them. The rights to these contents are then sold to streaming networks.
At present, streaming networks do not restrict watching eSports events behind subscription fees and can be viewed both live and on-demand. League organizers can still generate revenue from actual ticket sales, and there is also a growing number of TV deals and collaborations with smaller tournament organizers in emerging regional markets.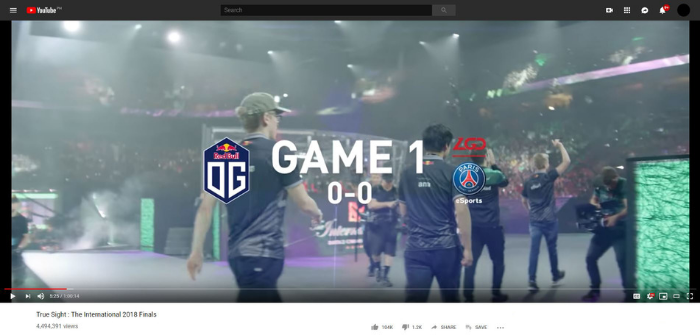 Brand sponsor logos are often seen on team uniforms. Some are even incorporated into team logos. (Source: YouTube) https://www.youtube.com/watch?v=GgAAPPf4z00
By far, the richest source of revenue for every sector in eSports is brand sponsorships. However, the nature of a sponsorship depends on the entities in question. For teams, players wear brand logos on their jerseys, use a sponsor's products or equipment where applicable, and create social media content around their sponsors. In comparison, streaming platforms can allot screen space, influencers, or even an entire channel to a single brand. Event organizers can arrange for name placement, showcase brands in highlight reels or, for hardware companies, literally build the events on the back of the sponsor's latest product lines.
The Future of eSports
Gamers and developers have spent decades in building the foundations of eSports: from arcade games in the 1980s and early PC and Internet games in the 1990s, to the emergence of massively multiplayer online games in the 2000s. The development of sophisticated computing and graphics platforms, as well as the rise of social media and high-speed Internet access, has allowed designers to create highly responsive and deeply immersive shared gaming environments. The introduction of different genres among video games has also ensured that there is something for everyone. At present, the market for video games has matured into a billion-dollar industry. 
With mainstream media starting to embrace the industry, eSports is connecting players like never before. Ensuring that the platforms and technology not only function optimally during competitions, but also cater to the growing eSports community is crucial. For instance, game developers and service providers have started to integrate eSports with the equally burgeoning market of mobile gaming in the form of mobile eSports. With this, the eSports industry is ripe for unique opportunities, and most importantly, it's showing no signs of slowing down.