Blog Jul. 02, 2019
Entering Stadia: Google's Cloud-based Gaming Service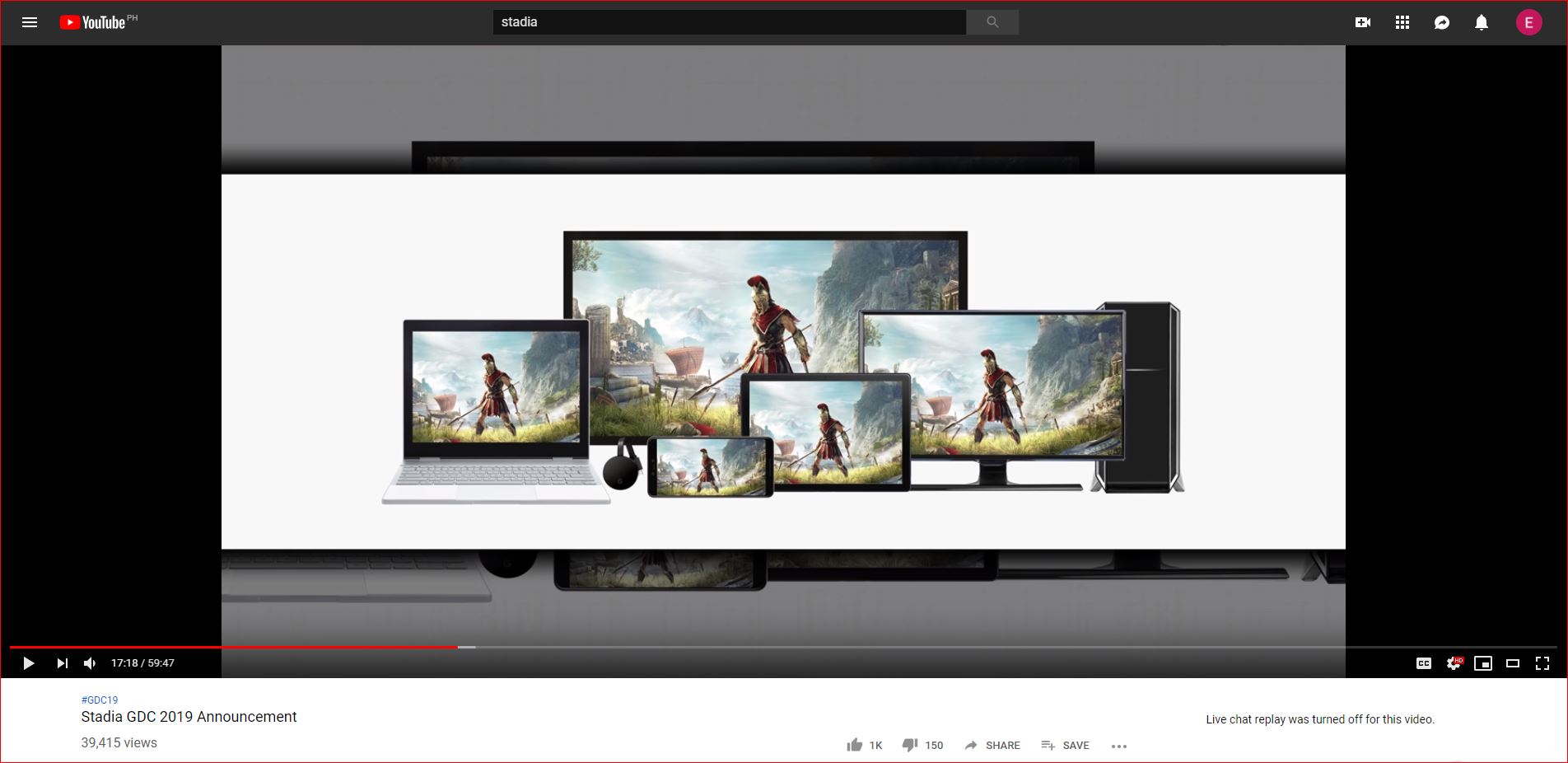 Google has officially announced the cloud-based gaming platform they are currently developing, Stadia. During Google's press conference on March 22 at the 2019 Game Developers Conference (GDC19), developers and journalists got an exclusive look at the potential computing power of Stadia's cloud-based software program. As a demonstration to highlight the new platform's accessibility, Google streamed a real-time playthrough of Assassin's Creed Odyssey and Doom: Eternal on Google Chrome across multiple devices through the cloud system. What is "Stadia," how did it come about, and what can be expected from this new platform?
What we Know about Stadia
On June 6, Google live-streamed the first ever Stadia Connect, a web series for official Stadia news. It was announced that Stadia will launch this November in 14 countries, including the USA, UK, Canada, and some parts of Europe. Vice President and general manager for Google, Phil Harrison, also revealed some new game titles coming at launch – including Ubisoft's online tactical shooting game Tom Clancy's Ghost Recon Breakpoint, Tequila Works' horror game Gylt, and indie developer Moonshine Studios's multiplayer physics-based game Get Packed.
A couple of well-known titles were also featured in Stadia Connect, such as Baldur's Gate III, the third main title to the role-playing game series. Considering the 18 years since the game's last main installment, there is hype – and the hype is real. Destiny 2 will also come to the Stadia platform, as the sequel to the 2014 online first-person shooting game.
Following the release of new information, the official Stadia Twitter account announced that some more popular games such as Final Fantasy XV, the Tomb Raider Trilogy, and Dragon Ball Xenoverse 2 will be available upon launch. Despite being just a handful for now, Stadia will undoubtedly have expanded their collection with the biggest titles of different game publishers by the year 2020.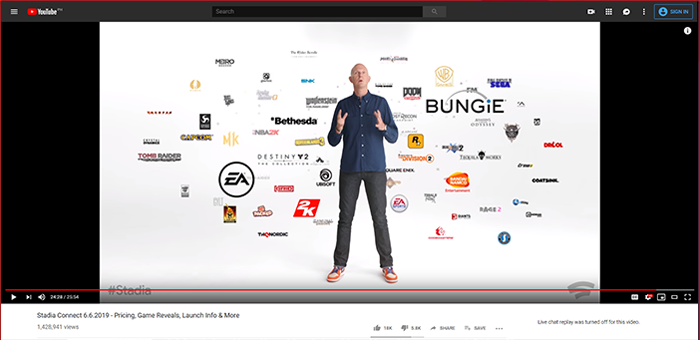 The Birth of Cloud-based Gaming
Video games have always been evolving and improving alongside technology. When arcade machines became a big medium for video games in the '70s, there was a pressing need for tech companies to produce more effective hardware for their growing gaming audience. This led to the creation of home consoles, which in turn sparked the rapid development of hardware in the video gaming industry. 
As companies created computers with bigger memory capacity and stronger processing power, developers created games that utilized these technological capabilities. This can be seen through the improvements made with the video games in the '90s, in which graphics were isometric and systems more complicated than those of Pong and Space Invaders.
Home consoles have also greatly improved over the decades, with Sony and Microsoft constantly integrating the latest technology into the Xbox and PlayStation. And lately, various VR and AR technologies like the Oculus Rift are being utilized by game companies for their VR games to give players an immersive gaming experience.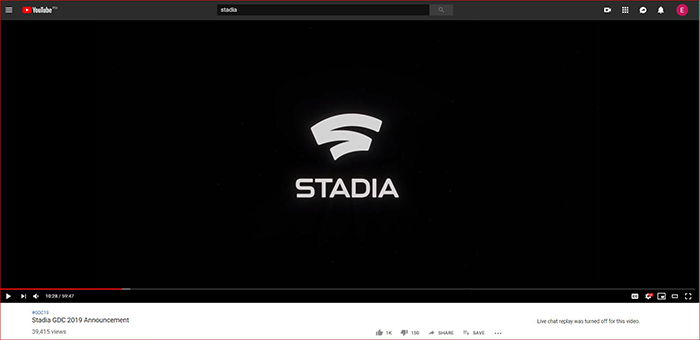 Image Source: https://youtu.be/hl-Y1QVhmcM?t=628
Despite all of these technological improvements in the video gaming industry, there is still a lot of ground to cover. An issue that usually plagues the gaming community is video game lag, in which gameplay action is delayed due to slow processors. Hence, players purchase expensive gaming hardware to compensate. This quickly becomes a cycle in which players are forced to buy the latest gaming technology to play the latest games, only to find that the gaming tech can no longer handle new video games a few years later.
This is where cloud gaming comes in. The term "Cloud" refers to remote computer processes that can be utilized through the Internet. The "Cloud" uses powerful remote servers to maintain and backup files instead of the user's local hardware. One example of this is Google Drive, a cloud system that offers fifteen gigabytes of free storage (additional space is available upon purchase) for users to keep heavy files, and easily access them online.
Cloud gaming adopts this concept, so players can save and process their games on high capacity computers without overloading their local hardware's processing capability. This idea gave birth to Google's latest invention: Stadia.
Stadia Construction
These days, a lot of video games require computers with high processing and system capabilities. Some popular Triple-A titles like Deus Ex: Mankind Divided and The Witcher 3 are known to be CPU intensive games that can push even the latest PC to its limits. As a result, this creates a gap between those who buy expensive hardware and those who opt out of such high-maintenance games.  
At GDC19, Google stated that its intention with Stadia is to "build a gaming platform that fits for everyone." In an interview with Variety, Harrison, who also heads Stadia's development, expresses the need for future games to be more data-center driven and not device-centric. With this, he believes that video games should not be reliant on hardware devices. By creating a cloud-based gaming platform that is easily accessible on an Internet browser, Stadia eliminates the need for players to download the game or purchase the necessary gaming hardware and software to play video games. Players only need to launch Google Chrome to start playing.
Rumors about Stadia began with Project Stream and Project Yeti. The former was a technical beta test that Google conducted from October 2018 to January 2019. The test invited gamers to play Assassin's Creed Odyssey using only the Google Chrome browser and a strong Internet connection. Meanwhile, the latter was created to connect gamers to Google's cloud software using their console via Wi-Fi. Although it was initially planned to be released in 2017, Google pushed back its launch to further develop it into the Stadia Controller.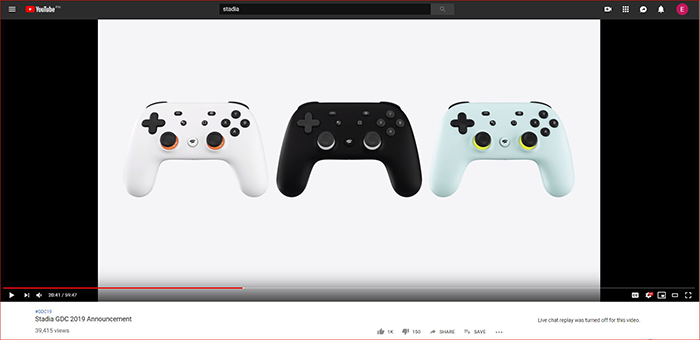 How Stadia will Work
Stadia, plural for the word "stadium," will be a multi-beneficial game streaming service to users. The platform will offer features that bring all sorts of game enthusiasts together, where they can experience the same high-quality session optimized for any device. Similar to other cloud-based software, Stadia is said to operate like a central processing hub. It will process the game at high resolutions and frame rates, encode it into a stream, and deliver it over the Internet. Players just need a stable Internet connection and the latest version of the Chrome browser to use it. 
As demonstrated in the Project Stream beta testing, Google will initially confirm your Internet bandwidth, the latency between your computer and the servers, and check for any data loss. This is to measure the speed of streaming the video game between the personal hardware and the Stadia server. As such, latency plays an important role in video game streaming. If the latency is high, this will result in a laggy game. To counter this, Google will be implementing a stronger processing system.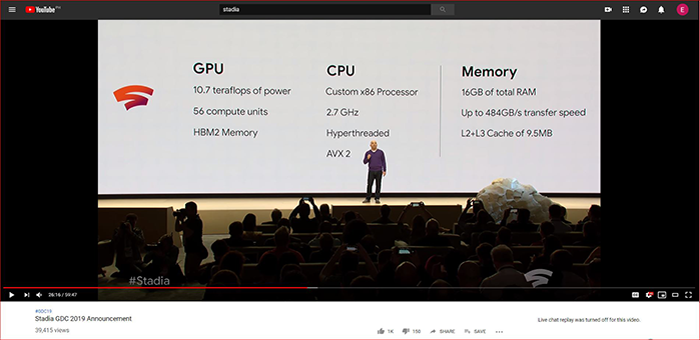 Image Source: https://youtu.be/hl-Y1QVhmcM?t=1576
Stadia's game systems are expected to be incorporated within Google's data centers around the world. This is to reduce latency and boost the streaming rate. Google declared that each Stadia server will contain a custom x86 processor running at 2.7GHz, 16GB of RAM, and a custom AMD GPU capable of 10.7 teraflops of performance to handle the demanding task of processing video games for multiple individuals. With this, Stadia can play games on 4k resolution at 60 fps. Game graphics will be in HDR and game audio will be in surround sound. Google also plans to upgrade Stadia to run on 8k resolution at 120 fps in the future after its initial release.
User Benefits
Google also teased some information on different Stadia features. With Stadia's main purpose to stream video games for an audience through Google Chrome, Google introduced State Share. This feature aims to let users share their gameplay with others using a hyperlink, allowing other players to try out the same gameplay. Stadia will also provide split-screen couch co-op through Stream Connect, in which a group of players can view each other's gameplay through a shared screen. There is also Crowd Play, a feature that will allow viewers to join in on a YouTuber's live-streamed game with the press of a button. These features provide brand new high-quality multiplayer gaming, where players can interact with one another smoothly and effectively.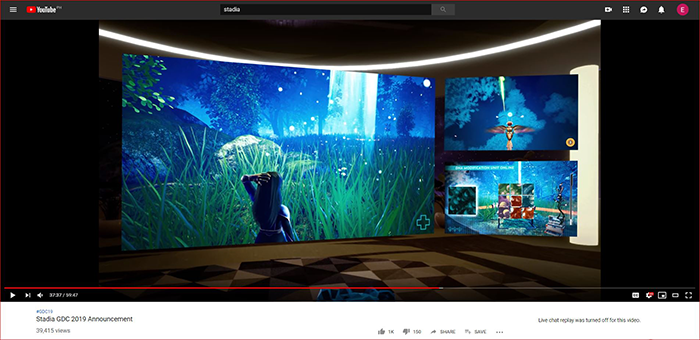 Image Source: https://youtu.be/hl-Y1QVhmcM?t=2257
Stadia can be streamed on PC monitors, mobile devices, TV screens, and other devices that can run Google Chrome. While some players may prefer to play with a keyboard-and-mouse, Google also created their own unique hardware: the Stadia Controller. The device directly connects itself via Wi-Fi to the game that is being processed in the Stadia server. This reduces the lag between game inputs and the resulting action in the game. 
The Stadia controller has a Google Assistant button that grants its users easy access to Google Search. The Stadia controller is also useful to content creators on the gaming community on YouTube. Content creators can directly share their live games on YouTube with the Stadia controller's Capture button, streaming their gameplay with 4K resolution at 60 fps to their YouTube subscribers.
Stadia and Other Game Streaming Platforms
Several others have tried their hand at cloud-based gaming before Google's Stadia came into play. G-cluster, Crytek, and OnLive are some companies that pursued on-demand gaming in the 2000s to early 2010s. But unlike Google, these companies lacked sophisticated technology, resources, and funds to combat the usual issues of cloud gaming: latency, Internet connectivity, and licensing problems. This caused some of them to declare bankruptcy, and others sold their streaming technology to larger gaming companies.
Sony is possibly one of the first companies that successfully launched a streaming service which is still active. The PlayStation Now is a cloud gaming monthly subscription service that was launched in 2014. The platform allows users to download and stream a selection of games that are available on the PlayStation series. However, players can only access PlayStation Now through PlayStation 4 and Windows PC. This limits its users to using only two hardware devices.
Google isn't the only company to announce its plans toward cloud gaming in the past year. In the same month that Project Stream's beta testing began, Microsoft announced its own game streaming service called Project xCloud. Microsoft plans to make future Xbox games to be compatible with cloud streaming services. Additionally, Microsoft has partnered up with Sony in developing future cloud solutions for game and content streaming services.
Hardware manufacturer Nvidia also joined in on the cloud streaming services, and might have a headstart compared to the other tech companies. GeForce NOW was released in 2015 and is in beta trials around the US and Europe with over 300,000 active gamers, and has a waitlist of over one million.
This confirms the significant amount of competition Stadia will face once the cloud gaming industry takes off in the near future. However, as the service appeals to all kinds of gamers, with features that cater to players, developers, and fans, Stadia potentially connects the video gaming community unlike any other. You could expect nothing less of Google; the company that has built and optimized their networks to support services with billions of users, such as YouTube, Gmail, and Android.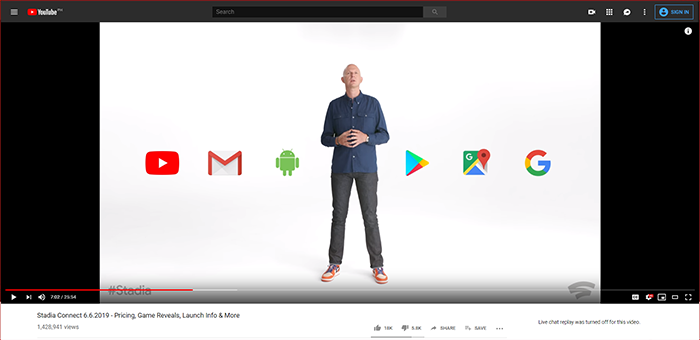 Stadia Collaborators
Stadia may seem like a risk to take on for game developers, as games have yet to be made on the platform itself; casting doubt on how this could be accomplished. We do know, however, that Google has been gathering cooperation from some of the most well-known game developing tool companies since last year. This is to help game developers in tailoring their games to fit the platform with game developing tools they're familiar with. The following are some of the companies:
Unity

Unreal Engine

Havok

Audiokinetic

Umbra

Silicon Studio

AMD

Vulkan

CryEngine

Simplygon

Improbable

Ikinema

Face FX

Visual Studio

RAD

Enlighten

Yebis

Speedtree
With this, Google created the Stadia Partners program. The program offers video game publishing services, as well as free access to Stadia cloud hardware for game developers. While specific details of what the program offers have yet to be revealed, Google states that they will be providing services that will cater to the needs of game developers. The first members of the Stadia Partners program is said to receive free access to Stadia's development workstation nodes to help jumpstart their games onto the platform.
To know more about Stadia Partners, click here.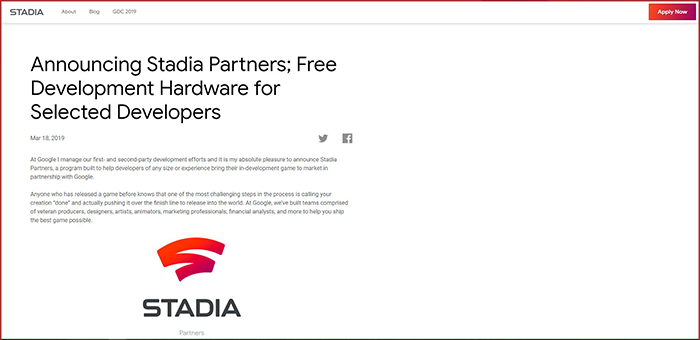 Customer Support
Customer support will be an important service to Stadia as it will be having its initial launch later this year. As no product or service is immune to issues, problems are expected, and will need to be addressed by a customer service team. Various issues can be expected in this new realm.
One of such areas of concern stems from the fact is that Stadia is a gaming platform that will rely on the cloud to deliver its service globally. This may create a lot of issues regarding Internet connectivity in various parts of the world – as Internet connection tends to fluctuate depending on the location of the user. Another is that its cloud-based processing can cause visual degradation within the game, due to compressing its game pixels before sending it back to the user.
With this in mind, it becomes clear that Stadia, and games to be on Stadia will greatly need strong and effective customer support services. While Google's initial promises during GDC19 may seem encouraging, it is their customer support service that will keep Stadia afloat.
Currently, Stadia entertains questions at their official Twitter account.
The Future with Stadia Gaming
As the system requirements of video games tend to become more and more complicated, the necessary hardware to support such games grows ever more expensive. This causes a gap between competitive gamers who actually purchase high-end gaming hardware and the casual players who play for the experience. Cloud gaming can be seen as the most practical solution to bridge this gap.
Cloud gaming has been developing since the 2000s. However, most gaming companies at the time did not have enough resources and advanced technology to pull off such a feat. Some were only able to do so by greatly restricting their users to certain hardware and limited subscription plans. This limits cloud gaming availability to only a select few. 
With Stadia, Google will be able to share video games with everyone. Anyone with a decent Internet connection can simply go online and play right away. As a game-streaming platform that operates on remote processing power, Stadia brings in a more convenient gaming experience, without consoles, CDs, or downloads.
Google also introduces a whole new level of multiplayer gaming with Stream Connect, State Share, and Crowd Play as ways to bring all types of game enthusiasts together. And with Google planning to improve Stadia even further after its initial launch, it would seem that Stadia is ushering in a new era in the video game industry.