Blog Aug. 15, 2018
Customer Care Solution Trends to Strengthen your Customer Experience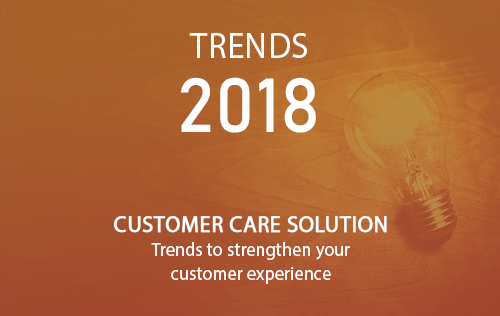 Customer Support Trends from August 6 to 10, 2018.
These days, customers are more demanding and want to be gratified instantly upon reaching your support team. For them to be assisted immediately, having a competitive customer care solution is a good means of helping, as well as retaining them. Here are the news and articles about how brands delivered their customer care solution in order to strengthen their customer experience.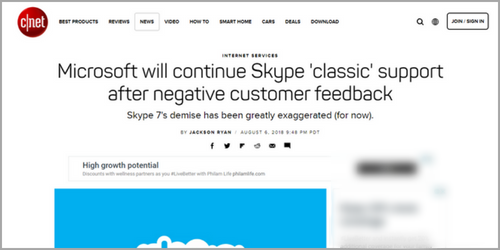 August 6, 2018
Summary: Microsoft has announced that they will be discontinuing the support for Skype 7(classic) on Sept 1, 2018. Microsoft is encouraging its users to switch to the new Skype 8. However, due to negative customer feedback, the termination date of Skype 7 will be delayed. Many of the complaints about Skype 8 is the mandatory upgrade to its new service and user Interface which is very similar to Windows 8. The Skype classic will be continued to be supported until Microsoft decides to integrate the much-loved qualities of the Skype Classic to Skype 8.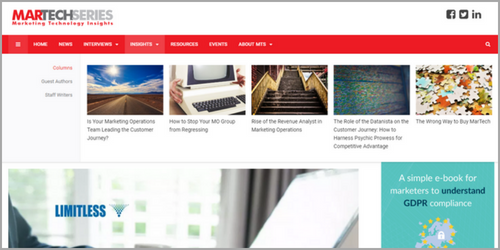 August 7, 2018
Summary: The UK based SaaS platform provider Limitless has announced its latest product, "LimitlessLiveMessenger™." It is a nonsynchronous messaging product which could be easily deployed on any website and can provide businesses a direct access to Limitless' on-demand Crowd Service® platform. Limitless uses AI solutions to help brands achieve their targets. Customers will be redirected to an on-demand Crowd Service Ambassadors and run into a complex inquiry. LimitlessLiveMessenger™ delivers a plug-and-play solution, which brands can deploy for a few minutes to open vast resources and attract new pools of skilled talent within their own customer base.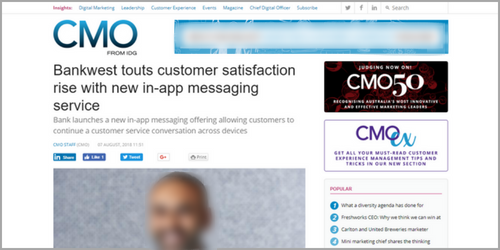 August 7, 2018
Summary: Bankwest launches a new in-app messaging that enables customer support across multiple devices. The new Bankwest in-app messaging allows its customers to communicate by using a device and may continue the conversation over other mobile devices they log their account into. Since the app was launched, Bankwest reported an increase in their customer retention and customer support staff's productivity and reduction in their cost.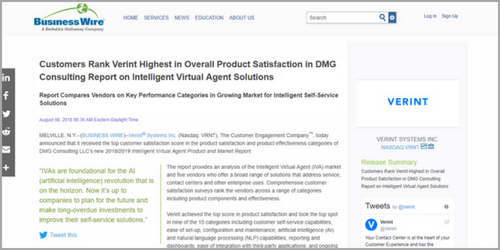 August 8, 2018
Summary: Verint System has announced that it received the top customer satisfaction score for product satisfaction and product effectiveness score among five vendors who offered solutions to contact centers and enterprises. The Verint Intelligent Virtual Assistant, is a Self-Service Platform which uses AI and machine learning to provide personalized solutions based on its user's provided information. Businesses will greatly benefit because it can now provide self-service support across all channels, a higher efficiency rate in productivity, and lower escalation rate.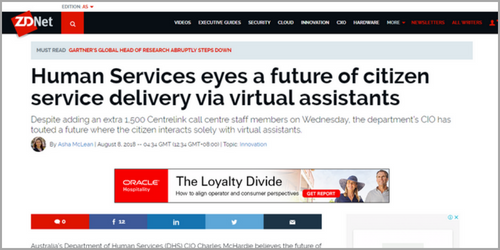 August 8, 2018
Summary: Charles McHardie, Australia's DHS CIO pictures his department operating with virtual assistants for providing service to the citizens, as working with it can help them move forward and can give people a more customized experience. The CIO also stated that they have been utilizing their AI performance and most of the questions they receive are being answered by one of it.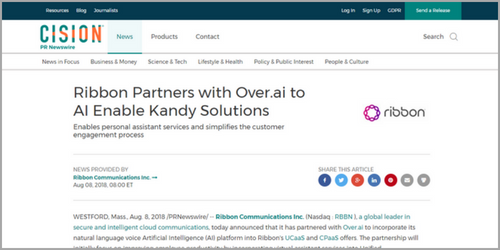 August 10, 2018
Summary: Ribbon has partnered with Over.ai for integrating voice AI platform into their cloud-based communications platform Kandy. The partnership's purpose is to enhance employee productivity and customer engagement. The said AI Platform is capable of handling business interactions and to engage in a human-like conversation.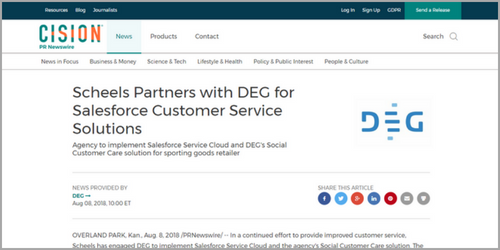 August 10, 2018
Summary: Scheels has cooperated with a digital agency in bringing digital marketing experience to a higher level. DEG will provide Salesforce Service Cloud and their customer care solution to the company for a more effective service, and for their customers to have a better shopping experience.
The need in the market changes from time to time and it is pivotal for a company to adapt the market demands. One way of doing it is to make sure that your business is well-fitted into what the current market requires.
References
The following trends shared came from the cited articles. Credits belong to their respective owners, websites, and organizations.