Blog Dec. 21, 2018
Latest Trends in Customer Service Innovation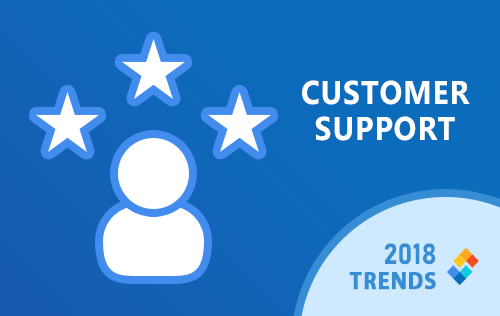 Customer Support Trends from December 7 to 14, 2018.
Innovation in customer service is emerging day by day, and this cannot simply be overlooked by any business. You need to be prepared, refresh the skills and knowledge of your agents, and use the latest tools and technology in order to provide the best customer service to the customers. Here we have listed the latest trends in customer service innovation that can help your business exceed customers demands.
Customer Service Innovation for AI-based chatbots
New in El Al Airlines: Customer Service Also on WhatsApp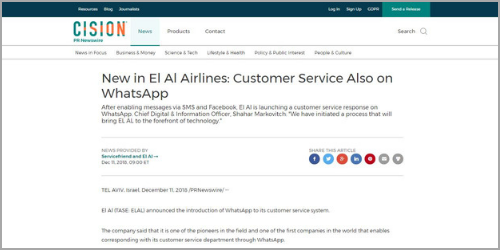 December 11, 2018
Summary: El Al airlines recently announced that they will include WhatsApp to their chatbot service, Hybrid AI. The service, which has the capability to automatically respond to customers was previously only available through SMS and Facebook Messenger. According to technology solutions Servicefriend, WhatsApp is expected to be gradually integrated, and it was also reported that this new integration received high customer satisfaction rates during tests.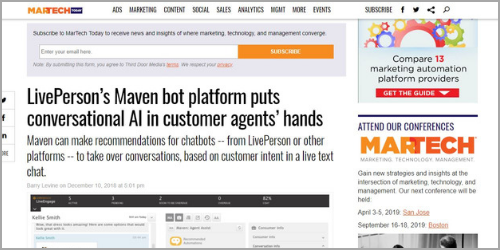 December 12, 2018
Summary: Maven is the intelligence engine that supports LivePerson's conversational platform. It has the ability to measure consumer intent, conversation sentiment, and agent capacity to determine the next best action for a conversation. LivePerson's Maven has also the capability to make recommendations for chatbots, make it easy for agents to catch up with their customers and stay connected. This helps businesses sell products, and also helps agents answer questions in different messaging channels that consumers already use day to day; such as SMS, Line, Facebook Messenger, and WhatsApp.
Customer Service Innovation to Level Up your Customer Experience
Millennials and Gen Z Driving Major Shifts in Customer Expectations According to a New Study Commissioned by Zendesk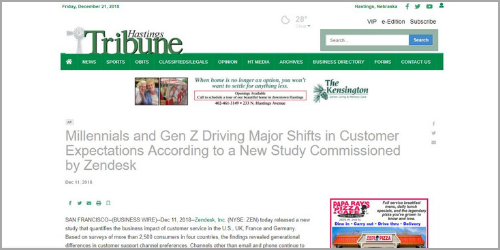 December 11, 2018
Summary: Zendesk has released a study that measured the influence of customer service in the US, UK, Germany, and France. The findings revealed that each generation has a different preference on how to receive customer support. Out of more than 2,500 participants in each country, 46% of Gen Z,  47% of Millenials, 7% of Baby Boomers and 26% of Gen X preferred communicating via social media to voice their concern. This research also provided a new understanding of how customer expectation has changed over the last five years. 65% of survey participants said that customer service was faster half a decade ago, and 89% agreed that a fast response to their first inquiry can be a determinant of their purchase. It was also found that only 10% will try to use other platforms to contact if they received no response. The results of the study concluded that customer support has a very significant impact on the buyer's future purchases.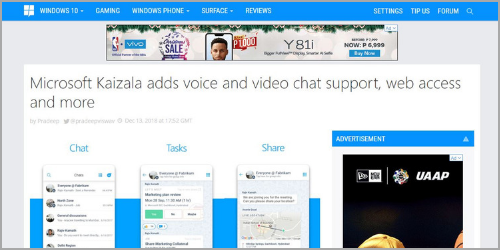 December 13, 2018
Summary: Now being used by numerous organizations in India, Microsoft Kaizala has added new features which give its users a further ability to utilize the app towards communications and work management. They included features such as access to mobile browsers, voice support, and video chat support. Me Chat is also an added feature that acts as the user's room for saving notes, or even photos. Microsoft Kaizala is now available across several regions and is planned to be expanded by Microsoft globally in the future.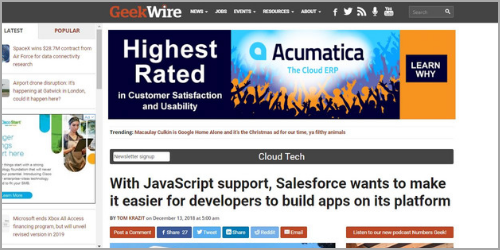 December 13, 2018
Summary: Salesforce announced Javascript will be enabled along with their new Lightning Web Components to empower companies building apps for their customers or employees. Salesforce understands that developers creating apps on Lightning need to learn such tools and tricks specific to their platform, which may take far more time than using Javascript. Lightning Web Components is already available as a preview while its general availability should arrive by February 2019.
Customer service innovation is continuously evolving customer experience, helping discover new ways to solve customer queries. These days, we are at the point where companies need to proactively innovate their customer service.
References
The following trends shared came from the cited articles. Credits belong to their respective owners, websites, and organizations.